It Wasn't The First Time! Kitchen Nightmares Couple Launched Vicious Attack On Blogger In 2010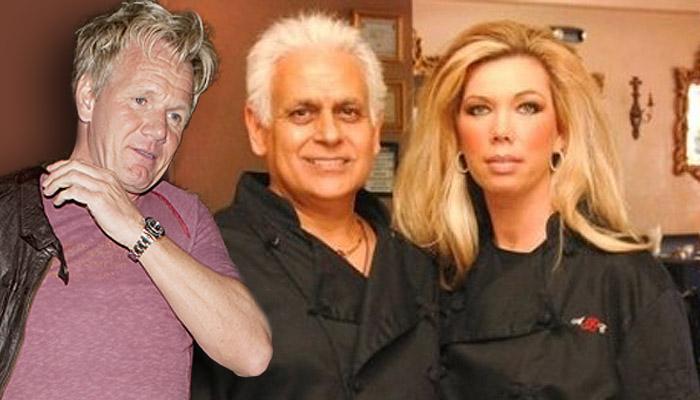 Kitchen Nightmares couple Amy and Samy Bouzaglo claim that the vicious comments served up on their Facebook page this week were the work of hackers, but RadarOnline.com has learned that their recent attacks were actually the couple's second course — they made headlines for bashing a local food critic online back in 2010!
Yelp reviewer Joel Latondress posted a one-star review of Amy's Baking Company in August 2010, leading the chef and owner 'Amy B' to quickly respond to his complaints of surly staff and reheated pizza, calling him "ugly" and a "moron" in a 441-word post dripping with disdain.
Article continues below advertisement
A source close to Latondress exclusively told RadarOnline.com that soon after the post was made "their very unusual and unprofessional response to Joel garnered a lot of attention from all sorts of media.
"He would never return nor recommend this place to anyone," the insider revealed. "Their behavior and comments were uncalled for and unprofessional."
When Kitchen Nightmares discovered Amy's Baking Company's checkered past, the source said they asked Latondress to be a part of the episode on Gordon Ramsay's show that aired on Friday, but he declined.
"It is blatantly obvious to me why you were alone on a Sunday night," Amy wrote in response to the 2010 post, claiming, "…We knew you had been sent by another restaurant before you even ordered."
As for Latondress' comments about the pizza he ordered, Amy wrote, "perhaps your palate is not sophisticated enough."
She concluded, "Do us a favor and keep your ugly face and you sic ugly opinions to yourself and go back to the restaurant you really work at!"
Article continues below advertisement
"He is a stupid guy," her husband Samy told a local news station in the video clip below:
radar_embed service=youtube src="https://www.youtube.com/embed/nexQhKIx39Q" width="420" height="315"
Now that the restaurant owners are making headlines yet again with their poor customer relations, they're trying a different tactic and claiming they were not involved with the vitriolic posts in connection with their Kitchen Nightmares appearance.