Is She A Bad Mom? Taylor Armstrong's Drinking Raises Concerns On The Real Housewives Of Beverly Hills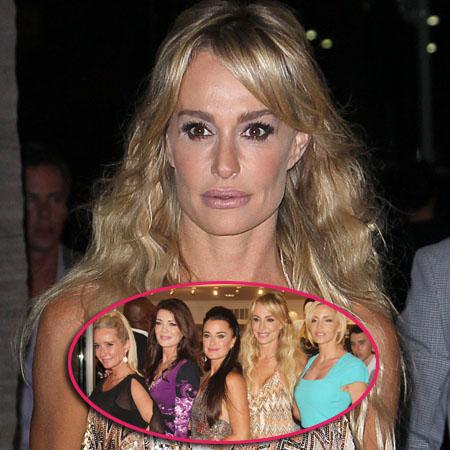 When Taylor Armstrong shockingly admits she doesn't know where her young daughter Kennedy is at all times and repeatedly leaves her in the care of Kyle Richards, her fellow castmates on the hit Bravo reality show raise serious concerns about her drinking and her parenting skills.
In a sneak peek of Monday's unsettling edition of The Real Housewives of Beverly Hills, Kim Richards tells the other 'housewives' that Taylor is skipping a family-friendly get together at her home and that Taylor called her last minute to say, "I won't be coming because I think I'm in love."
Article continues below advertisement
During the troubling call, Taylor -- who's had a history of excessive drinking on the show -- also casualty said she had "no idea" that Kennedy was in Kyle's care at that very moment.
As Kim and Kyle are telling the other ladies about the bizarre call, Kyle points out that Taylor -- who may be leaving RHOBH -- has yet to even go out on a date with the mystery man who's suddenly the object of her affection.
As Adrienne Maloof, who, up until this time, had remained silent during the conversation, barks out a laugh, Kyle continues by saying, "So Kennedy stays with me a lot…"
"Which I think is a little bizarre to be honest," outspoken newcomer marisa Zanuck interjects. "It seems like her child is always with you, so she can go do whatever she wants to do… I don't know Taylor, but it does seem like you always have her kid…."
Article continues below advertisement
Kyle points out that Kennedy does go home with Taylor, but marisa's not having it.
"it's indicative of who she is, and it shows why she's always at your house. That's all I'm going to say," marisa adds.
"I think it's wrong that she (Taylor) didn't know where Kennedy was right now," Kim, who herself has battled an addiction to alcohol, added.
"I agree. Taylor should know what's going on in her house, the people who work for her, and she should be keeping tabs on where her kid is," marisa added, still giving her piece of mind.
"I would never not know where Portia is, I can tell you right now. However, I don't think she was in the best frame of mind tonight" Kyle cryptically added.
"She was drinking?" marisa asked.
Facing the camera, Kim says, "As a person in sobriety, I am concerned about who is this person and is she safe?"
Watch the video on RadarOnline.com
The Real Housewives of Beverly Hills airs at 8/7c Mondays on Bravo.