Honey Badger DOES Give a Damn! Randall Takes His Unique Humor To Westminster Kennel Club, With Hilarious Results!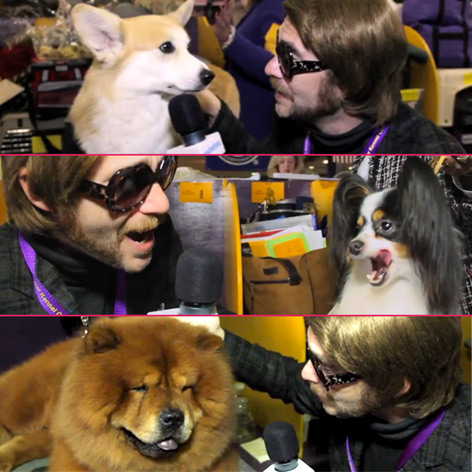 Article continues below advertisement
Randall's Honey Badger Is Back With A New Mobile App
The hilarious results were caught on video, and you can watch it right here on PawNation.com's website.
One very funny encounter is with Tsunami, an American Eskimo Dog.
Randall asks the panting fur ball: "Instead of staying in a dog house, do you stay in an igloo?"
But, when the microphone is thrust towards poor Tsunami's direction, the cutie pie gives it a good sniff, looking a little bemused by Randall's line of questioning!
Then, in a later clip, Tsunami can be seen yawning during the interview much to Randall's dismay -- see, Honey Badger DOES give a damn!
As RadarOnline.com previously reported, The Westminster Kennel Club Dog Show began Monday and features a whopping 2,721 of our four-legged friends.
Now in its 137th year, 187 breeds and varieties are taking part in the competition this time around, where one lucky dog will be crowned 'Best In Show' Tuesday evening at New York City's Madison Square Garden.
See for yourself what canine cutie takes the top prize on the USA Network, which will broadcast the closing night coverage of The Westminster Kennel Club Dog Show, Tuesday at 8 p.m. PST.