Homeless Man Who Returned Diamond Engagement Ring Earns $15k In Charity Donations!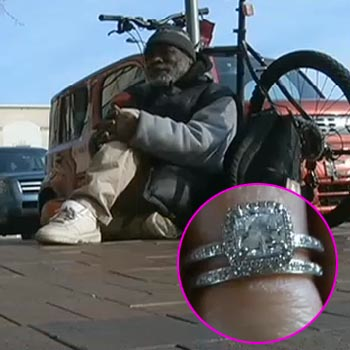 The homeless man who returned a diamond engagement ring to a woman who mistakenly dropped it in his spare change cup has made more than $15,000 in charity donations, RadarOnline.com reports.
Billy Ray Harris of Kansas City, Missouri, has been rewarded for his honesty with a webpage that people can access to donate money.
The site was set up by the lucky woman's husband, Bill Krejci, who will give all the donations directly to Billy Ray after the 90-day campaign.
Article continues below advertisement
"My wife was interviewed, and I noticed that on some websites people were asking how they could help Billy Ray," Krejci, who works as a web designer, told the NewYork Daily News.
"That's when I got the idea to start the campaign."
Krejci continued, "The idea was maybe to come up with a couple hundred dollars, something nice for him. But now we're talking about an amount that could really make a difference."
As RadarOnline.com previously reported, Billy Ray was begging for money on the Plaza in Kansas City, Missouri last Friday when Sarah Darling stopped to give him what she believed was just a handful of change.
But, almost an hour after their encounter, Harris checked his cup and discovered the expensive piece of jewelry.
"The ring was so big that I knew if it was real, it was expensive," Harris told Kansas City's KCTV5.
Article continues below advertisement
Darling told the local news station that she removed the ring because it was bothering her and put it in her change purse. It wasn't until the next day that she realized she had lost it, and revealed she was more upset about losing it for sentimental reasons rather than financial.
Darling returned to the spot where she had met Harris, squatted next to him and asked if she had left anything valuable with him — and he immediately produced the ring and handed it over.
"It seemed like a miracle. I thought for sure there was no way I would get it back," said Darling. "I think in our world we often jump to like the worst conclusion, and it just makes you realize that there are good people out there."