Presidential Election 2016
Hillary Clinton Slammed For 'Racist' Joke!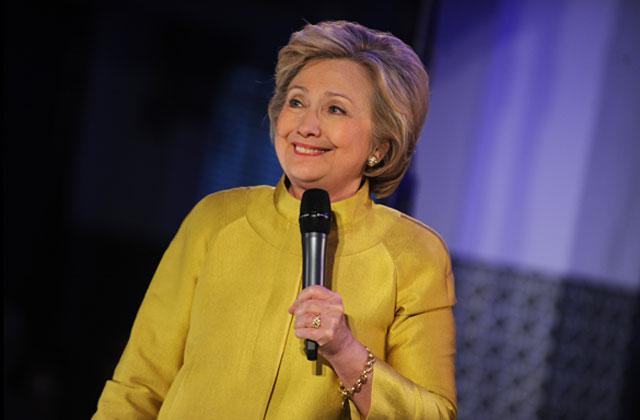 Hillary Clinton has landed in hot water again! This time it was for a racially charged joke that has enraged her critics.
The joke was made Saturday night at a press dinner both the presidential candidate and New York City Mayor Bill de Blasio were attending.
Clinton took the stage with de Blasio and performed a skit about de Blasio's late endorsement of Clinton.
"I just have to say thanks for the endorsement, Bill. It took you long enough," Clinton joked.
Article continues below advertisement
"Sorry, Hillary. I was running on C.P. time," de Blasio responded, referring to "colored people time" — a racist stereotype of African-Americans as being frequently late.
As audible groans arose from the audience, Hamilton star Leslie Odom Jr. (who was in on the joke) told de Blasio he was uncomfortable with the remark.
"That's not — I don't like jokes like that, Bill," Odom said.
But Clinton quickly interjected to clarify that de Blasio meant "cautious politician time," and not the racist expression.
The joke has since sparked heavy criticism toward Clinton, on Twitter and on the blogosphere.
"Did you hear Hillary's racist joke about 'CP' time? True colors come through in big fundraising speeches. #speechless," @BerninforBernie tweeted.
"Disgusting when we the people hear how racist they are," @3angelsandus tweeted.
And @Patrick_Plavko wrote, "People say Trump is racist, but Hillary and Mayor De Blasio are the ones actually saying racist things."
So far, Clinton has stayed silent in the face of criticism, but de Blasio has stepped up to defend her.
"It was clearly a staged show," de Blasio told CNN on Monday. "It was a scripted show. The whole idea was to do the counter-intuitive by saying cautious politician time … I think people are missing the point here."
Watch the cringeworthy video above and let us know what you think in the comments!