Live Weddings, Drunk In Love Singers And A Circus Act: 7 Of The Best And Worst Moments From The 2014 Grammys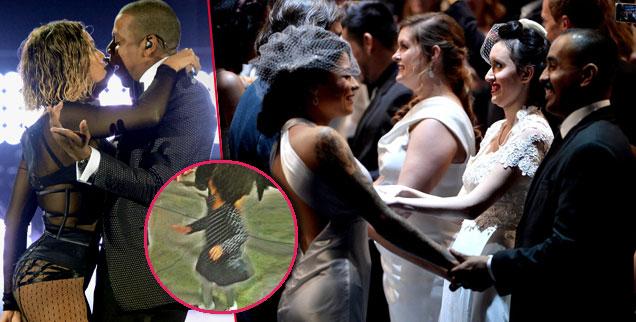 The Grammy Awards have come and gone for another year and while there were no outrageous moments, the show still had its' fair share of memorable ones.
In addition to a mass live wedding, Pink's circus show and Beyoncé and Jay Z bumping and grinding on the dance floor, the surviving Beatles reunited, the Highwaymen took to the stage again, and Stevie Wonder "Got Lucky" with Daft Punk, Pharrell Williams and Nile Rodgers.
Article continues below advertisement
Here is our list of the top seven best and worst moments of the 2014 Grammy Awards.
1. BEST: Beyoncé & Jay Z Are Drunk In Love
Proving that they're still "Crazy In Love", Mr. and Mrs. Carter opened the ceremony with their raunchy performance of Queen B's song "Drunk In Love." Beyoncé grinded and crawled on the floor, rubbed up against her husband and gave the world a teaser into what goes on behind closed doors. Jay-Z cheekily slapped his wife's rear in appreciation and so the 2014 Grammy Awards began with references to surfboards and swerving with one or two curse words sprinkled in.
Watch the video on RadarOnline.com
2. BEST: Lorde Wows The Audience
Demonstrating that you don't have to wear next-to-nothing and gyrate on stage to give a stunning performance, 17-year-old Lorde had the Staples Center in the palm of her hand with her eerie performance of her hit "Royals." She later walked away with two Grammys for Best Pop Solo Performance and Song of the Year.
Watch the video on RadarOnline.com
Article continues below advertisement
3. WORST: Robin Thicke's Cheesy Performance
With his bow tie and slicked back hair, Robin Thicke raced through a medley of Chicago hits, looking every inch the wedding singer. None of his performances (this side of April 2013) would be complete without a rendition of "Blurred Lines" though. Suddenly the glamorous backing singers who were tucked away at the rear of the stage were front and center wiggling in their skintight outfits. And so, Thicke was able to milk his summer hit for one more night.
Watch the video on RadarOnline.com
4. BEST: Pink Flips Out … In The Air
It's still not clear whether or not Pink was singing at the Grammys or auditioning for a spot on the Cirque Du Soleil troop. Either way the pop star's performance was impressive, not just because of her acrobatic feats, but because after twirling around while suspended in the air she didn't get dizzy and topple over once she was back on solid ground.
Article continues below advertisement
Watch the video on RadarOnline.com
5. BEST: Blue Ivy's Gold Sippy Cup
When he picked up his Grammy Award for Best Rap/Sung Collaboration for "Holy Grail," Jay Z's acceptance speech was part-sickly sweet and part cute. After thanking God and the universe for "conspiring and putting that beautiful light of a young lady in my life" – Beyoncé ­– he went on to tell their two-year-old daughter that he had a gift for her. Showing his tender side, the hip-hop mogul said: "I want to tell Blue: 'Look, Daddy got a gold sippy cup for you'."
Watch the video on RadarOnline.com
6. BEST: Getting Lucky With Stevie Wonder
He seemed to be having technical difficulties with his mike at the beginning of his performance but Stevie Wonder's guest appearance on stage with Daft Punk to perform their summer jam "Get Lucky" was one of the highlights of the night. Not even Pharrell Williams' Smokey The Bear hat could detract from the slick groove and the beats that had the entire audience on their feet.
Article continues below advertisement
Watch the video on RadarOnline.com
7. BEST: 33 Live Weddings
It's a wedding day that 33 couples will never forget. How could you when you get married at the Staples Center, serenaded by Macklemore, Ryan Lewis, Mary Lambert and Madonna with Queen Latifah officiating and your guests including Beyoncé, Jay Z, Paul McCartney and Willie Nelson? The impassioned performance of "Same Love" is one that we'll never forget and one that was so moving it reduced some of the audience members to tears.
Watch the video on RadarOnline.com