Fourth Estate Fracas: Congressman Tells Reporter He'll 'Break' Him, Toss Him Off Balcony, After Ill-Timed Question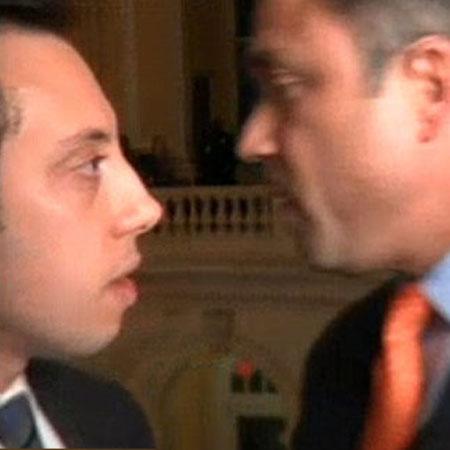 A New York congressman, furious with a TV reporter's on-air inquiries about an ongoing federal investigation regarding his fundraising methods, told the newsman he'd "break" him and throw him off a "f-----g balcony" when he mistakenly thought the cameras had stopped rolling.
The incident took place on Capitol Hill Tuesday between New York Rep. Michael Grimm (R-Staten Island) and NY1 reporter Michael Scotto, following President Barack Obama's State of the Union address.
Article continues below advertisement
Grimm initially blew off Scotto's questions regarding the investigation, saying he would only address Tuesday night's event. According to a NY1 transcript, after Scotto signed off in his report, cameras were still rolling to see Grimm approach him and say, "Let me be clear to you, you ever do that to me again I'll throw you off this f*cking balcony."
Scotto responded, "Why, why, I just wanted to ask you … why, why it's a valid question?" at which point Grimm told him, "You're not man enough, you're not man enough, I'll break you in half, like a boy."
Grimm addressed the issue in a statement, saying Scotto violated the terms of the interview by taking "a disrespectful and cheap shot" at him.
"I was extremely annoyed, because I was doing NY1 a favor by rushing to do their interview first in lieu of several other requests," the politician said. "The reporter knew that I was in a hurry and was only there to comment on the State of the Union, but insisted on taking a disrespectful and cheap shot at the end of the interview, because I did not have time to speak off-topic.
Article continues below advertisement
"I verbally took the reporter to task and told him off, because I expect a certain level of professionalism and respect, especially when I go out of my way to do that reporter a favor. I doubt that I am the first Member of Congress to tell off a reporter, and I am sure I won't be the last."
NY1's political director Bob Hardt said in a statement regarding the incident, "It is extremely disturbing when anyone threatens one of our reporters – let alone a U.S. Congressman. The NY1 family is certainly alarmed and disappointed by the behavior of Representative Grimm and demands a full apology from him. This behavior is unacceptable."
Watch the video on RadarOnline.com
radar_embed service=5min.com src="http://pshared.5min.com/Scripts/PlayerSeed.js?sid=1126&width=570&height=351&playList=518103883&sequential=1&shuffle=0"
Prior to his 2010 election to Congress, Grimm, 43, served in the the Marines and the FBI. His ex-girlfriend Diana Durand was recently arrested in connection with donations made to his campaign. Grimm has said he's done nothing wrong in the affair.