Pot, Meet Kettle: Farrah Abraham & Her Mother Debra Danielson Trade Brutal Barbs On Couples Therapy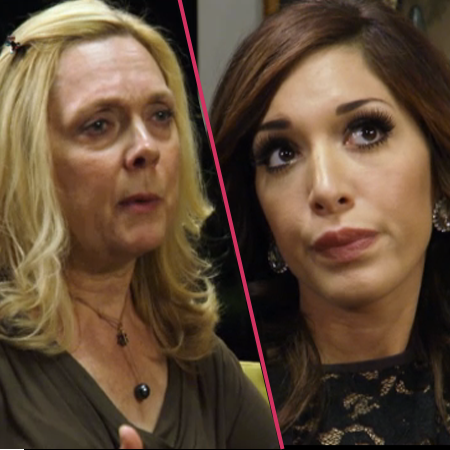 Farrah Abraham has been caught lying about everything from the origins of her porn tape to a "boyfriend" who later said wasn't, and on Thursday night's Couples Therapy on VH1, Farrah's mother Debra Danielson joins the chorus of voices grousing about her daughter's inability to tell the truth.
During a tense confrontation on the reality show, Farrah brought up old bitter feelings about her mother's lack of caring and the fact that Debra had hit her in the past. After show therapist Dr. Jenn Berman brought Debra into the house for therapy with her daughter, it aired a clip from Farrah during her Teen Mom days, in which Debra was shown smacking her during an argument in a car.
Article continues below advertisement
"Why the physicalness?" Farrah asked Debra while Dr. Berman looked on.
"Why didn't you just be quiet when I asked you to?" her mom retorted.
Farrah said, "Does it look like I hit you?"
"You have hit me and called the police on me and lied about it," Debra said.
Farrah replied, "I didn't f***ing lie about it!"
Debra was apparently referring to a 2010 incident in which Farrah called 911 and alleged her mother had choked her; Debra copped a plea in that incident.
But on Couples Therapy, Debra was giving a different spin on their relationship and as RadarOnline.com readers know, she is adding more fuel to the fire surrounding Farrah's lies and alibis.
Farrah has always claimed her XXX porn film, Back Door Teen Mom, was a personal tape that was leaked, but co-star James Deen said it was done for money.
And Brian Dawe, the man who was supposed to appear on Couples Therapy with her, said Farrah asked him to pretend to be her boyfriend for the show! He backed out rather than fake a relationship for TV.
Article continues below advertisement
Earlier on Couples Therapy, Farrah recalled her mother telling her to go sit in the house by herself at the age of two, and said Debra and her father, Mike Abraham, (now divorced) "don't give a s*** about me."
Show therapist Dr. Jenn Berman said it has impacted her relationships: "You had that sense that mom and dad don't care about you. Over and over again, you pick men who wouldn't be there for you or have harmed you."
Farrah said of herself and her Couples Therapy co-stars, "All of us really love our parents even though we've been hurt deeply by our parents."
Later, during her session with Dr. Berman, Debra denied holding anger inside.
Farrah said of the disconnect, "It's hurtful. It is your f***ing fault!"
The porn star broke down in tears.
Dr. Berman said Farrah needed some empathy but Debra insisted she was being misjudged.
Article continues below advertisement
"My heart is beyond broken. There's nobody I love more than my daughter and my family. I'm not gifted to be able to read her face, her heart.
"I can't read minds!" Debra concluded.
At the end of the session, Dr. Berman said Debra wasn't capable of being the mother Farrah needed.
Meanwhile, Jon Gosselin also faced more demons of his ex-wife Kate Gosselin.
On Thursday's episode, his relationship with tough gal girlfriend Liz Jannetta was put under the microscope.
"Jon is constantly recreating his dynamic from his marriage to Kate with Liz," Dr. Berman told the cameras.
In individual therapy, Dr. Berman told Jon he was falling back into the same pattern of being browbeaten.
But Jon insisted, "There's a love there. When she says she loves me, I believe it. She cares."
Watch the video on RadarOnline.com
Dr. Berman pointed out Jon was happy to get some attention because "you talked about being in a sexless marriage" to which Jon nodded in agreement.
"I have eight children and she's really good with my kids," he added.
But Liz often snapped at Jon during Couples Therapy, so Dr. Berman encouraged him to be more assertive with his partner.
In the next scene, Liz made a sarcastic comment to Jon, and then admitted herself, "I'm an a*****e. I'm being just like your ex-wife."