Trash Talking! Kevin Garnett Says Carmelo Anthony's Wife La La Vazquez 'Tastes Like Honey Nut Cheerios'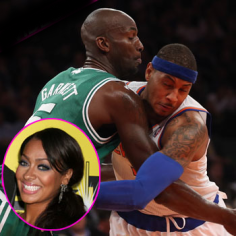 NBA stars Kevin Garnett and Carmelo Anthony had words on the basketball court Monday night with Garnett being accused of saying Anthony's reality TV star wife, La La Vazquez tasted like a popular breakfast cereal!
Celtics player Garnett is alleged to have told New York Knick Anthony that his wife of two years "tastes like Honey Nut Cheerios" during the Knicks-Celtics game.
The report from Black Sports Online was picked up and went viral across the sports world.
Article continues below advertisement
Garnett and Anthony were later photographed getting into a series of skirmishes during the fourth quarter of the game.
The insult made Anthony so angry that he tried to confront Garnett by the Boston Celtics team bus following the game, and RadarOnline.com has the video!
Madison Square Garden security and New York City police officers were dispatched to the scene to diffuse Melo, according to ESPN.
youtube