Who Stood Out On Dancing with the Stars? Who Made Carrie Ann Inaba Cry?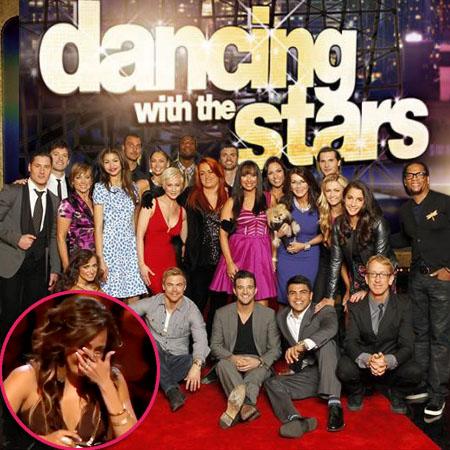 Dancing with the Stars' 16th season continued with a stroll down memory lane Monday, as contestants danced to songs from crucial times in their lives, and we've got all the details for you right here on RadarOnline.com.
SPOILER: Who Scored The Most On Dancing with the Stars?
Gymnast Aly Raisman was golden Monday, racking up the highest score of the evening -- and season, so far -- with a 27-point score for her contemporary routine set to Titanium from 2012, the year she competed in the Olympics.
Article continues below advertisement
Disney star Zendaya continued her strong, star-making showing this season, excelling in her samba to Beyonce's Love On Top.
"You are baby Beyonce!" judge Carrie Ann Inaba told the 16-year-old. "Beyonce better watch her back!"
Judge Bruno Tonioli was also impressed, saying Zendaya's routine was "so cool" and "so hip.
"Every kid that watches you wants to go out and dance like it."
youtube
Not losing any ground, American Idol star Kellie Pickler got 26 points for her rumba Say I Do, which her husband Kyle Jacobs sang in a live performance.
"Every single shape you hit is like a work of art," Carrie Ann told her.
Andy Dick -- who received 21 points for Viennese waltz -- made Carrie Ann cry, particularly after he dedicated his routine to his 15-year-old daughter Meg, who was in the audience; after his routine, Andy hugged and kissed her.
youtube
"It was like the simplest poem," the emotional judge told the troubled celeb. "Your movement vocabulary's small, but what you said with those few movements was so beautiful."
Article continues below advertisement
Watch the video on RadarOnline.com
Elsewhere, the point totals for the respective dances were: Jacoby Jones, 24, fox trot; Ingo Rademacher, 23, Viennese waltz; D.L. Hughley, 21, fox trot; Sean Lowe, 20, Viennese waltz; Victor Ortiz, 18, paso doble.
A sickly Lisa Vanderpump tied Ortiz for the night's lowest total with 18 for her cha cha, but was lucky to have danced at all after an ongoing illness (that had her fainting in rehearsals) left her appearance in question. A trooper Lisa made the call to dance 15 minutes before showtime.
Dancing with the Stars returns Tuesday at 9/8c on ABC.