Secrets Of Their Marriage: Cynthia Bailey's Husband Peter Thomas Confesses How He Kept A Major Fact Hush Hush — Find Out What It Was!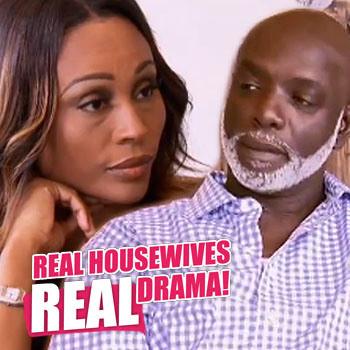 Cynthia Bailey got a reality check about BarONE when she confronted her husband Peter Thomas about reports that his landlord was suing him for nearly $100,000 in unpaid back rent.
In a sneak peek of the upcoming episode of Real Housewives of Atlanta, Thomas finally revealed the sobering news that their business was in jeopardy.
"What's going on?" Bailey asked her hubby about the foreclosure news.
"I'm stressed. Stressed the hell out," Thomas said.
Article continues below advertisement
"I didn't really want to alert you on it, but I got a letter from my attorney last month saying that the bank wanted me to pay them direct because the landlords are in default. They haven't been paying the mortgage."
According to Thomas, he has always been up-to-date with his payments on the rent for the upscale lounge and restaurant.
Faked Scenes, Lies & Payoffs – The Ultimate Guide To Reality TV Shows
"The owners of BarONE haven't been paying the mortgage, therefore BarONE is going into foreclosure … This isn't the kind of news I want to hear from a blog. This is news I want to hear first hand from my husband," Bailey vented to the Bravo cameras.
"Would you still get to keep BarONE?" Bailey asked Thomas.
"Once we can prove that we've been paying them, and we're not delinquent, then, they will honor our lease," he said.
Bailey continued to voice her concerns, wondering what Thomas' "plan B" was if the lease didn't get renewed.
"I got to find a new location," he said.
As Radar previously reported, Thomas is set to open a second BarONE location in Charlotte later this year, and the Atlanta flagship business remains open.
Watch Bailey and Thomas question the fate of their businesses in the video below.