Excuses, Excuses: RHOA's Peter Thomas Claims He's Not Behind On His Rent -- But His Landlord IS!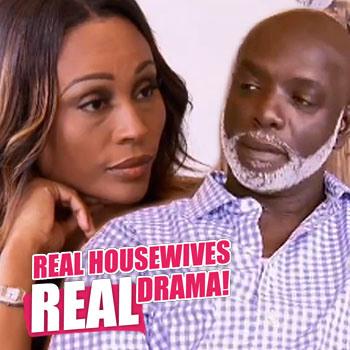 Cynthia Bailey's husband Peter Thomas became the latest cast member of Real Housewives of Atlanta to be named in a lawsuit last week, when RadarOnline.com reported that he was being sued by his landlord for nearly $100,000 in unpaid back rent. At the time, Thomas insisted it was only a "misunderstanding," but now, he's offering up an explanation: According to Thomas, he has always been up-to-date with his payments on the rent for BarOne -- but his landlords are the ones who owe dough!
Article continues below advertisement
Thomas' Bar One "is in foreclosure court right now," Thomas told StraightFromTheA.com. "For the fact that these two guys, who are my landlords … didn't pay the rent that I was paying them every month for over a year. They was upside down on the property but I wasn't aware of that until I got the letter from the bank saying not to give them money any more."
"Shortly after that," he claims, "it went into foreclosure."
Thomas claims the property will soon be on the market, and says, "I'm partnering up with a group of people to purchase it."
Indeed, as recently as January, RadarOnline.com has learned, Bar One had launched a search for investors on their Twitter page.
As RadarOnline.com has reported, Thomas' landlord Eloshua Eliott and Showtime Cafe filed a lawsuit claiming Thomas "breached a lease agreement by failing to pay rent and other fees including late fees, bank charges, real estate property, taxes and unpaid utilities."
Article continues below advertisement
In addition, RadarOnline.com found, this is not the first time Thomas had issues with his landlords. According to court documents obtained by RadarOnline.com, he was served an eviction notice by a different landlord, Boye Architecture, in August 2010. It is unclear how that case was resolved.
And in November 2009, court records show, Glenwood East Apartments served Thomas with an eviction notice, but that case was eventually dismissed.