'Creepy' Kim Kardashian Films Video Of Her Teen Sister Kendall Jenner In A Bikini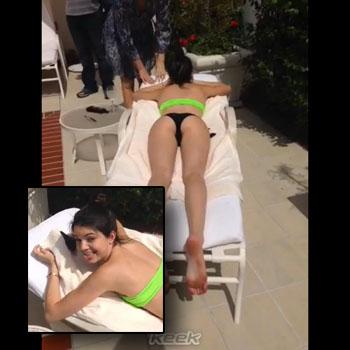 Kim Kardashian has some major envy over her 17-year-old sister's bikini body!
The 32-year-old pregnant reality star filmed a video of sunbathing bikini beauty Kendall Jenner and shared it on Keek in a post she titled Envy, where she ogles over her little sister in a way that the teen found totally "creepy" – and RadarOnline.com has the video.
"Look at this body on my younger sister Kendall Jenner," Kim coos over the bikini backside of her half sister, who is quickly making a name for herself as a fashion model.
Article continues below advertisement
"Mine, me?" Khloe responds, before Kim clarifies that it is Kendall who she is drooling over.
"How jealous am I? I'm just saying I am so jealous of how tall you are," Kim continues.
"You're a creepster," Kendall mutters to her.
"I'm not trying to be creepy," Kim says. "Kendall, don't worry I won't call you too skinny, I know you get offended but I get called too fat, so I am just saying this is, yeah it is kind of creepy. But I am jealous. But she's a model and she's so tall…"
"Yeah, so tall is what you're really jealous of," Khloe interjects again.
Do you think Kim Kardashian was being creepy by filming a video of Kendall Jenner's bikini backside? Visit our Facebook page and let us know!
Apr 14, 2013 | Envy by KimKardashian on Keek.com