Country Star Kylie Rae Harris Posts Eery Video Before Dying In New Mexico Car Crash
Country singer Kylie Rae Harris died on Wednesday, Sept. 4, after she was involved in a three-car accident on a northern New Mexico road.
"Everyone that knew Kylie knew how much she loved her family and, beyond that, how much she loved music," Harris' publicist said in statement. "The best tribute to her unmatched enthusiasm for both is to spread as much love as you can today, and listen to music that fully inspires you."
Article continues below advertisement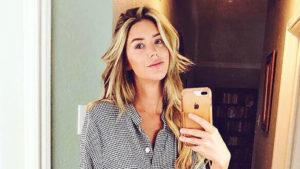 The 30-year-old star, who was based in Texas, was not the only fatality in the crash on State Road 522 — a 16-year-old driver reportedly also passed away while a third driver escaped serious injury.
The Taos County Sheriff's Office noted alcohol may have played a factor in the accident, though it's not clear which driver authorities suspect.
The last tweet Harris posted at 1:05 p.m. the afternoon she died read: "Fuel range is 46 miles and I'm 36 from the nearest gas station. Dear baby Jesus please don't let me get stranded in NM."
And in an eerily prescient video posted to Instagram hours before she died, an emotional Harris revealed from inside her car that she was "a mess" because "I've been crying" while driving through New Mexico.
She recalled that her dad, sister, grandparents, and uncle had all lived in New Mexico at one point.
"Literally everybody that was here has passed away, except for my uncle," she said in the video, noting she was "real sad."
In another tragic twist, Harris had just released "Twenty Years From Now," an emotional song she wrote for her six-year-old daughter Corbie.
In it, she sang about hoping to be around decades in the future since Harris never got to know her dad as an adult because he passed away from cancer when she was younger.
"It scared me thinking that it was totally possible I could be gone before my daughter reaches that point," Harris said in a recent interview. "I want to meet my kid's kids. Getting to the age your parents were when you were a child brings a whole lot of perspective."