Jailhouse Idol? Conrad Murray Sings About Santa On Anderson Cooper's Show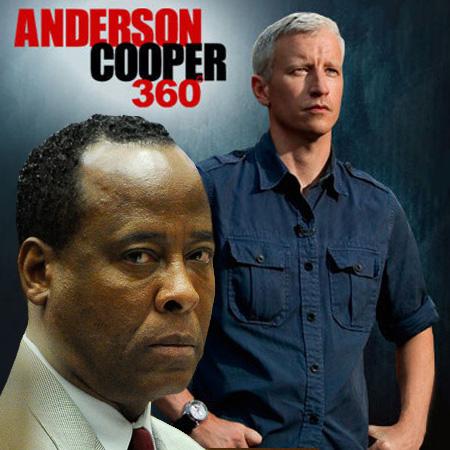 In an jaw dropping move, Michael Jackson's former personal physician, Dr. Conrad Murray, called into Anderson Cooper's AC360 CNN show from jail Tuesday night and inexplicably started singing Nat King Cole's The Little Boy That Santa Claus Forgot!
Before he launched into his song, Murray first spoke to Cooper about Katherine Jackson's $40 billion wrongful death lawsuit she filed against AEG Live, the concert promoter, she claims, entrusted Murray to be his physician during his This Is It comeback tour, which was set for London's O2 Arena in the summer of 2009. (Jury selection in the trial started Tuesday.)
Article continues below advertisement
Murray -- who indicated to Cooper he feels no guilt in Jackson's death by saying, "I am an innocent man" – said at this time, he has not been subpoenaed, but that he is "not interested" in testifying, but if he does, he will invoke his Fifth Amendment right to not incriminate himself.
Murray also claimed he didn't know Jackson as an addict, which Cooper challenged since there were other medicine bottles in the singer's bedroom.
The disgraced physician also maintained once again that he didn't give Jackson any Propofol the day he died. Furthermore, he claims he didn't leave any of the powerful hospital anesthetic within Jackson's reach, and that it was Jackson who injected the drug into himself, after Murray left the room.
Murray insisted, "I'm an innocent man, Anderson. I maintain that innocence. I must tell you, I'm extremely sorry that Michael has passed. It's a tremendous loss for me, it's a burden I've been carrying for the longest while and it's a burden I will carry for an indefinite period of time.
Article continues below advertisement
"The loss is just overwhelming. He was very close to me, I was close to him, we were absolutely great friends."
Later in the interview, Murray touched on his humble childhood and compared it to Jackson's early life in small town Gary, Indiana, and then, he bizarrely started singing the classic Cole song, The Little Boy That Santa Claus Forgot.
Lyrics include, "He's a little boy that Santa Claus forgot, and goodness knows he did not want a lot/ He wrote a note to Santa for some crayons and a toy, it broke his little heart when he found Santa hadn't come... I'm so sorry for that laddy who hasn't got a Daddy."
Murray then added, "That song tells my story. That's how I grew up - I had no Christmases, I had no toys. I had nothing."
As RadarOnline.com has previously reported, in November 2011, Murray was sentenced to four years in prison on an involuntary manslaughter charge after he was found guilty of administering the fatal dose of Propofol, which killed the Thriller singer on June 25, 2009.
Murray is scheduled to be released on October 28, if he serves his full sentence.