Cop Who Rescued Women From House Of Horrors: 'I Felt Evil In The House'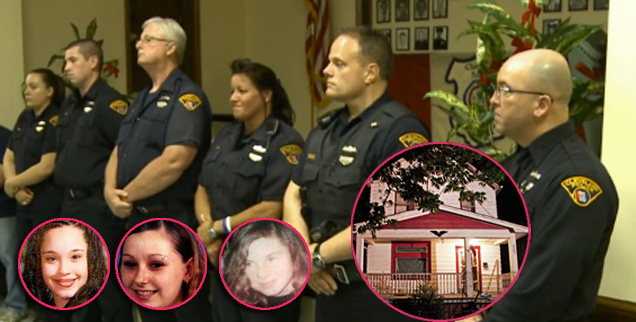 Cleveland police officer Michael Simon, who helped rescue Amanda Berry, Gina DeJesus and Michelle Knight from accused kidnapper/rapist Ariel Castro's home, said that he "felt evil in the house" during the raid.
Simon, a 27-year veteran, recalled last week's heroic rescue from the House of Horrors, along with his colleagues, in a news conference at the Cleveland Police Patrolman's Association on Wednesday, reported WKYC-TV.
Article continues below advertisement
"When I heard there were people in the house, I ran up to the door, but it was locked from the inside," Simon said. "So I grabbed the hand rail by the stairs to use as a prying tool ... but the other officers kicked the door in.
Officer Anthony Espada said he was moved to tears upon the discovery.
"I've broke down a few times on the scene, and in private since then -- those three girls are my heroes," he said. "After what went through in that house all those years."
Barbara Johnson, another officer on the scene at Seymour Avenue, recalled the emotional result of the rescue mission.
"Michelle hugged me first, then clutched me and said, 'Don't let me go,'" Johnson said. "You can't really describe how I felt ... it rips the heart out of my chest.
"You try and forget about this, but you can't ever forget something like this."
Officer Michael Tracy said he went through "both disbelief and excitement" when he saw Berry at the residence.
"We've all seen the flyers for Amanda and Gina … our first thought was to safely get inside, make sure the girls were OK, and then get them out.
"That day I also felt excitement and happiness for the girls and for their families."
Watch the video on RadarOnline.com
Simon, Johnson, Tracy and Espada, along with officers Michael John Graves and Matt Cavanaugh, helped free the women from the place prosecutors say they were imprisoned, raped and beaten by Castro for around a decade.