Florida Man's Attempt To Rescue Cat On Highway Turns Deadly, Tragic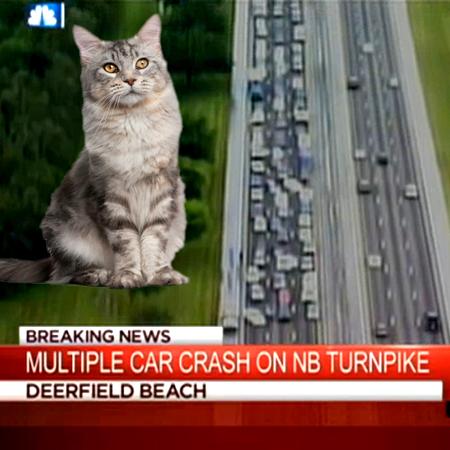 A Florida man who tried to save a cat off the Florida Turnpike is in critical condition, and another person is dead, after the man's kind actions led to a deadly car accident on the busy expressway Monday.
Sergeant Mark G. Wysocky said Tequesta, Fla. native Michael James Schneider, 35, was attempting to corral the cat when a 2010 Honda Accord came along and smashed into a guardrail and Schneider's vehicle, a 2003 Toyota Tundra.
Article continues below advertisement
Schneider "walked into the center lane, was hit by a vehicle," Wysocky. "That vehicle then veered to the right with Schneider riding on the hood, ran off the road and hit Schneider's pickup truck, hit the guardrail and ejected Schneider off the hood of the car into the grass shoulder."
Schneider remains hospitalized in critical condition, Wysocky said, adding that the driver of the Honda, 75-year-old Boynton Beach native Mary Jane Alston, died at Broward Health North Hospital in Pompano Beach.
Alston's daughter, Carrie Russell told WPTV, "I'm thankful at least that my mother won't relive that image over and over again, the image of that young person being struck by her own car.
Watch the video on RadarOnline.com
"He didn't make a very wise choice. I'm not sure of his frame of mind, he was obviously doing it for the right reason."
Wysocky said the cat was also killed as result of the crash.