American Idol's Kris Allen Injured In Head-On Collision On New Year's Day, Reveals Wife Is Pregnant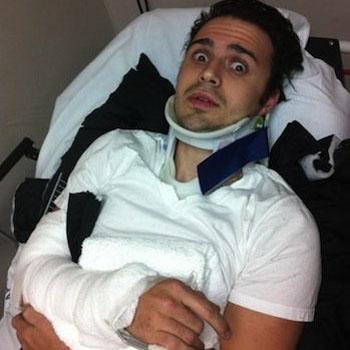 American Idol winner Kris Allen and his expectant wife Katy were involved in a serious head-on collision New-Year's Day, which left the 27-year-old No Boundaries singer with a broken arm, RadarOnline.com is reporting.
Allen and his family, including their dog, Zorro, were all in the car, according to the singer's mother, Kimberly, who tweeted: "Kristopher and Katy are both pretty beat up but ALIVE! Thank you Jesus! They are setting his arm now and will have surgery tomorrow. Zorro is fine, too! Very shook up, but not injured."
Article continues below advertisement
Allen -- who won season eight of American Idol -- was expected to kick off his Out Alive tour this month, but it's likely the tour will now be delayed.
The singer took to Twitter to personally update his fans on his condition, and he also took the opportunity to share the good news that he and his wife are expecting their first baby.
"Thank you @Ford for equipping me with a car that kept my whole family @katyallen @Zorropup and the little one we have on the way safe," Allen tweeted.