Holy War! Carlton Gebbia Scolds 'RHOBH' Co-Star Kyle Richards About Constant Questions About Her Religion: I'm Offended By You!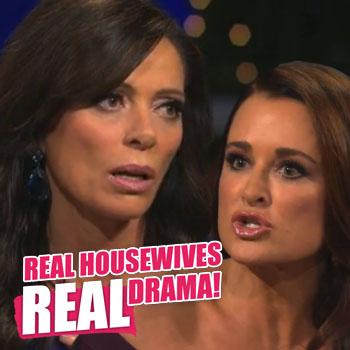 Although Carlton Gebbia has been open about being a witch and practicing the Wiccan faith, she is sick and tired of her castmate Kyle Richards constantly asking about her religion.
In a sneak peek of The Real Housewives Of Beverly Hills reunion (Part 2) on RadarOnline.com, Gebbia explained why Richards' questions about her religion are so offensive.
Listen! 'RHOP' star Wendy Osefo breaks down the "most intense fight in the show's history" in under 2 minutes.
Article continues below advertisement
"The comments she was making weren't coming from a genuine place of interest. It was a consistent build up of little things," Gebbia, 40, said.
Richards, 45, fired back: "I was trying to get to know you… What should I do, ask you about your sex toys?!"
"I'm proud of my religion," Gebbia said, to which Richards responded, "You don't seem like it!"
Brandi Glanville chimed in that all her co-stars ever talk about is Gebbia's religion – and they need to let it go.
Faked Scenes, Lies & Payoffs – The Ultimate Guide To Reality TV Shows
Astounded, Gebbia shakes her head in disbelief, as Richards continued.
"I certainly would not think asking, 'Is that a Star of David?' is offensive when I'm Jewish," Richards said.
"This is one more dig for me to react… I'm not offended by the Star of David. I was offended by you!"