'Virgin' Housewife Carlton Gebbia Strips To Underwear For Wild Pole Dancing Class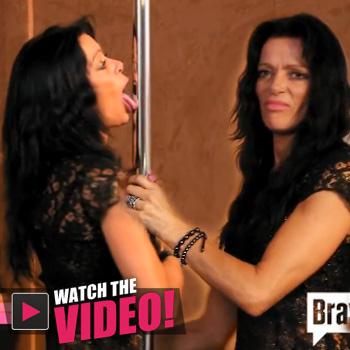 With her sex dungeon under construction, Carlton Gebbia has decided to take a pole dancing class to learn some new moves for her husband.
In the sneak peek for the upcoming episode of The Real Housewives Of Beverly Hills, the self-proclaimed "pole virgin" Wiccan invites her pal Brandi Glanville and nanny, Elizy, for the seductive outing.
After the instructor showed off a few moves, Carlton – who admitted she was tipsy for the occasion - got a little crazy!
Article continues below advertisement
First, she grinded up against her nanny, telling the Bravo cameras: "I'm not a prude at all. I love the female body. Honestly, it's a work of art!"
After telling Brandi to "whip off her clothes," Carlton then stripped down to her underwear to expose a secret message sprawled across her backside!
"Excuse me, I forgot I was wearing these," Carlton told her gal pals before taking a few spins around the pole.
With the alcohol obviously kicking in, Carlton licked the pole and flaunted her sexy figure, as Brandi watched the antics from across the room.
"Drinking and pole dancing don't mix for me," Brandi added, "I'm a little jealous."