Did Brandi Put A Spell On Her? Carlton Gebbia Calls Kyle Richards A 'Moron,' Says Joyce Giraud Is 'Ignorant'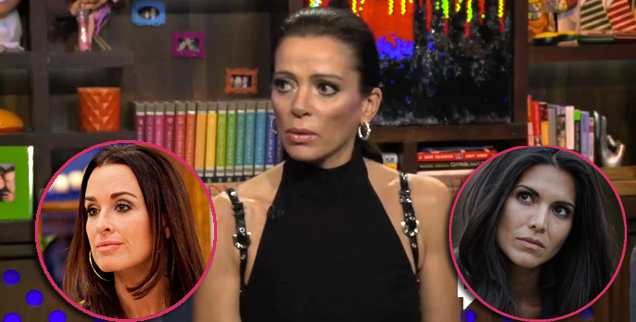 Article continues below advertisement
"The two of them are pretty ignorant," the dark-haired beauty said of the duo, playfully feigning to forget their names.
Gebbia said the misconception with her castmates regarding her witchcraft "is that there's this evil witchery going on, and it's completely the opposite."
A caller asked the witchy woman of the 90210 why she didn't mind Glanville calling her the C-word, yet she was offended when Kyle Richards asked her about witchcraft.
Watch the video on RadarOnline.com
"Because with Brandy, I understand her and we have a friendship, so her calling me the C-word is coming from a place of friendship, which I do have with her."
As for Richards, Gebbia said that she was irritated by Kyle's inquiry, because up "until that point, there had been many little innuendos and digs that had been passive-aggressive, and toxic.
"You know, I don't have patience with morons."
Watch What Happens Live airs Sunday thru Thursday on Bravo at 11/10c.