Exclusive
Take That LeAnn! Glanville Smacks 'Rimes' In The Face, And That's Just The Start Of Brandi's Jabs!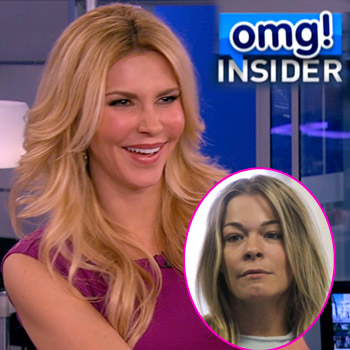 Brandi Glanville took aim once more at her arch nemesis, LeAnn Rimes, Friday, when the outspoken Real Housewife stopped by the set of omg! INSIDER - and only RadarOnline.com has an exclusive sneak peek of her attack!
As she stands posing next to a cardboard cut-out of Rimes, Brandi "accidentally" smacks her in the face, knocking it over, to which she exclaims, "Oops!"
While sitting in on their Top Shots segment, Brandi, 40, is shown a photo of LeAnn that circulated earlier this week and asked to comment.
Article continues below advertisement
"On the same day of your book signing we had one of our most talked about Top Shots, and look who it is!" Host Michael Yo says. "LeAnn Rimes and her infamous sneeze picture, now that's according to her, but a lot of people thought she was crying. What'd you think?"
PHOTO: LeAnn Rimes & Brandi Glanville — BFFs?
"Well I know that she was sneezing because we went to dinner that night and we talked about it. I'm kidding!" Brandi quips. "I have no idea. I mean, I hope she was just sneezing. I don't want anyone crying."
Be sure to tune in Friday night, as omg! INSIDER promises lots more drama from Glanville, including yet more jabs at LeAnn, her cheating ex-hubby Eddie Cibrian and Bravo castmate Adrienne Maloof.