Brandi Glanville: I Want To Live A Normal Life, But My Family Has Been Falling Apart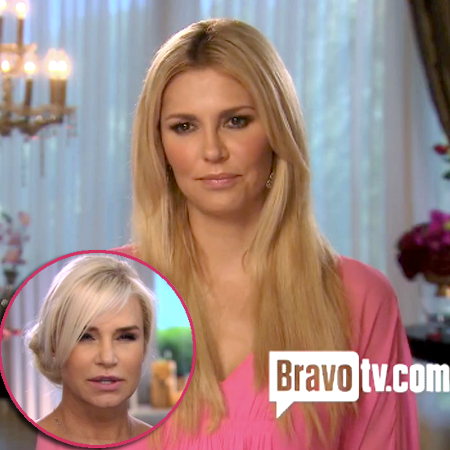 Brandi Glanville hoped to repair her estranged relationship with her father on Monday night's episode of The Real Housewives Of Beverly Hills.
The outspoken, party girl took Yolanda Foster to her hometown of Sacramento, Calif. in hopes of reconnecting with her family.
"My hope is to get back on track with my dad. I love that man like crazy," Brandi admitted, revealing he hasn't answered her calls or texts for several months.
Article continues below advertisement
"I just want to live a normal life, but my family has been falling apart," she said. "My dad is upset about my book because I said he was a drug dealer. Really, he was a marijuana grower. I don't see the difference. My dad was a hippie," Brandi explained.
As Brandi began to tear up, Yolanda told her to "take a deep breath."
"I know you have a lot of unresolved issues, but at the end of the day, you have to try to let it go," the wise Yolanda told her friend.
At Brandi's book signing, she met up with her family and celebrated her dad's birthday.
"I'm worried and have mixed emotions… My dad is the only man in my life and when I have problems with my rock, I kind of fall apart," Brandi revealed.
She and her dad had a heart-to-heart and appeared to take baby steps in repairing their relationship.
"We have a lot of issues. This is a big step," Brandi's dad said. "We will go forward. I love you... It will get better."
Article continues below advertisement
"I love you dad," Brandi said, hugging him.
"No matter how much of an adult I have to act like, I still need my dad," she cried to the cameras.
With the family drama behind her, Brandi returned to Beverly Hills to find housewives drama brewing.
Over drinks with Lisa Vanderpump and Kyle Richards, Brandi accused the Vanderpump Rules star of treating her like a child.
"Listen, I'm a grown woman," Brandi told Lisa.
"Yeah, but I'm still going to look after you," Lisa said.
"Lisa mothers me so much. I already have a mother, and she doesn't nag me," Brandi said to the cameras.
"Anything I tell her to do, she won't listen," Lisa told Kyle.
The Hottest Stars From Reality TV
"Cause I don't want to be told what to do," Brandi said. "I'm fine."
"She is always mom-ing me. It's overbearing. Lisa likes to point out my weaknesses a lot to remind me she is stronger than me," Brandi vented.
Article continues below advertisement
Meanwhile, Carlton prepared for her annual pool party – by auditioning a bevy of sexy strippers she hopes to hire.
"There is nothing negative about what we're doing," Carlton said. "It's a celebration of women."
The women stripped down to their underwear and began to dance around the pole for Carlton and her friends.
"They did a pretty decent job. I mean, not to the level I really expected and wanted to see," an unimpressed Carlton told the cameras. "I want someone who knows how to work a pole in a positive way."
Finally, Carlton's prayers were answered. The final woman to audition didn't hold back, as she climbed the pole and swung around it doing flips and splits. Carlton hired her on the spot.
Later, Joyce Giraud and her husband Michael Ohoven take to the gun range after two masked robbers tried to attack them at home. Explaining the "incident" to the instructor, Joyce revealed: "On a Sunday night, we had two guys walking up our driveway coming straight to us with two shotguns."
Article continues below advertisement
The intruders never got into their home though, thanks to their boxer pup, "who is trained to attack," the former Miss Puerto Rico further explained.
"The boxer saved us," Michael added.
"After that experience, I bought machetes, pepper spray, and I have bats behind every curtain. I'm going to be ready," she told the Bravo cameras.
Next, Joyce explained that she wanted to take a self-defense class with the other gals.
Things got out of hand when Yolanda seemed not to understand the teacher's instructions and almost choked him to death.
"That was very close to my perfect ending," he joked.