Brandi Glanville: I'll Take A Lie Detector Test To Prove Lisa Vanderpump Wanted To Pack The Tabloids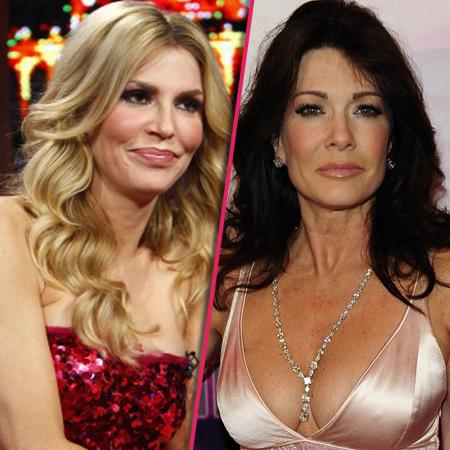 Lisa Vanderpump had to come face-to-face with her Real Housewives of Beverly Hills co-stars on Monday night's season finale, as they confronted her once again about whether or not she brought the tabloid magazines on their trip.
The ladies had not seen each other since the dramatic fireworks in Puerto Rico, but were drawn together for the Beverly Hills 100th anniversary party at the Beverly Hilton hotel.
Article continues below advertisement
"I feel bad about Puerto Rico, but it didn't have to get ugly. That's in Lisa's hands," Kyle Richards said.
When the housewives asked Lisa why she abruptly left Puerto Rico, her response was simply: "It's complicated."
"They don't think they owe us an apology for anything. I haven't seen Beyonce with that kind of an attitude," Yolanda Foster told the cameras about Lisa and her husband Ken Todd, who had called her "stupid" during a blowout fight.
Later, Lisa pulled Kyle aside and insisted that she'd stuck up for Kyle against all the alleged cheating rumors and couldn't understand why she still questioned her motives.
"It's up to you what you believe. It doesn't matter to me anymore. I can't persuade you," Lisa told Kyle.
Reflecting on their friendship, Kyle added: "I took the good with the bad. Nobody is perfect…. I don't want to hold a grudge, but I need to know you're my friend, and you care about me."
Article continues below advertisement
"Why are you rolling your eyes and seem annoyed with me?" Brandi asked Carlton.
Carlton explained that she doesn't remember seeing any tabloids during their trip to Palm Springs.
"Did Lisa remind you of what you remembered?" Brandi asks. "Lisa is the puppet master."
"No, I'm not a puppet," Carlton insisted, clearly annoyed with the accusation. "She's not in my ear. I'm just saying, I didn't see a magazine."
Article continues below advertisement
Turning to the cameras, Brandi claimed Carlton has been manipulated.
"I know Lisa well enough at this point that she got home from Puerto Rico and went straight to Carlton. She needed an ally, and no one was talking to her," she revealed.
Next, Brandi took her turn pulling Lisa aside to ask her about why she kept bringing Eddie Cibrian's ex-mistress, Scheana Marie, around.
"You told me to talk to Scheana and congratulate her on her engagement. Well, I didn't want to talk to someone that f***ed my husband while I was pregnant. But you already knew that," Brandi vented.
Turning to the cameras, Brandi went off: "I don't know if Lisa, because she has never been through a divorce or had her kids ripped from her, gets how depressed I was… Don't put her in front of me to remind me of that dark time in my life."
"I've been a good friend to you," Lisa told her, adding that Scheana has worked with her for five years at SUR and Villa Blanca. "She is not a friend of mine… She made a mistake."
Article continues below advertisement
"Who gives a f*k about a f**king whore!" Brandi responded.
"I don't see her like that," Lisa said.
"Then, we're not truly friends," Brandi stated, adding that she has felt manipulated by Lisa over the course of their friendship. "I love you, but I'm not a part of your game anymore."
"I was a good, supportive friend, even when she did things I didn't approve of -- and this is how she repays me," Lisa told the cameras.
"It's sad for me because I really thought of Ken and Lisa as my family. I'm hurt," Brandi said.
Once back with the group, Brandi brought up the tabloids AGAIN.
"So what did you do with the magazine?" Lisa asked.
"I left it at my house," Brandi fired back. "The truth is, you were at my house. You saw the magazine… I'll take a lie detector!"
"There was a plan, and I was a pawn. I want her to admit it," Brandi added.
Article continues below advertisement
Yolanda refused to back down, stating her husband David Foster wouldn't get involved in their fights.
"You think my husband wants to hang with somebody like you who attacks somebody's woman in public?" she responded. "Are you kidding me?!"
Ken urged: "Let your husband tell me that."
When he barely touches her arm, Yolanda swatted at Ken and yelled: "Don't touch me! I'm an intelligent woman. Don't call me stupid."
"You're not that intelligent," Ken fired back as he walked away and left the party with Lisa.
"It's not about the magazine. They think they're up here and we're all their f**king servants. We're not," Yolanda confided to Brandi and Kyle.