Vanderpump Doesn't Rule Anymore! 'RHOBH' Queen Breaks Down After Brandi Glanville Exposes Her To Kyle Richards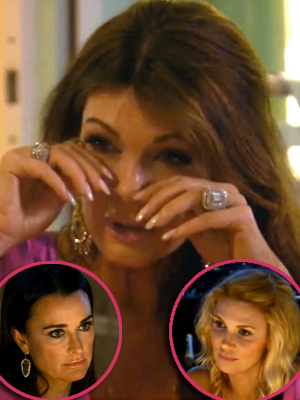 Article continues below advertisement
And on the explosive episode, Kyle and Mauricio appeared to believe Brandi, and confronted Lisa. The question for viewers: Was it all a jealous Brandi lie to drive a wedge between Lisa, her former BFF, and Kyle?
The trouble began when the RHOBH cast members went on vacation together in Puerto Rico to visit co-star Joyce Giraud's home country.
Brandi, simmering with anger about perceived slights from Lisa, confided to Yolanda Foster that she felt Kyle had replaced her as Lisa's close friend. (Unsurprisingly, Yolanda was taking bestie Brandi's side, telling Bravo's cameras that Lisa was a phony.)
Although Lisa used to call her every morning, Brandi said now she called Kyle.
"I feel like I'm on the down," Brandi fumed.
Brandi was also angry that Lisa seemed to take every opportunity to befriend Scheana Marie, Lisa's SUR waitress who had once had an affair with Brandi's then-husband, Eddie Cibrian, as she felt that Lisa had exploited her marital breakup pain on TV by constantly shoving Scheana in her face.
Article continues below advertisement
Brandi also took a harsh dig at Lisa, saying she had her one-time houseguest Cedric Martinez deported back to England before the show's season before was filmed after the two had a falling-out.
Even though she was admittedly intimidated and "scared of" the British beauty, Brandi was determined to confront Lisa about the situation on the trip.
On a beach outing in Puerto Rico, Yolanda decided to have a pow wow with Lisa, telling her Brandi felt there was a divide in the group.
"I haven't done anything wrong," Lisa said.
"Are you a Hollywood friend or a real friend?" Yolanda pressed.
Brandi then joined in and told Lisa, "You're moving away from me and back towards Kyle."
Lisa walked away and Brandi told the cameras that "she can't handle a conversation."
"They're mean. I want to go," Lisa cried to husband Ken Todd.
The Craziest & Most Outrageous Celebrity Rumors — What's True, What's Not?
Article continues below advertisement
"I'm not a mean girl," Brandi insisted.
Oh, yeah? Brandi then told Kyle privately that she had had tabloids featuring Mauricio's cheating scandal at her home -- and Lisa deliberately put them in Brandi's luggage so that she would take them on the girls' getaway to Palm Springs.
Kyle seemed to believe Brandi and sighed about Lisa, "I'm an idiot."
Kyle told the group that Lisa clearly wasn't her friend.
It wasn't the first time she'd had doubts, as Kyle admitted to the cameras, "Lisa has not always been supportive of me."
Meanwhile, things got heated between Lisa's husband Ken and Yolanda as he told her it was Brandi's issue, not hers!
When Kyle asked Lisa if she'd tried to stir up trouble by making Brandi pack the offending tabloids, Lisa denied it.
But Kyle didn't know who to believe.
"I'm so confused," she told the cameras.
Article continues below advertisement
Kyle's sister Kim Richards then told Mauricio the story of what Lisa had allegedly done, and the husband who has weathered infidelity rumors exploded, "That's a f***ing b**** if you ask me!"
Mauricio, who has always denied cheating on Kyle, went over and confronted Lisa and her husband.
Both denied it with Ken vehemently telling him, "It's a lie!"
"She's the perfect woman. Maybe that's what they don't like," Ken told the cameras about his wife.
Still, Mauricio was skeptical.
"I don't know what to believe," he told Lisa and Ken.
Later, over dinner with everyone present at their Puerto Rican resort, Kyle said she wanted to know the truth about the tabloid story.
Both Brandi and Lisa claimed the other was lying.
Hollywood Plastic Surgeons Tell All: 42 Stars Who've Had Lipo, Face Lifts & Tummy Tucks
The situation led to the rest of the cast taking sides, with Kim telling Ken, "You're a big, stubborn old man. Shut up!"
Article continues below advertisement
Lisa and Ken then fled the dinner in disgust.
"We're out of here!" Ken said.
After they left the table, Mauricio told the others, "I want to know who my friends are, for sure."
Watch the video on RadarOnline.com
Back in their room, Lisa and Ken shared a drink and cigarette together as they vented their frustration about the trip gone awry.
"I won't defend anyone in the future," Lisa said. "Especially not Brandi, who's creating that s***."
Lisa broke down in tears to Ken that she felt ganged up on: "Even Brandi? I have gone above and beyond to defend her because that's what you do ... she's my friend. I have defended Brandi when sometimes her actions have been indefensible.
"You support the underdog and then the underdog bites you," she said at the episode's end.
The Real Housewives of Beverly Hills airs Mondays at 8/7c on Bravo.