Brandi Glanville: LeAnn Rimes 'Can Go F**k Herself!'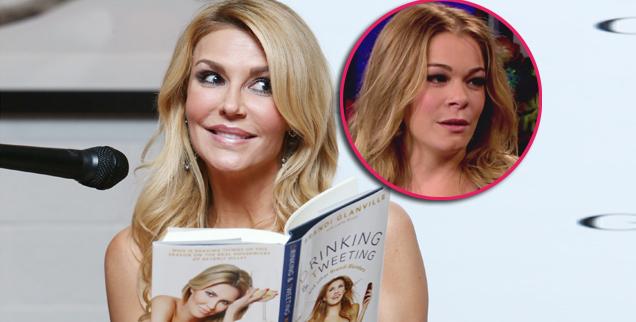 Brandi Glanville said that LeAnn Rimes "can go f**k herself," during a Q&A at her book signing at West Hollywood's boutique hotel Palihouse on Monday night, and RadarOnline.com has all the details.
"Well, she has to, because who would want to?" said the 40-year-old mother-of-two, who was promoting her book, Drinking and Tweeting: And Other Brandi Blunders.
In spite of her obviously hard feelings for LeAnn - the woman Brandi's former husband Eddie Cibrian famously left her for in 2009 -- Brandi said she hopes their marriage works out for the sake of her sons Mason and Jake, "because I don't want my kids to go through a divorce again."
Article continues below advertisement
The Real Housewives of Beverly Hills star, who looked sexy at the event in a skimpy strapless metallic skirt, said she did "everything" right in her marriage with Eddie.
"I loved so hard -- I loved my children and my family was perfect," she said. "I did everything I could do for him and the boys and to make him not want to stray.
"So, when it happened, especially with someone as attractive as her ..."
Brandi, who joked she's expecting a cease-and-desist letter from the couple for her new book, said that "when a man cheats on you it's not about you -- it's about notoriety -- they want to be with you, but they want to have their cake and eat it too."
Brandi said that sharing the story of her failed marriage is something that makes her relatable.
"For women to hear me complain about what happened to me," she said, "it makes them feel better about what they've gone through."
Brandi told the crowd that while there are times she regrets her strong words -- "When I'm wrong I say sorry," she said -- anyone who insults her shouldn't expect her to turn the other cheek.
"I go 10 times harder -- especially when it comes to my family and my children … it's like, 'B***h, it's on!'"
Watch the video on RadarOnline.com
Drinking and Tweeting: And Other Brandi Blunders hits stores February 12.