Pucker Up! Jay Leno Spoofs Bar Refaeli's Super Bowl Commercial Kiss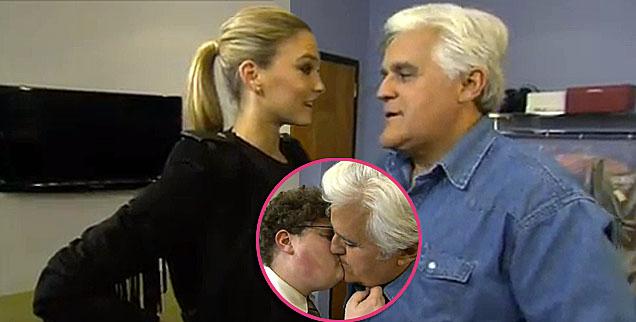 Jay Leno welcomed supermodel Bar Refaeli as a guest on Wednesday's edition of the The Tonight Show, and attempted to reenact Go Daddy's widely-panned Super Bowl Sunday spot to hilarious results.
The bit began backstage, where Jay, clad in his trademark denim button-up, propositioned the 27-year-old Israeli stunner.
"That Go Daddy Super Bowl commercial you did was great, it was one of my favorites: I'm thinking, any chance we could recreate the ad?" Jay asked Bar, who told him, "Sure! Pucker up."
Article continues below advertisement
When the late night ace closed his eyes and leaned in for the smooch, Bar pulled a wicked rib, switching places with her co-star in the ad, decidedly-less-sexy actor Jesse Heiman.
During Bar's interview with Jay, she said she and Jesse shot the passionate kiss "a lot." (Jesse estimated on the TODAY show the ad took 65 takes to get the shot!)
Watch the video on RadarOnline.com
Bar, who once dated Leo DiCaprio, recalled, "I guess they liked it so much, they said, 'We want a tighter shot. And a tighter shot. And a tighter shot.'
"I said, 'Couldn't you just bring different three cameras and go from all angles? Do I really need to do this 60 times?'"
Asked if Jesse, 34, is a good kisser, Bar shot back at Jay, "You tell me."
The 30-second Super Bowl ad, titled Perfect Match, staged the unlikely meeting of the lips to illustrate the company's hybrid of "sexy and smart."