Say Hello To The Bachelorette's Bad Guy: Ben Scott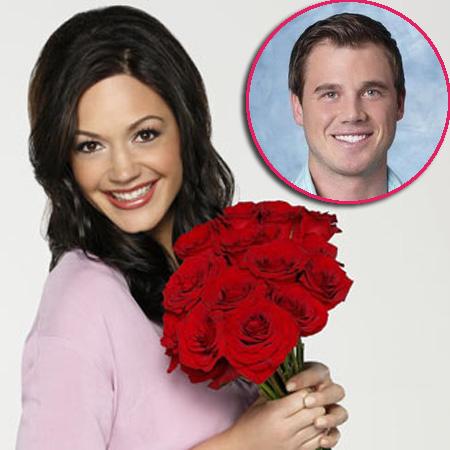 In every season of The Bachelorette or The Bachelor, there is one person who is narrowed in on as the bad boy and Desiree Hartsock's season is no different.
During Monday's episode, Ben Scott, a 28-year-old entrepreneur from Lubbock, Tex., established himself as the early-on villain. Ben started his enemy campaign against the other men during the premiere episode when he showed up to the first cocktail party with his young son, Brody, in tow. This immediately won Desiree over, and she gave him the first rose.
Article continues below advertisement
Going into episode two, Ben had a clear target on his back. He didn't make the situation any better when he "swooped" in on Mikey Tenerelli's one-on-one time with Desiree during the group date, won the rose, and scored one of the first kisses.
"The guy, he goes after the girl," Ben said. "If I have to steal her away from somebody, that's just how I have to do it."
Clearly, this didn't settle well with the other men.
"There's just something that he does that just rubs us wrong," James Case remarked. "My intuition says he's not here for the right reasons."
Unhappy about what happened, Mikey T. then decided to confront Ben.
"I just want to clear the air a little bit," Mikey T. told Ben. "This is the first time I felt like this with any guy in the house. I get the politician vibe from you. You are nice to us when you have to be nice to us."
Article continues below advertisement
But Ben didn't feel like he did anything wrong.
"I don't want you to think I'm the guy who is going to stab you in the back," he said.
Unfortunately, Ben pulled the same stunt all over again during the cocktail party when he cut in on Michael Garofola's one-on-one time with Des. So Michael, along with two other men, challenged Ben head-on.
"You seem to think you have this already in the bag," Michael stated. "I don't care whether you make friends with us or not."
Ben could only answer: "I think everybody knows that I'm really here for her."
Sadly, Ben was gravely mistaken.
"He thinks he is so mature, but the example he is setting for his son is if you make a mistake, you should lie about it," Michael told the cameras.
But Ben maintained that he really wants to get to know Desiree.
"I saw her and I wanted to talk to her," he said. "I am ready for things to take off and just show her, 'Hey, this guy is going to be around for a while.'"
Whether Ben meant what he said or not, he was safe going into the rose ceremony. Bryden Vukasin and Brooks Forester also received roses during their one-on-one dates, so they were safe as well.
Watch the video on RadarOnline.com
During the rose ceremony, James, Kasey Stewart, Dan Cox, Juan Pablo Galavis, Brad McKinzie, Chris Siegfried, Brian Jarosinski, Zak Waddell, Drew Kenney, Mikey T., Zach Kalter, Michael, and Brandon Andreen got roses. Will Reese, Robert Graham, and Nick Mucci were sent home.