Baby's First Steps! Rare Giraffe Wobbles Into The Spotlight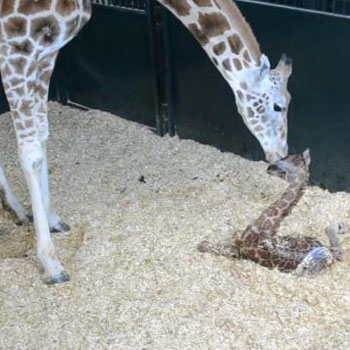 A rare giraffe has made her first tentative public appearance as she struggled to stand on her long, gangly legs, and RadarOnline.com has video of the wobbly debut.
The baby is already almost six foot tall despite only being born on Friday, and could reach 18 feet when she is fully grown, reported the Greenwich Time.
As the long-legged newborn struggled to stand, her mom Petal, a 6-year-old Rothschild giraffe, gave her helpful and encouraging nudges with her spotted snout as fellow giraffes and staff at the LEO Zoological Conservation Center (leozoo.org) looked on with fascination at the first calf to be born at the center.
Article continues below advertisement
"She's a great mom," said Marcella Leone, founder and director of the center. "She was very proud, trying to show off her newborn.
"It's really astonishing how a huge animal like that ... how delicately and in such a nurturing way she approaches caring for her calf," she revealed of the second-time mother.
Rothschild giraffes are one of the most endangered subspecies with only a hundred still living in the wild, all of which are in protected areas of Kenya and Uganda.
They were first discovered by Lord Walter Rothschild, a British zoologist, after an expedition to East Africa in the early 1900s, and stand out thanks to their distinctive pelt, which has defined dark patches with bright whitish channels between them.
youtube