Anna Duggar Returns To Instagram — But Disgraced Hubby Josh Is MIA!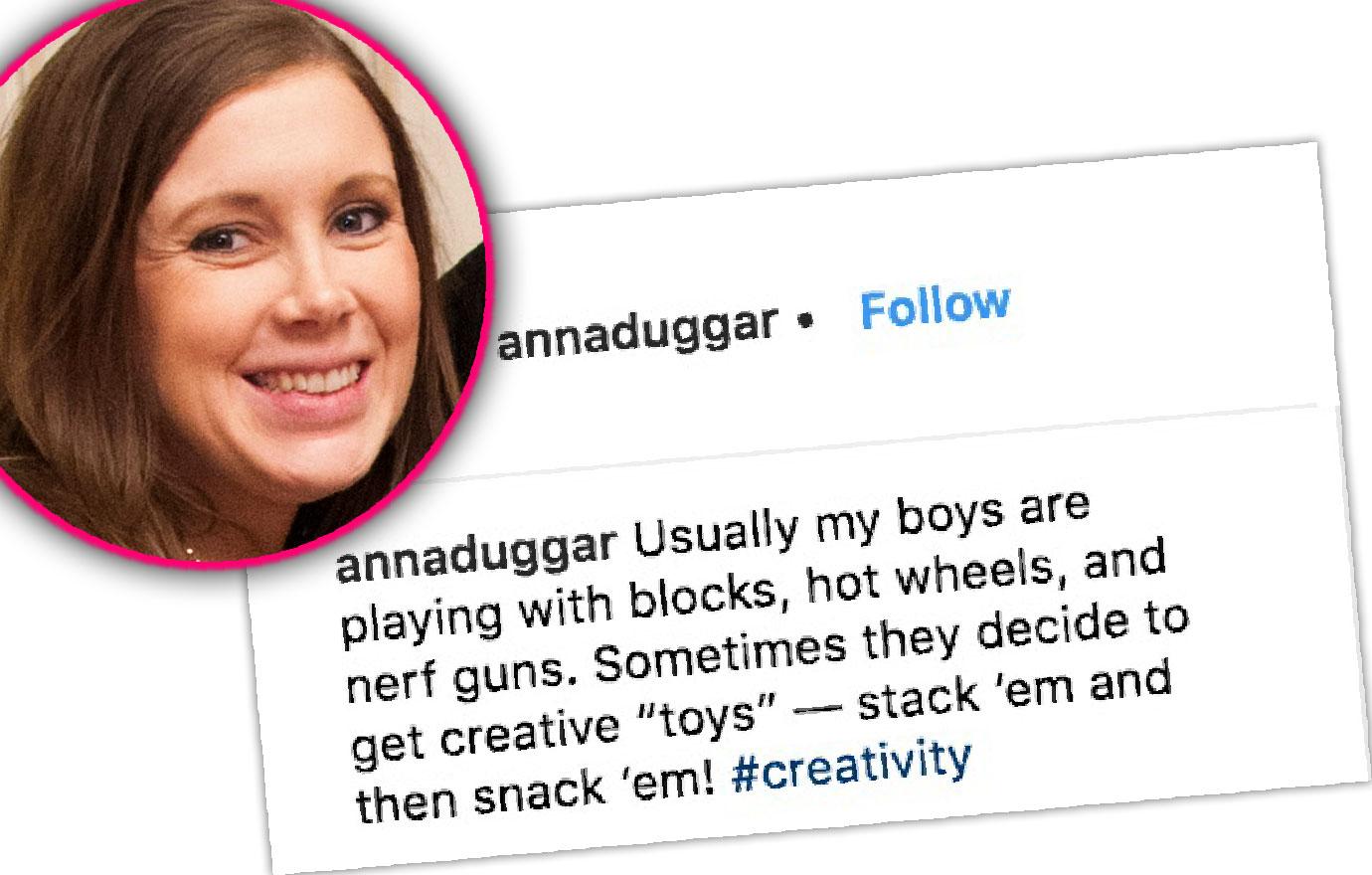 Anna Duggar has just returned to Instagram after being missing from the social media site for two years, as In Touch has reported. The 19 Kids and Counting wife, whose marriage to Josh was rocked after his past molestation scandal was revealed, went back on Instagram on Friday, Feb. 9, with photos of two of their young sons.
But Josh was not in her photos or caption!
Anna didn't comment on how long she'd been gone from the social media platform, but showed two of her boys with Josh: Michael, 6, and Marcus, 4-- playing with clementine oranges in three different pictures.
Article continues below advertisement
She explained to fans in an accompanying message, "Usually my boys are playing with blocks, hot wheels, and nerf guns. Sometimes they decide to get creative 'toys' — stack 'em and then snack 'em!" The oranges were shown stacked like a pyramid. While some fans praised Anna's return, with one writing, "Anna I truly love you and have missed seeing you and your babies. The boys are so cute...my grandsons love to play creatively also," haters also weighed in.
Josh's child molestation and infidelity scandals affected the Duggar family and their TV network, TLC, when the news surfaced in 2015.
Back then, In Touch revealed that Josh, now 29, was accused of molesting his younger sisters between 2002 and 2003. At the time, Duggar and the girls were all minors. Josh's alleged sex crimes included "fondling" his four sisters' (and a family friend's) breasts and private areas, according to a shocking police report.
Article continues below advertisement
After Josh's scandal broke and shocked America, TLC cancelled the Duggars' show 19 Kids and Counting, but they later brought them back in a new show focusing on the girls called Counting On, currently airing on the network. Josh, who is married to wife Anna, mother of his five kids, has said he "acted inexcusably" when he was "a young teenager," and deeply regretted his actions.
But that wasn't all--Josh was also busted in a salacious cheating scandal, admitted he had a pornography addiction, and sought help in Christian based rehab while wife Anna stood by him. As Radar recently reported, he is no longer in therapy. Still, followers haven't forgotten Josh's stunning misdeeds. One wrote to Anna on her upbeat Friday return Instagram post, "have you finally realized that there is no hope for cheaters and especially molesters??? Incestuous molestation at that... glad you have your children... but please move on and don't bring any more into the world with your sick hopefully soon to be Ex husband. HE TRIED TO RUIN YOU... I hope you are strong and independent and relying on God... but not in the submissive woman way."
Still, most fans wrote things like, "So glad to see you back sharing pictures once again! Gosh the the kids are getting so big. Blessed!" and one woman chimed in, "I was taught not to say rude things to others or judge them!"
We pay for juicy info! Do you have a story for RadarOnline.com? Email us at tips@radaronline.com, or call us at (866) ON-RADAR (667-2327) any time, day or night.