Exclusive
Sex Abuse Crisis Continues: Josh Duggar Victim Desperate To Destroy Damning Police Report, Files Motion To Expunge In Arkansas Court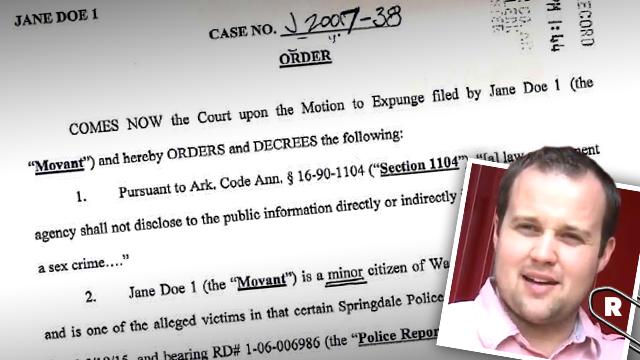 It's the Duggar family's worst nightmare. Son Josh's alleged sex crimes— which include "fondling" his five minor female victims' breasts and private areas— have been exposed in a shocking new police report.
And now, RadarOnline.com has exclusively learned that one of Josh's apparent young victims is desperate to stop the flow of horrific secrets.
According to Washington County Circuit Court documents obtained by RadarOnline.com, a "Jane Doe 1," or the "Movant," has filed a motion to expunge the explosive Springdale Police Department report making the rounds online.
Article continues below advertisement
"The Police Report contains information, which may directly or indirectly identify the Movant as a victim of a sex crime, and Movant is a minor child," the document states.
"Accordingly, to protect the identity of the movant….this Court orders that the Police Report be destroyed and expunged from the public records, and further requires that any and all copies of the same be destroyed."
The document cites Arkansas law subchapter 11, which states "a law enforcement agency shall not disclose to the public information directly or indirectly identifying the victim of a sex crime."
Circuit judge Stacey Zimmerman signed and filed the papers today, May 21.
As RadarOnline.com previously reported, Josh— now a 27-year-old gay marriage fighter and father of three, with another baby on the way— was accused in the police report of repeatedly "touching" the private areas of five minor females who lived in his parents Jim Bob and Michelle Duggar's home in 2002 and 2003.
Watch: Josh Duggar is asked about alleged sex scandal allegations