It's Finals Night On American Idol! Who Did The Judges Prefer?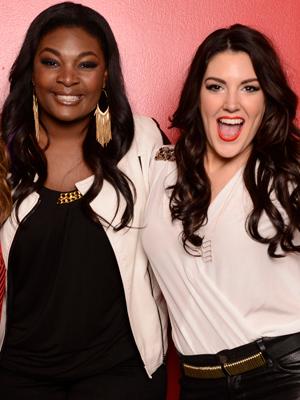 Article continues below advertisement
Candice dominated with her trio of tunes, which were, in order: Adele's Chasing Pavements, I Am Beautiful, and Ben E. King's I (Who Have Nothing) to the delight of the quartet in their last night in the singing competition.
After her last performance, Mariah told the 23-year-old songstress , "I know I'm going to be listening to you for years to come, God bless you baby. What you have is the ability -- the innate ability -- to take any song and turn it into a vehicle for that amazing voice.
Randy was equally complimentary, telling the St. Helena Island, S.C. native, "You just shot this whole night to another level!
"It's about singing and baby, you've got it all."
Keith described Candice's performance of the tune "like a planet exploding to life.
"It's just crazy -- you're such a powerhouse singer!"
Nicki told her Candice, "All three of your performances tonight showcased your beautiful voice and your beautiful soul."
Article continues below advertisement
Kree sang, in order, Sarah McLachlan's Angel, a country ditty called All Cried Out, and Patty Griffin's Up to The Mountain.
"Whatever happens is tomorrow," the Woodville, Texas native said at the outset of the night. "And tonight we're just trying to have fun and sing our best for y'all."
Watch the video on RadarOnline.com
Elsewhere Wednesday, Carly Rae Jepsen -- who was a finalist on the show's Canadian version -- took to the stage to perform her single, Take a Picture.
This season's winner will be named when American Idol Thursday on Fox at 8/7c.