Creepy Praise! Nicki Minaj Tells Church Singer: 'I Want To Skin You And Wear You!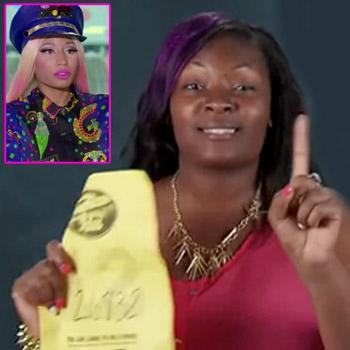 In one of the creepiest moments on American Idol, Nicki Minaj told church singer Candice Glover she wanted to "skin" her and "wear" her - and she meant it as a compliment! It happened as Idol's 12th season screeched into Charlotte, North Carolina's Motor Speedway track on Wednesday night, and Glover was the clear standout, impressing not only Minaj, but also Mariah Carey, Keith Urban and Randy Jackson with her audition.
Article continues below advertisement
"I'm pretty sure crying from 9pm-2am isn't normal haha Thank u so much. I can't say it enough," the singer tweeted Wednesday. "My #candicane family is growing :) Always humble & thanking God :)"
Candice, who was cut from the competition last year, said she felt she'd grown a lot in the 12 months since her initial appearance, and that she had a better sense of identity as a singer. In an off-camera interview, the St. Helena Island, South Carolina native said, "I think American Idol is about being yourself … people that aren't afraid to go into the world, just free."
After she belted out a clean version of Duffy's Syrup & Honey, Randy called Candice's the "best audition I have heard so far this season -- what the what is going on?"
Nicki was graphic in expressing her fondness for the 22-year-old administrative assistant, repeatedly saying she was "obsessed" with her.
"I want to skin you and wear you," the Super Bass singer told her. "If you don't go to the last round of this competition, there's something wrong!"
Of course, she got the berth to Hollywood; American Idol's 12th season continues in Baton Rouge, Louisiana Thursday on Fox at 8/7c.