After Massive Fight With Her Husband, Teresa Giudice Embraces Brother Joe Gorga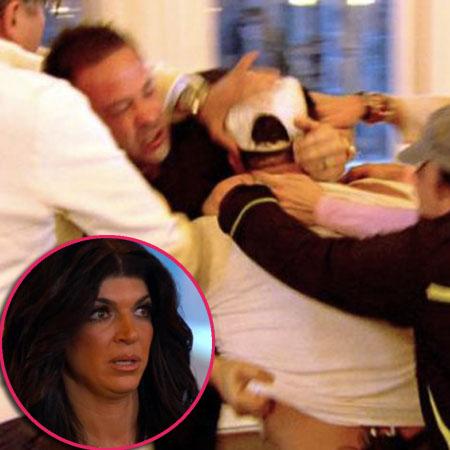 After a shocking brawl between Joe Gorga and Joe Giudice, Gorga wound up embracing his sister Teresa Giudice, causing her to break down in tears on Sunday night's episode of The Real Housewives of New Jersey.
It was an incredible turnaround for the feuding siblings during a family healing retreat that had been upended by the worst altercation ever between the two Joes.
But by the end of the episode, psychologist Dr. Venus Nicolino (referred to on the show as Dr. V.), advised Joe Gorga and Teresa to talk alone at the Lake George inn where the RHONJ group had gathered.
Article continues below advertisement
Joe, who has blamed Teresa for being part of a poisonous group of women who have accused his wife Melissa Gorga of cheating on him, told Teresa, "Stop trying to take us down."
Teresa said, "I would never do that to you."
"You happen to be around these people," Joe sighed.
He added, "I don't want to fight with you anymore. I don't trust you. I need time."
Gorga told Dr. V. he was in a bad place right now because he couldn't talk to his mom due to the feud.
"I don't want to hate," Joe said.
"I don't hate you," Teresa said. "I've never hated you."
"All right," Joe said.
A tremulous Teresa then told Dr. V., in front of her brother, "I don't know if he wants to hang out, just me and him. He wants his wife there. We both have families," she said, breaking into tears. "We're not teenagers."
Seeing his sister's vulnerability, Joe said gently, "Teresa," and leaned over and gave her a long embrace, also giving her a kiss on the cheek, while Teresa sobbed her eyes out.
Article continues below advertisement
But the apparent reconciliation between the two didn't look likely when the episode began, with the Giudice, Gorga, and Wakile family members dealing with the tense fallout after the two Joes fought.
As RadarOnline.com readers know, Teresa's husband demanded Gorga apologize for calling her "scum." But instead, Gorga charged at Giudice, head-butting him and sending him to the ground.
And their two wives also went berserk, with Melissa shouting at Teresa, "You are a disgusting pig!" because she wouldn't help her pull the men apart.
"I never want to look at these people again as long as I live," Melissa declared as security guards intervened and escorted Joe Giudice and Teresa away.
"What the f*** just happened?" Teresa said.
"F***ing scumbags!" Gorga yelled, as both couples appeared to be rubbing black tar off their bodies (which Gorga revealed later was his own hair dye!).
"We've hit rock bottom," Melissa concluded, while hubby Gorga said, "I hate that man so much. I want to skin him."
Article continues below advertisement
"He's an animal and she's disgusting," Melissa said. "When you hang with trash, you become trash."
Meanwhile, Joe Giudice complained to his wife, "He was grabbing and biting my n**s. Can you believe it?"
The Wakile family, including Kathy and husband Rich and Kathy's sister Rosie Pierri, were shocked bystanders. Kathy said when she got in between the men during the fracas, "I was worried about my nose job. I never expected this."
Joe Gorga felt so traumatized afterwards, he started to cry back in his room with Melissa.
"You know where he's going to end up," Melissa said about the other Joe. "Where he belongs!"
"When Joe turns weak, I have to become strong. We need to go home," Melissa said.
Then retreat "team builders" Steve Ockerbloom and Stephanie Sabile tried to help the clan once again.
Steve said, "You guys have a tremendous amount of passion" that would pull them through.
Article continues below advertisement
Watch the video on RadarOnline.com
However, Joe Gorga told the counselor, "I hate her."
With Steve advising them to let it rest for the evening, no one left the inn.
Joe Giudice said he wanted just to have dinner with Teresa. As RadarOnline.com has previously reported, the Giudices enjoyed a dip in the tub together for what Teresa called "sexy time."
"I'm glad we stayed," Teresa said in bed with Joe the next day.
As Teresa got ready for breakfast, her husband told her, "I think I'm going to j*** off a couple more times."
Teresa decided to call Caroline Manzo to join the family retreat, because the other housewife had reached out to her brother earlier.
"I think I might need your help," Teresa said, telling her about the brawl, so Caroline agreed to join the group in Lake George.
But Teresa got more help from Bravo relationship expert Dr. V.
Article continues below advertisement
In a heart-to-heart, Teresa told the doc she just wanted to move forward, but Dr. V. confronted her with the fact she had something to do with starting the earlier rumor that Melissa had worked as a stripper.
Teresa revealed to Dr. V. how close they'd been as kids--and how she'd been like a second mom to young Joe. She also revealed her brother had been engaged twice before Melissa.
After Dr. V. was introduced to everyone else, Melissa told her how things had escalated and blamed Teresa.
"She wants to act like she's mother Teresa," Melissa sneered.
It was then that Dr. V. took Joe Gorga aside for a private chat, and he confirmed his sister was in the group that accused Melissa of cheating on him.
Dr. V. told Joe that Teresa didn't trust him to choose a mate for himself -- because Teresa took care of him in their youth.
"Do you want to make this work?" Dr. V. asked.
Joe said no, he didn't, but still, Dr. V. said he was going to bring the two of them together.
And miraculously, as RHONJ fans saw, she did!