Shouldn't Have Said That! The 13 Most Cringeworthy Celebrity Interview Disasters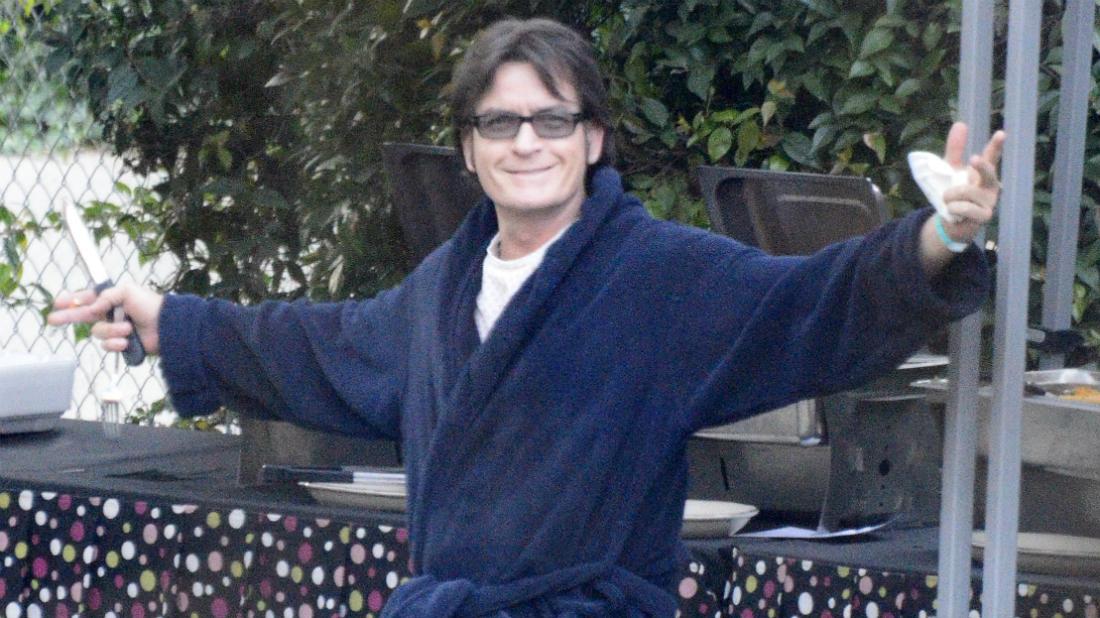 The thing about the celebrity interview is that what is said can be listened to or watched over and over thanks to the internet. These celebs probably could never have imagined that a single interview might result in something that they wish they could take back.
MORE: Charlie Sheen talks sober battle and missing "Planet Earth."
From Charlie Sheen and his obsession with Tiger's Blood and other unusual items to R. Kelly and his infamous recent interview, these famous folks are just the tip of the cringy interview iceberg.
Article continues below advertisement
1. Courtney Love
When? 1995
Why so cringeworthy? Courtney Love crashed an interview that MTV's Kurt Loder was conducting with Madonna. A visibly altered Love threw a make up compact that almost hit both the interviewer and the Material Girl herself, as chronicled in Rolling Stone magazine. Then the "Celebrity Skin" rocker climbed up the stairs to the loft overlooking the 1995 MTV VMAs and joined the chat. The "Like a Virgin" singer said, "Courtney Love is in dire need of attention right now." She also made a crack about Love's drug use. Madonna was eventually pulled off the stage.
Response from the world: It made headlines, but the public seemed to shrug it off as Courtney being Courtney.
Her Response? The "Vogue" singer never commented on Love's interview interruption.
Article continues below advertisement
2. Farrah Fawcett
When? 1997
Why so cringeworthy? The icon was visiting David Letterman and made talk show history for all the wrong reasons. Farrah Fawcett may have been seated across from Letterman on his iconic talk show, but she seemed to be mentally far, far away. The former star of Charlie's Angels was there to promote her appearance in Playboy and a tie-in Pay-Per-View special (All of Me). She was late due to the fact that there were "people, lots of people." Then, as CNN chronicled, the pop culture icon seemed to get lost in the New York City facade, which is the set behind Letterman. She told Letterman, "Wow. I really thought I was looking out the window."
Her Response? She didn't ever bring it up, but the icon certainly was aware enough during the actual Q&A to point out to Letterman, "You're making fun of me!"
Article continues below advertisement
3. Ben Affleck
When? 2004
Why so cringeworthy? Ben Affleck asked an interviewer to do the Q&A topless! It was 2004, and Affleck was feeling fresh during a chat with Canadian journalist Anne-Marie Losique. Not only did he say that people would "like the show better if you did it topless" and that he noticed that "you usually show a lot more cleavage than this," but he was also physically all over the reporter.
Her Response? Years later, when asked about the awkward interview, Losique actually defended the Oscar winner saying that the entire thing was taken out of context. She told E! News, "Nothing improper ever happened. I never felt at one point uncomfortable and I never felt at any point that it was improper, and if I had felt that, very honestly I wouldn't have continued."
Article continues below advertisement
4. Tom Cruise
When? 2005
Why so cringeworthy? Tom Cruise jumped all over an iconic talk show host's sofa declaring that he was "in love" with Katie Holmes. The loving leap left a seismic mark on pop culture. Cruise was on the show to promote his Steven Spielberg movie, War of the Worlds. Instead, the chat became all about his love affair with Holmes while treating the couch like a trampoline.
Response from the world: Judging by the lack of a dent in his box office receipts, the global community just shrugged it off as Cruise being Cruise. After all, the Scientologist was not known for being ordinary.
His Response? He said that he wouldn't take back a thing, as chronicled in The Hollywood Reporter. After all, love does make us do crazy things. It is even possible that the couch jumping made Cruise more popular. His subsequent movies such as Mission Impossible: Ghost Protocol and Mission Impossible: Fallout were bonafide blockbusters of the highest order.
Article continues below advertisement
5. Jerry Seinfeld
Why so cringeworthy? Jerry Seinfeld was being interviewed by Larry King (who worked for CNN at the time) and the journalist mentioned something about Seinfeld's iconic show being cancelled. Seinfeld was not cancelled. In fact, the superstar comic walked away from his show when it was still the top rated comedy on television. The comedian appeared to be majorly offended by this. Seinfeld said,"You think I got cancelled? Is this still CNN? Do you know who I am? Geez, can we get my resume in here?"
How'd the world react to the interview? The legendary newsman, in his later years, was not immune to some questionable questions. But some felt that Seinfeld had overreacted by calling out King and making it a big deal. Others, like Reuters, sided with the comic and named that moment as one of Larry King's worst interview moments.
Article continues below advertisement
6. The Kardashians
When? 2011
Why so cringeworthy? Barbara Walters was interviewing the Kardashian clan at the end of 2011 as part of her annual look at the 10 most fascinating people of the year. The trailblazing journalist referenced the lack of talent in the cast of Keeping Up with the Kardashians. Kris Jenner — and daughters Kourtney Kardashian, Kim Kardashian and Khloe Kardashian — clearly did not agree. Following Walters' comment, you could hear a pin drop! She added, "You don't really act; you don't sing; you don't dance. You don't have any, forgive me, any talent." Khloe defended her entire family and their show, "But we're still entertaining people."
Her Response? The family told Walters' producers that nothing newsworthy would happen before the special aired. Wrong! After finding out Kim got divorced, Walters said to an amused David Letterman on The Late Show, "Then Kourtney gets pregnant. Then Khloe's moving to Dallas. You cannot trust the Kardashians."
Article continues below advertisement
7. Charlie Sheen
When? 2011
Why so cringeworthy? The 2011 Good Morning America interview spawned a famous phrase for Sheen, "winning." It was also one of the first hashtags that would go viral. Listening to the interview with Andrea Canning, it's clear that the soon-to-be-fired from Two and a Half Men star was anything but winning. He admitted to having a steady diet of tiger blood and also described himself in the most unusual of manners. "I am on a drug. It's called Charlie Sheen," he famously told Canning as he then issued a warning. "It's not available because if you try it you will die. Your face will melt off and your children will weep over your exploded body." The journalist seemed worried for the actor, even asking at one point if he was bi-polar. He replied, "I'm bi-winning. I win here, I win there."
His Response? Sheen's newly created Twitter account set a Guinness World Record for quickest to one million followers (at that time), according to Huffington Post. For some time after that interview, his millions of followers fawned over everything he said. Among his gems was, "I have a 10,000-year-old brain and the boogers of a 7-year-old. That's how I describe myself," and, of course, the one about the infamous blood of a certain jungle cat. "The tigers of the world have issued an apology to Charlie Sheen. In a written statement, 'please forgive us all for being such blatant impostors. Clearly you, Mr. Sheen, have the only real tiger blood in the known universe.' And yes, they'd been warned."
Article continues below advertisement
8. Justin Bieber
When? 2012
Why so cringeworthy? Justin Bieber sometimes doesn't handle the pressures of fame with absolute grace. Remember when he destroyed a paparazzi's camera (or fought him)? He called into Mojo in the Morning because the "Sorry" singer had an issue with his new music being compared to Justin Timberlake's. "Man, that's crazy 'cause our voices sound nothing alike. I mean, I'm not trying to sound like anyone. Saying I sound like someone else is not really a compliment. ... I think if you were to say I heard some Justin Timberlake-esque things in your sound I would take that as a compliment," he said, according to MTV News. Hey, there are worse artists to be compared to … but alas, things got worse when the radio personality asked, "Do you worry about Harry Styles around your mom, since he likes older women?" Bieber snapped, "I think you should be worried about me around your mom, bro." The sound listeners (and that radio host) heard next was Bieber's dial tone.
His Response? Not much. For what it's worth, the DJ went on Twitter to say that he had been suspended over the incident.
Article continues below advertisement
9. Jesse Eisenberg
When? 2013
Why so cringeworthy? The interviewer, Romina Puga of Univision, asked Jesse Eisenberg to do a card trick on cue and also asked him to say her name into the camera. The star of Now You See Me took offense, saying that it made him feel like a trained monkey. He probably should have seen that "say my name" request a mile away — after all, the name of Puga's show is Say My Name with Romina. From the get-go, the interview was tense. She referred to Morgan Freeman as Freeman, to which Eisenberg said, "Freeman? Who are you? What are you on a baseball team with him?" But the awkwardness was just getting started, and he called her the Carrot Top of interviewers for writing notes on her hand. The Social Network star also used her interview time to ask her how the material was going to be used. When asked to say her name, Eisenberg uttered it quietly. She asked him to say it as if he was looking for her in a crowd. He testily responded, "The thing is I actually didn't want to find you." Clearly upset, Puga retorted with "You're such a jerk."
His Response? Nothing. Another day at the office for the actor.
Her Response? Puga said in The Daily Mail that she felt "humiliated" and "butchered."
Article continues below advertisement
10. Samuel L. Jackson
When? 2014
Why so cringeworthy? KTLA entertainment "reporter" Sam Rubin touched a nerve (and rightfully so) when he asked Samuel L. Jackson about his Super Bowl ad. "What Super Bowl ad?" Jackson responded. Turns out Jackson was not in an ad, but Laurence Fishburne was! The reporter had to know he was in for it when Jackson began his response with, "Oh, hell no …" — oh no. Anyone who has seen Jackson in any of his roles or interviews knows that he can light off like a firecracker when provoked like he was by Rubin. "There's more than one black guy doing a commercial," Jackson fired off at Rubin as Rubin visibly squirmed.
His Response? Rubin apologized profusely during the interview and tried to move on, but Jackson was already ticked, and the entire interview was massively off the rails. After the televised portion of the interview, Rubin publicly apologized and stated, "I'm really embarrassed about it."
Article continues below advertisement
11. Dakota Johnson & Melanie Griffith
When? 2015
Why so cringeworthy? Most everyone can identify with the need to yell, "Mom!" sometimes. But most of us aren't embarrassed by mom on the red carpet of the Academy Awards … with hundreds of millions of people watching! As OK! chronicled, Dakota Johnson and her mom, Melanie Griffith, had stopped by to chat with journalist Lara Spencer. The reporter asked Griffith if she'd seen Fifty Shades of Grey. The veteran actress said that even though she supported her daughter's decision to do the movie, she could not watch it due to the graphic nudity and sex. Johnson added, "I don't think it would be strange. I think, one day, maybe you can see it." Her mother's face said it all. Johnson was not pleased in the slightest. She then snapped, "Alright! You don't have to see it. Jesus Christ."
Their Response? Nothing! Both sides of the issue probably wanted this thing to fade away.
Article continues below advertisement
12. Ariana Grande
When? 2015
Why so cringeworthy? In a live radio interview, multi-platinum singer Ariana Grande was displeased by the line of questioning. She called the host out on being sexist when he made a comment about all women loving their phones and makeup. Grande immediately cracked, "Is this men assuming this is what girls would have to choose between?" The host dug a deeper hole and said, "Ladies, learn!" The "Bang Bang" singer's jaw must not have dropped that far because she quickly retorted, "Boys, learn. Boys and girls, we can all learn."
Article continues below advertisement
13. R. Kelly
When? 2019
Why so cringeworthy? There are train wrecks, and then there is R. Kelly. It was the first interview that the singer had given since his most recent charges of sexual misconduct — aggravated criminal sexual assault involving minors. He was being interviewed on CBS This Morning and became completely unhinged. As chronicled in The Washington Post, the "I Believe I Can Fly" hitmaker hovered over the host as he screamed at the camera, "I have been assassinated, buried alive! But I'm alive!" He continued, "I didn't do this stuff. This is not me! I'm fighting for my f--king life! You're all trying to kill me!" When the subject of the doc Surviving R. Kelly came up, he said, "They were describing Lucifer. I'm not Lucifer. I'm a man; I make mistakes. But I'm not a devil and by no means am I a monster."
Response from the world: If clearing his name was his goal, yelling at the very public was not the way to go.
His Response? He thought it went well. Fox News reported that the "Bump n' Grind" singer's team even floated the idea of a follow-up interview at a later date. The journalist reported that the singer's team felt that their client came off as "passionate" and that's a good thing.
Her Response? The veteran journalist was not afraid for her safety and wanted to keep the interview going. "My sole motivation at that point was, 'Please don't let him leave.' I really did believe it was a breakdown. He was so angry. He went from zero to a two to a six to an eight to a 12. All right before my eyes." "I think people were surprised that in that moment I didn't run out of the room," she told the Washington Post.