Say What? 10 Really Stupid Celebrity Tweets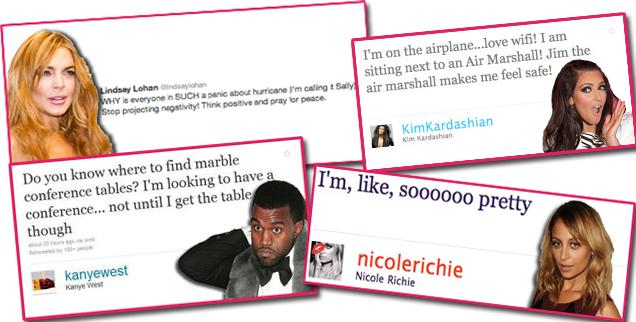 Sometimes stars forget to filter themselves on social media!
From totally random and ridiculous quips to just plain TMI, Hollywood's hottest celebrities have taken their Twitter antics a little too far over the years. RadarOnline.com has picked out some of the Twitter sinners and their really stupid tweets.
Kim Kardashian has said her fair share of embarrassing things on Keeping Up with the Kardashians and also on Twitter, but the only way to find out her inner most thoughts on an airplane is by clicking here.
Article continues below advertisement
Sherri Shepherd clearly isn't bashful about opening up about her bodily fluids, tweeting some really gross stuff when she wasn't feeling well.
It may have been one of the biggest natural disasters of the decade, but Lindsay Lohan didn't think Hurricane Sandy was that big of a deal. Find out what she thought it by clicking here.
What reality star wanted to know if a certain type of insect was endowed like a man? Which hardcore rapper's granny made him take out the trash, even though he is "rich as f***? And who is "leaving on a jet train?" Find out in RadarOnline.com's hilarious photo gallery.