Fashionable Mom! Look Back At Meghan Markle's Best Maternity Looks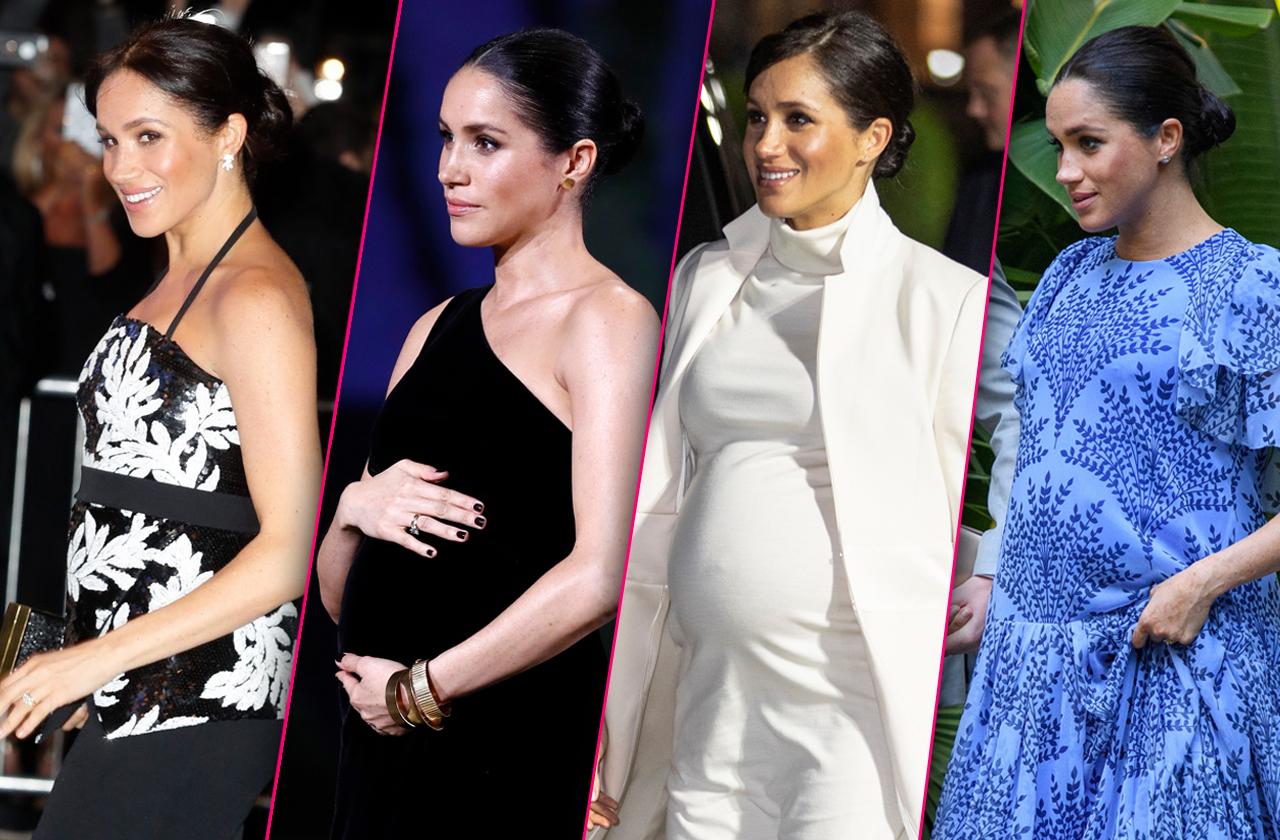 Meghan Markle has come a long way since starring on Suits.
The former actress, 37, who welcomed her first child, a boy, with Prince Harry this May 6, stunned the world with her pregnancy style for a full nine months!
One fan-favorite was a glittery $5,600 party maternity gown which she wore on a royal outing.
Eagle-eyed royal watchers suspected she was expecting before the Palace announced Meghan's pregnancy in October, and it didn't take long for Kensington Palace to confirm the news. In their initial statement, they said Meghan would welcome her royal baby in late April, but RadarOnline.com readers know she was overdue, and almost had to have an induced pregnancy!
Article continues below advertisement
As RadarOnline.com previously reported, Meghan has not had the easiest time since her entrance into the royal family. Apart from continuously feuding with sister-in-law Kate Middleton, she's been deemed a "diva Duchess," by royal insiders. Though family members have not spoken of the rumors, at least four of their employees have quit since Meghan married Harry, 34, last May.
Meghan has broken royal protocol various times with her style. The former Hollywood star was caught wearing black nail polish on a royal outing, and has various times stepped out in black dresses and pants. Fans know the royals often opt for pastel skirts and nude, barely-there makeup.
Despite the controversies surrounding her fashion, it's clear she wore pregnancy quite well.
Scroll through RadarOnline.com's gallery for more on the evolution of Meghan's baby bump and style throughout the months.
Article continues below advertisement
Hiding It Early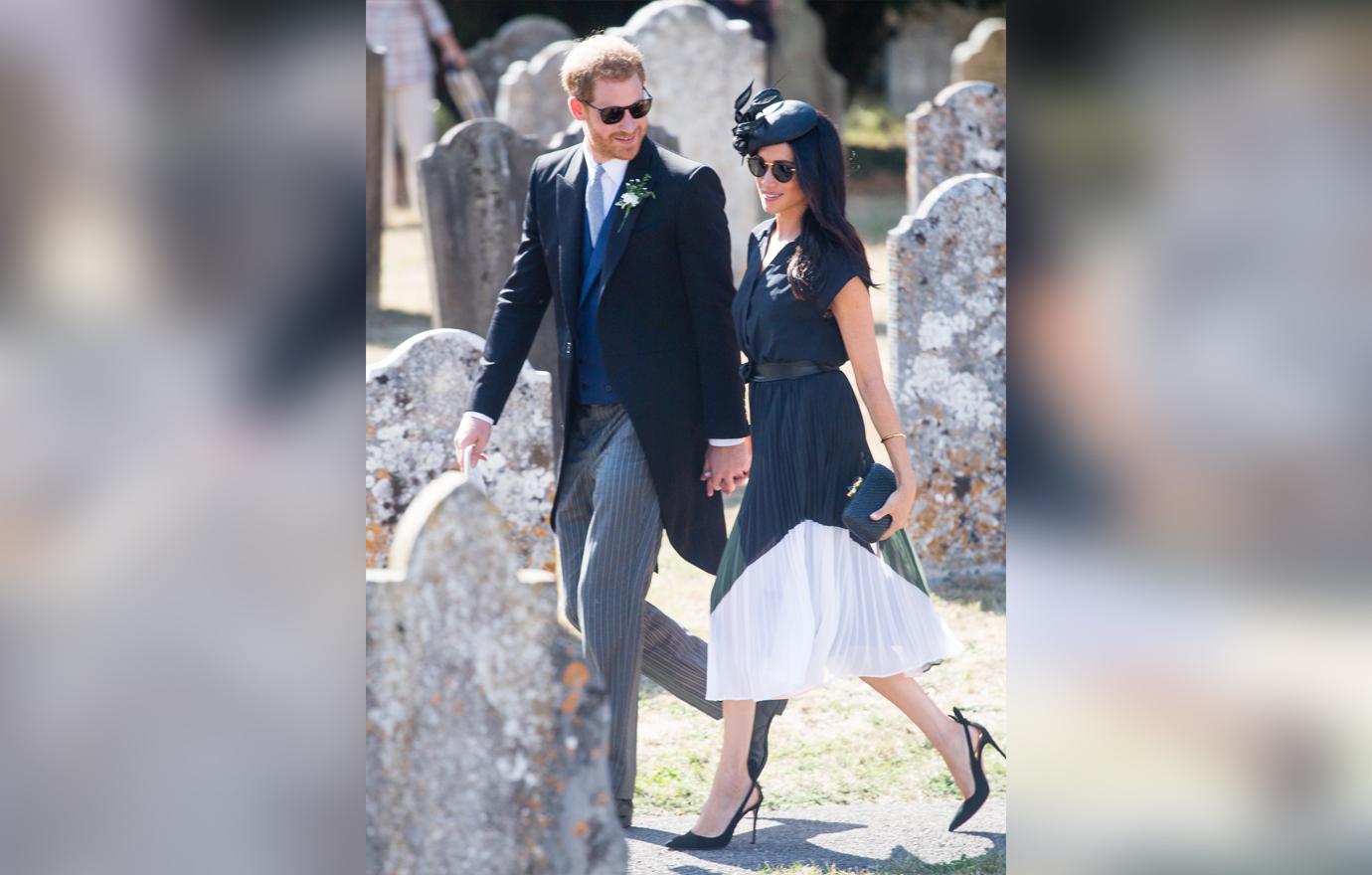 In early August 2018, Markle already appeared to be hiding something as she attended the wedding of Prince Harry's close friends, Charlie van Straubenzee and Daisy Jenks, in Surrey near London with her husband. Her loose sleeveless blouse and flowy pleated, midi skirt by Club Monaco made onlookers wonder if she had a baby on board!
Article continues below advertisement
Dressed Up Bump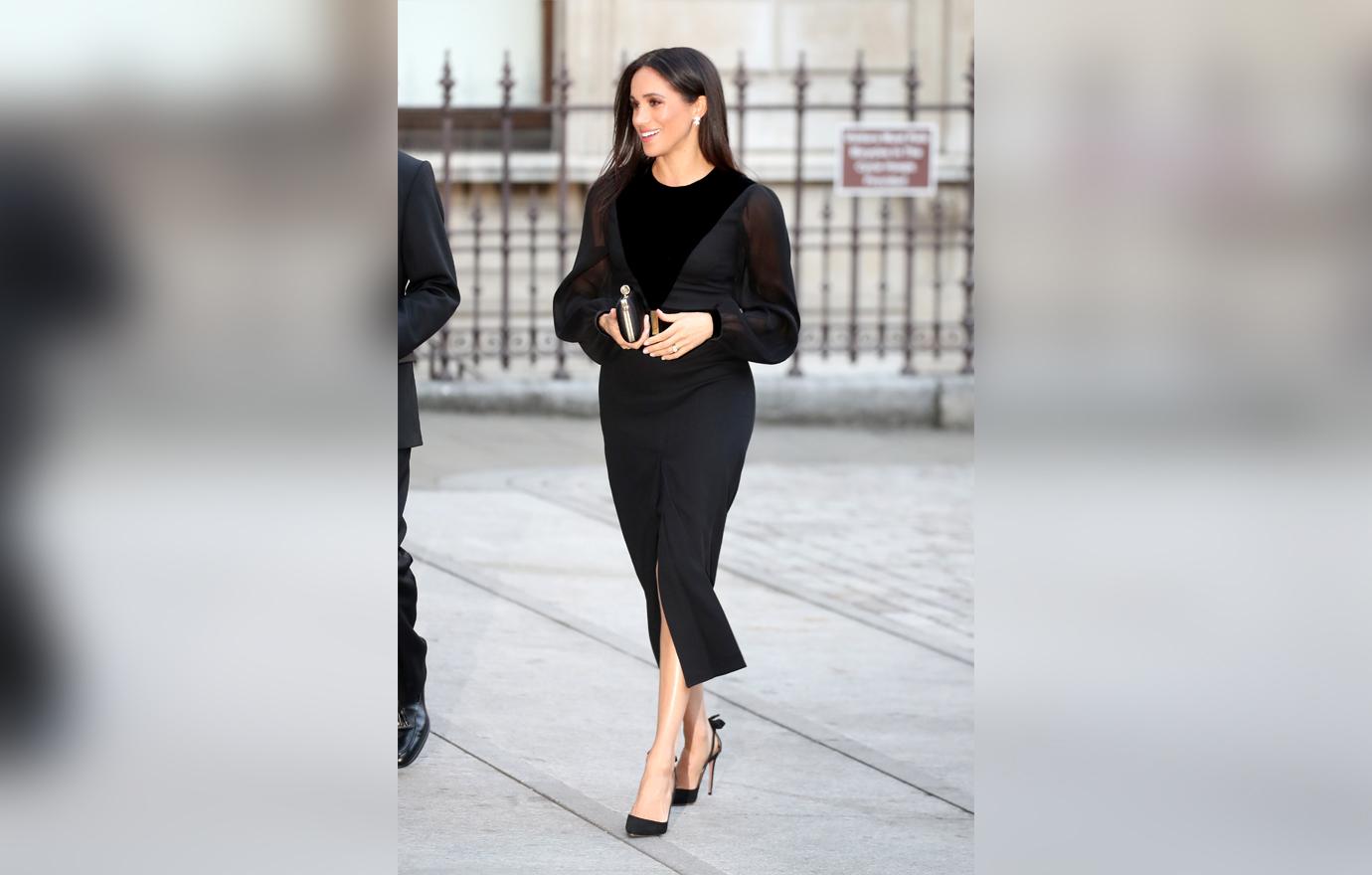 Meghan looked sensational in September 2018 in a long-sleeved black Givenchy dress. She wore a belt high on her waist with her tummy looking a little bigger than before.
Article continues below advertisement
Skirting The Issue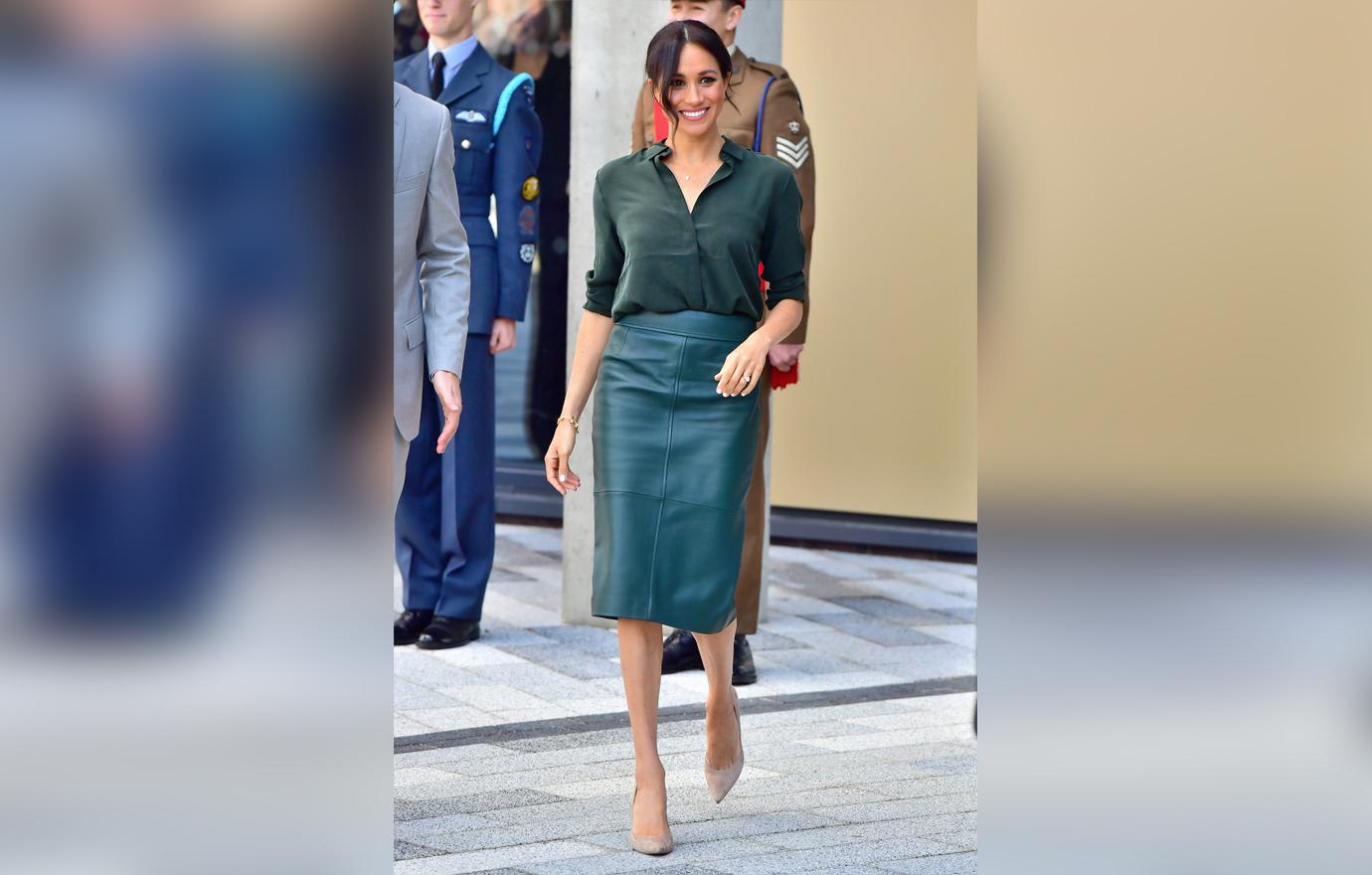 In early October 2018, Meghan and Harry visited Sussex on a day trip and the Duchess of Sussex's tight leather skirt showed her small baby bump. The couple still hadn't announced the news, but Meghan couldn't stop smiling and her Hugo Boss outfit didn't hide the truth. It wasn't long after this outing that the Palace 'fessed up that another royal baby was on the way.
Article continues below advertisement
Out There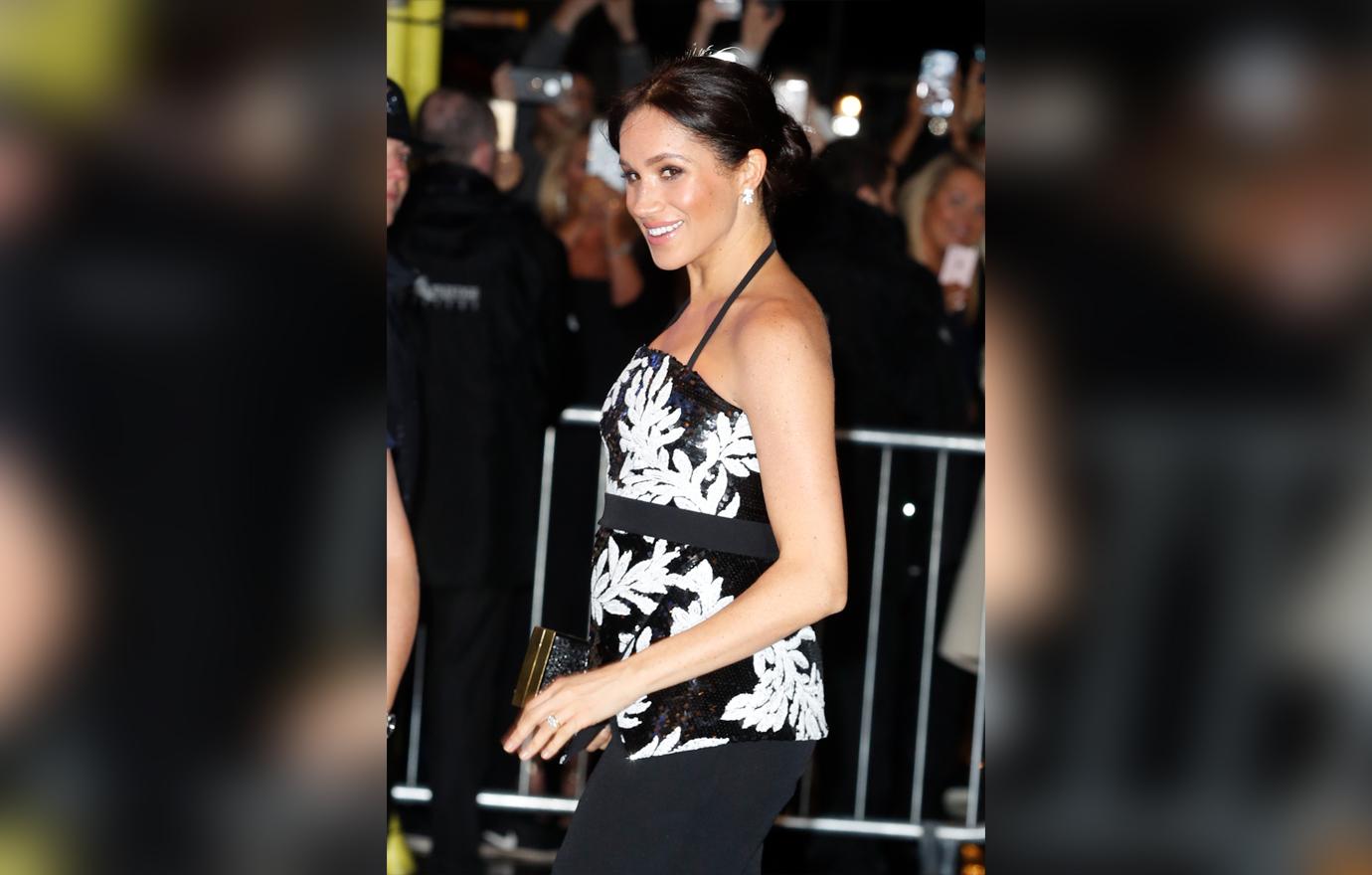 Glam mom-to-be! In November 2018, Meghan really started to show big time as she attended the Royal Variety Performance in London. She wore a black halter-neck top with white floral embroidery by Safiyaa with a floor-length black skirt and heels.
Article continues below advertisement
Pregnant Flaunt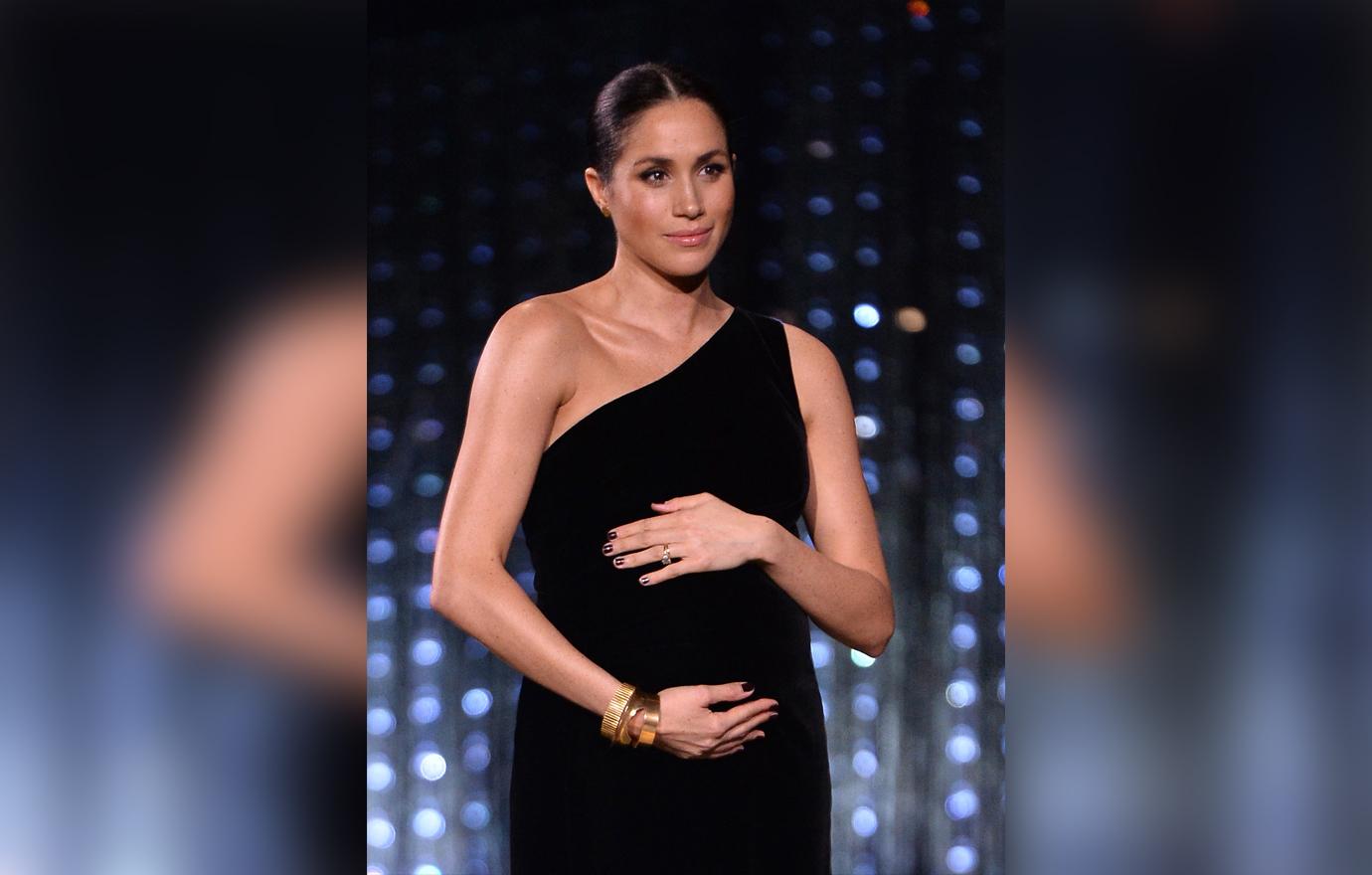 Beyonce moment? Meghan cradled her blossoming baby bump on December 10, 2018 at the British Fashion Awards.The Duchess got dissed for allegedly "showing off" her pregnancy while presenting an award at the event. One troll snarked, "It won't fall off."
Article continues below advertisement
Christmas Joy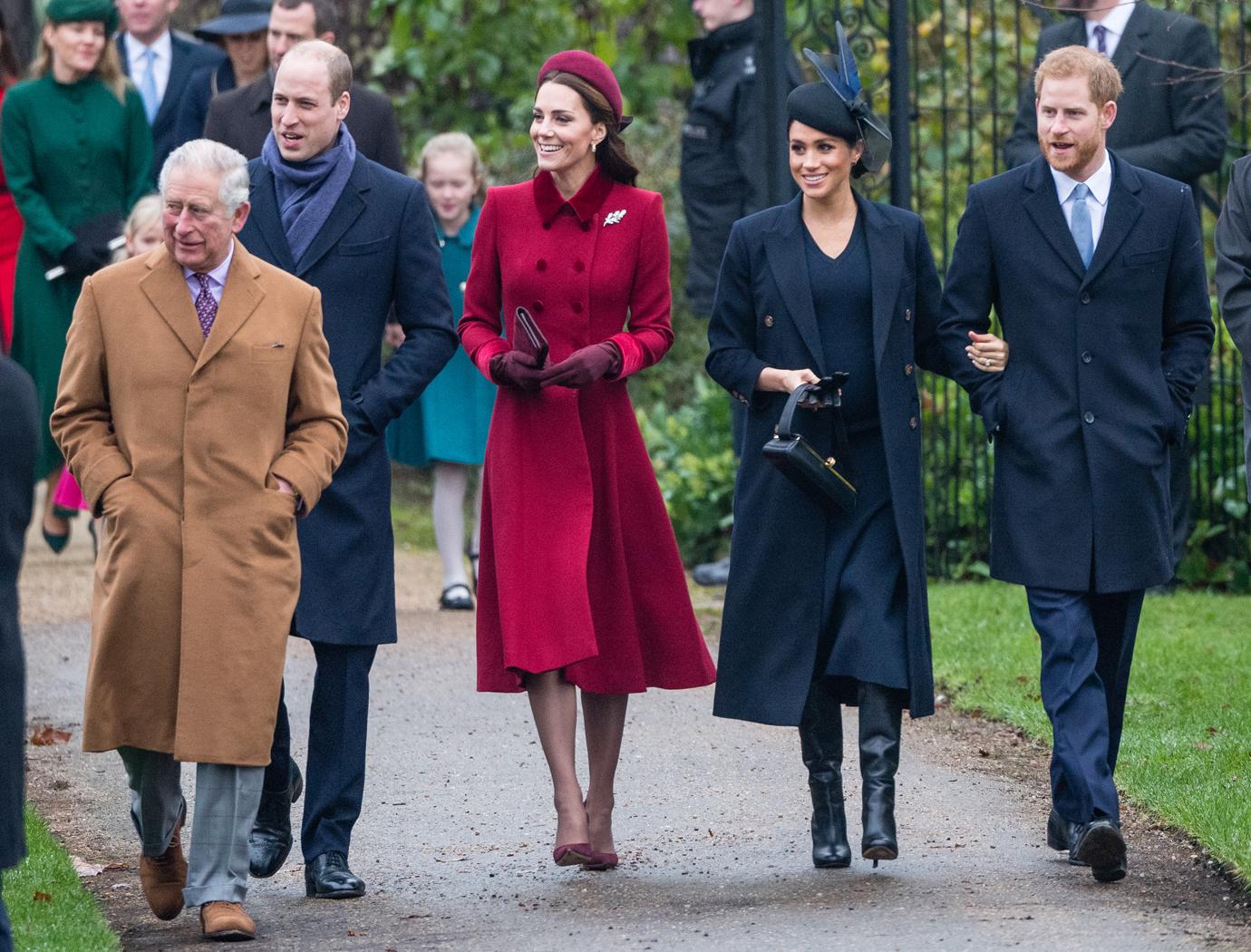 On Christmas Day, 2018, Meghan appeared with the rest of the royal family at church in Sandringham. The ex-actress bundled up her bump in a Victoria Beckham coat.
Article continues below advertisement
Bright Time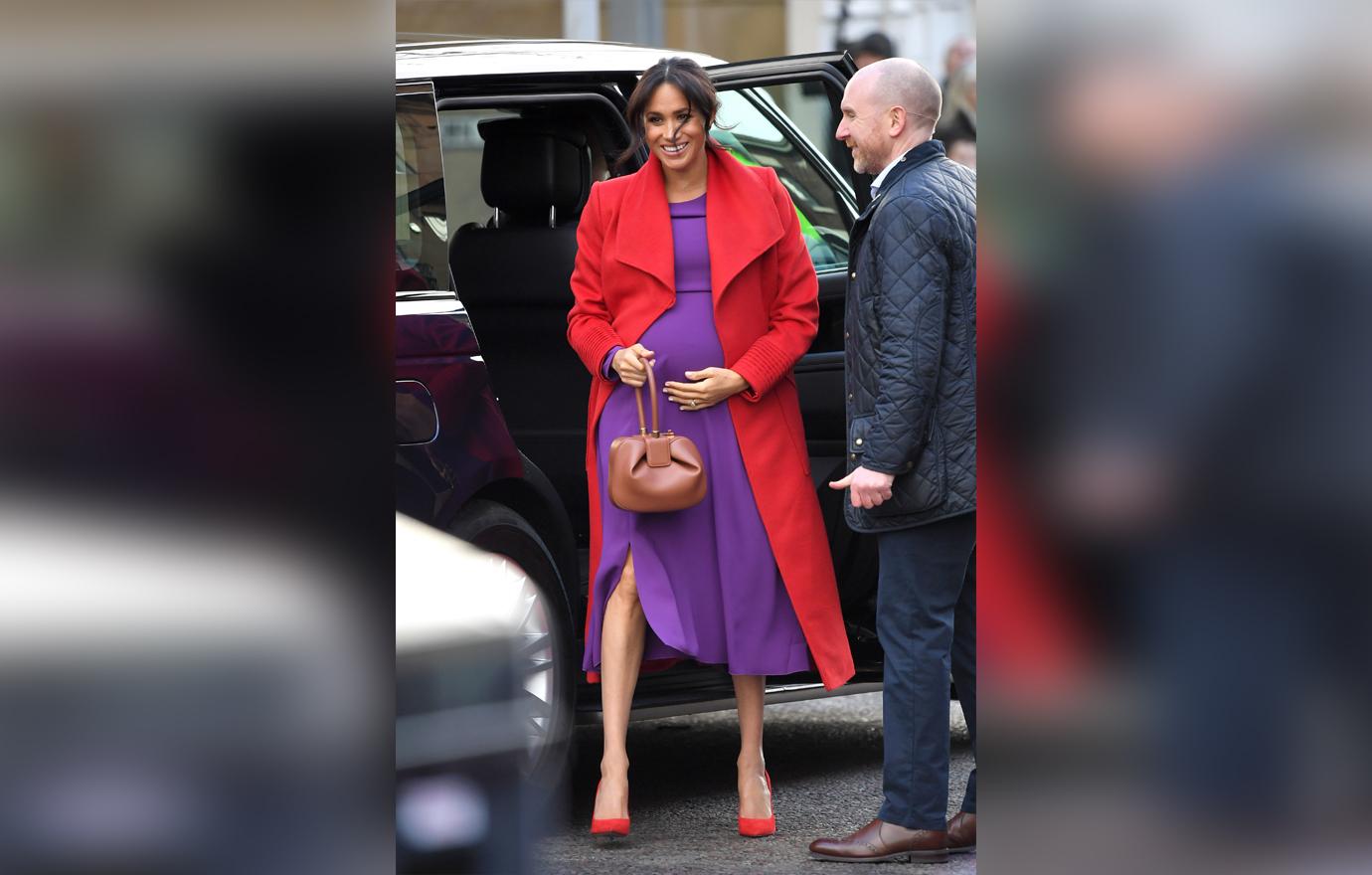 Popping in purple! In early January 2019, Meghan and Harry chatted with locals in Birkenhead. She looked comfortable in a purple dress with a red coat over it and was seen touching her baby bump during the day. The Prince's wife reportedly told locals that she's due at the end of April or early May. The appearance came hours after a third staffer quit.
Article continues below advertisement
Maternity Expense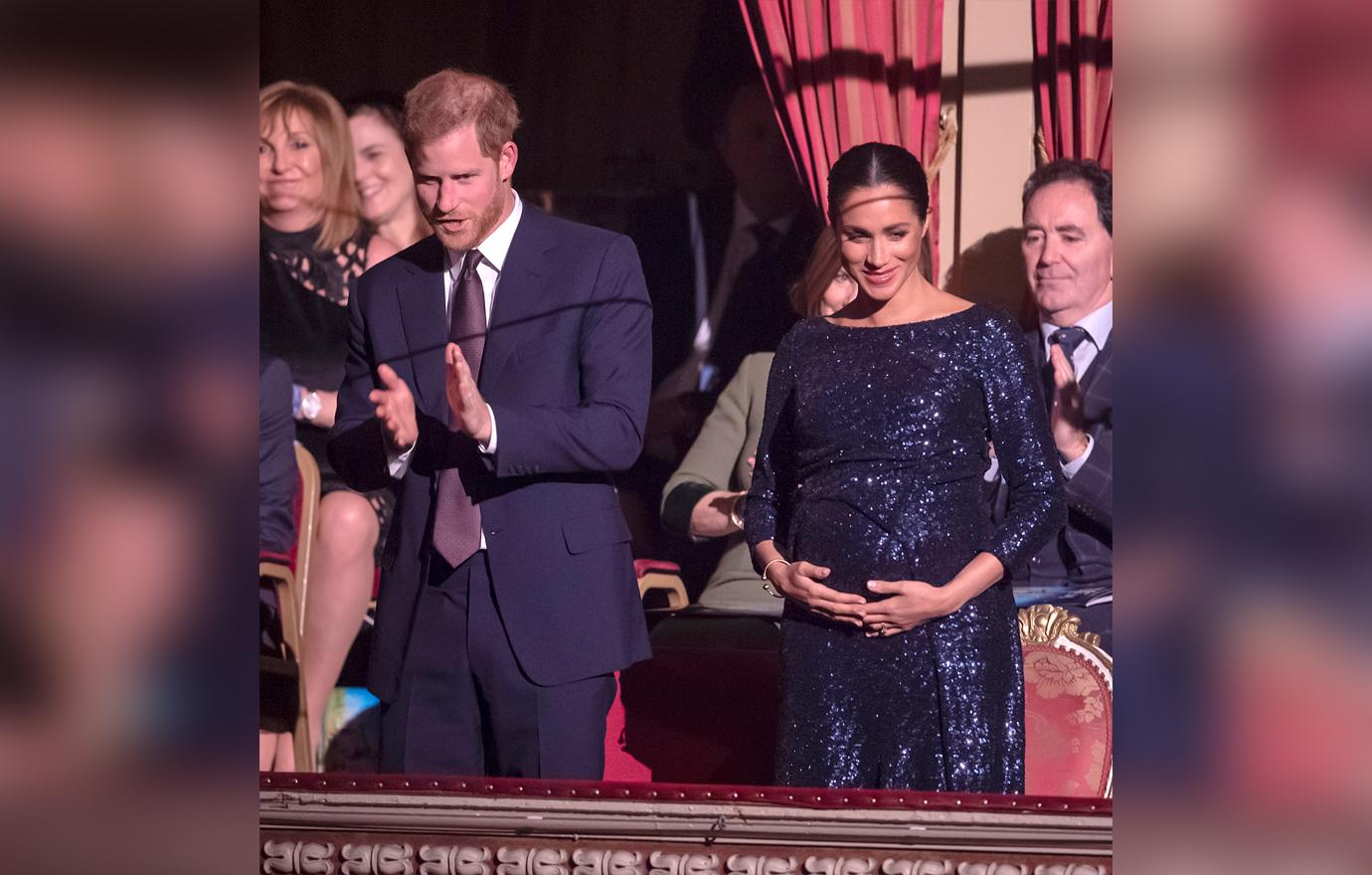 Meghan dazzled in mid-January 2019, holding hands with Harry while rocking a navy-colored sequinned Roland Mouret gown. She pulled out all fashion stops for the Cirque Du Soleil performance at the Royal Albert Hall. The gown reportedly cost a whopping $5,600!
Article continues below advertisement
Fashion-Forward Mom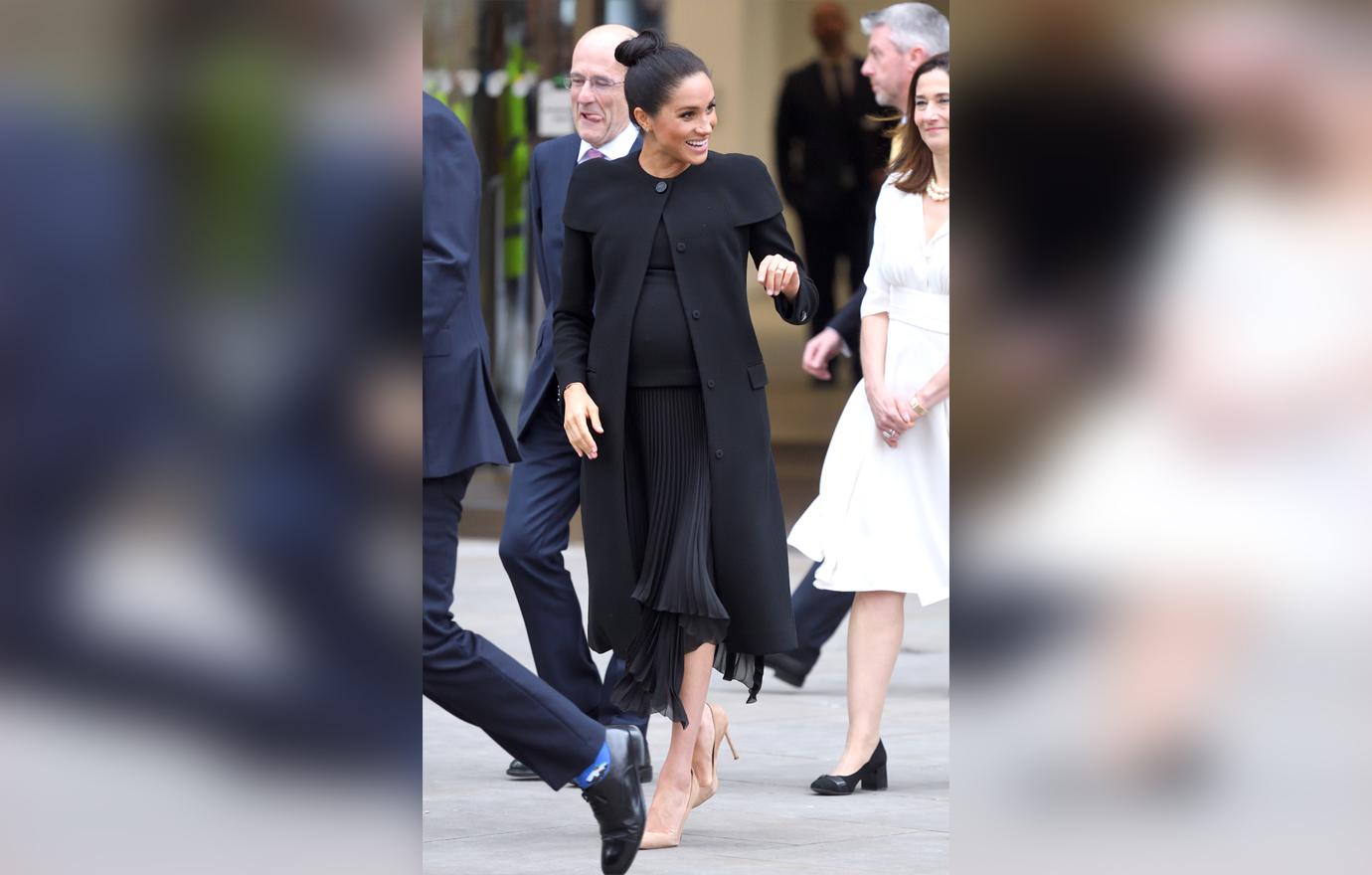 Getting bigger all the time! During a visit to City University in London at the end of January, Meghan dressed her bump in a black Givenchy cape coat over a black dress with an asymmetrical hem. She wore nude-colored high heels and her hair in a bun.
Article continues below advertisement
Snuggle Bump!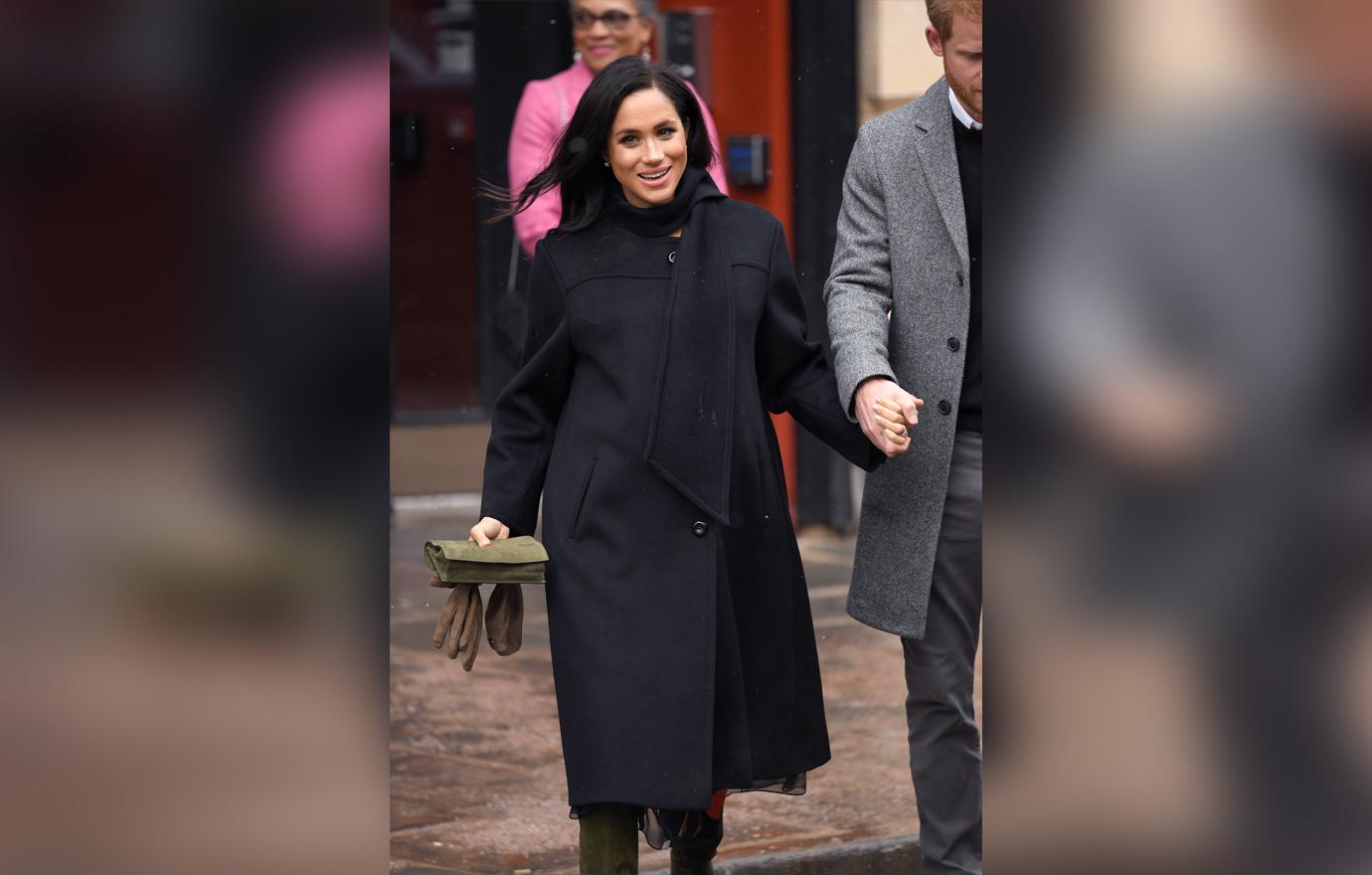 Meghan and her baby-to-be were all covered up in a big black coat when arriving in snowy Bristol on Friday, February 1, 2019.
Article continues below advertisement
Simple Elegance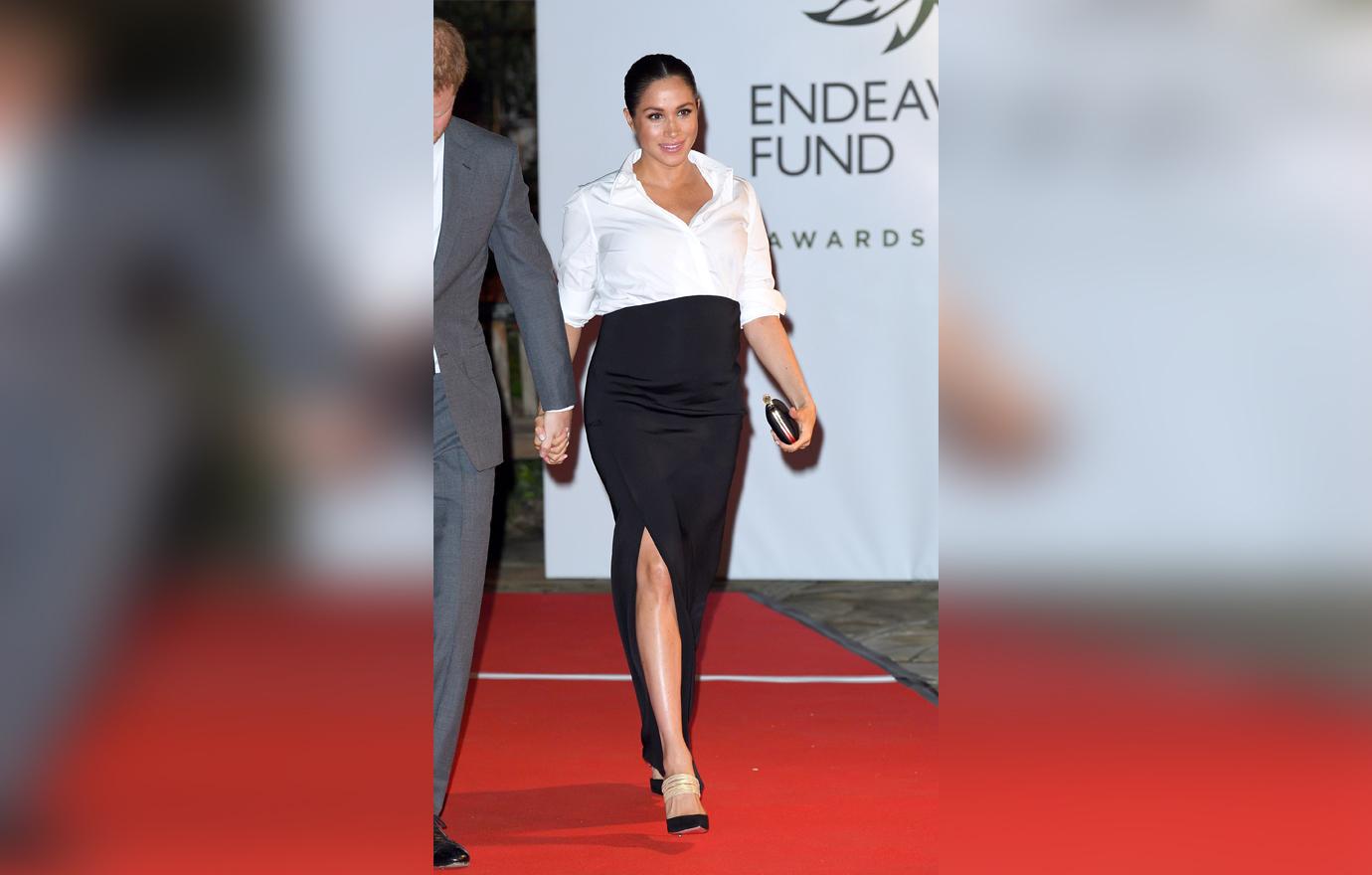 On February 7, 2019, the Duchess of Sussex attended the Endeavour Fund Awards in casual white shirt tucked into a black skirt with a thigh split.
Article continues below advertisement
Working While Expecting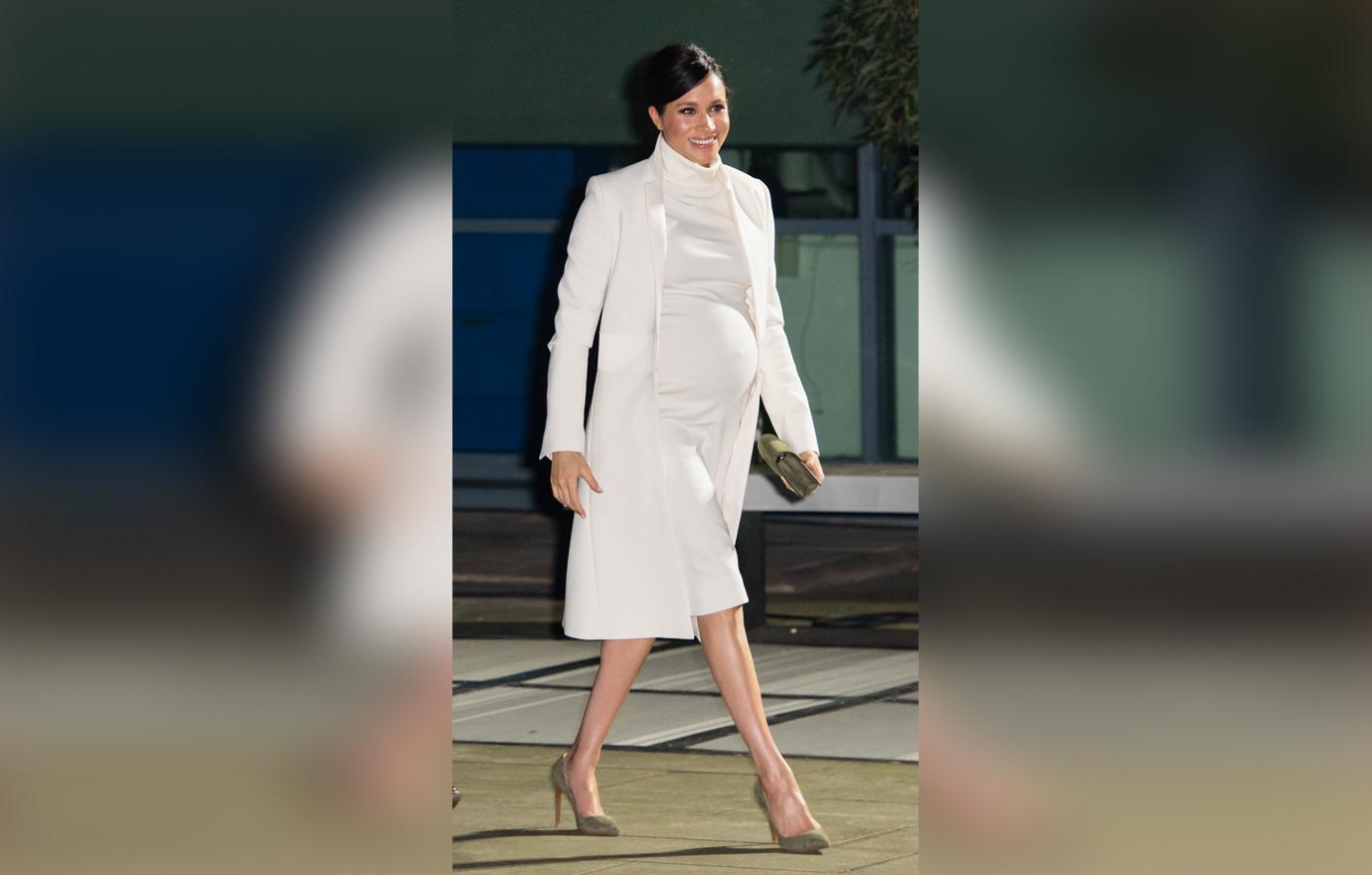 During her pregnancy, Meghan has kept up her busy royal duties. On February 12, 2019, she continued bumping along for the Wider Earth Charity event in London, sporting a white dress and jacket.
Article continues below advertisement
Lady In Red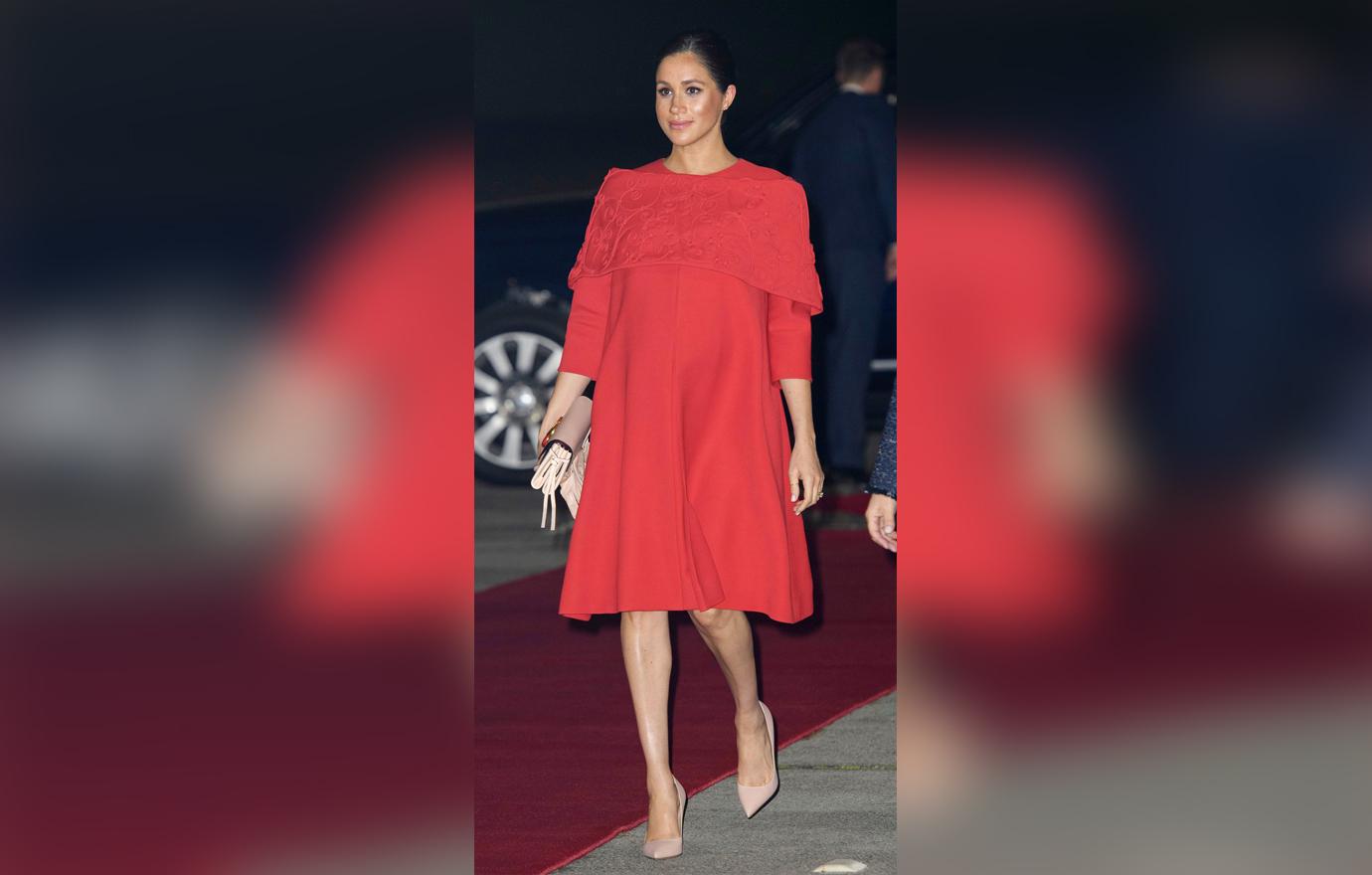 Prince Harry's expectant wife rocked a red Valentino dress when they arriving at Morocco's Casablanca airport on Saturday night, February 23, 2019.
Article continues below advertisement
Swelling With Pride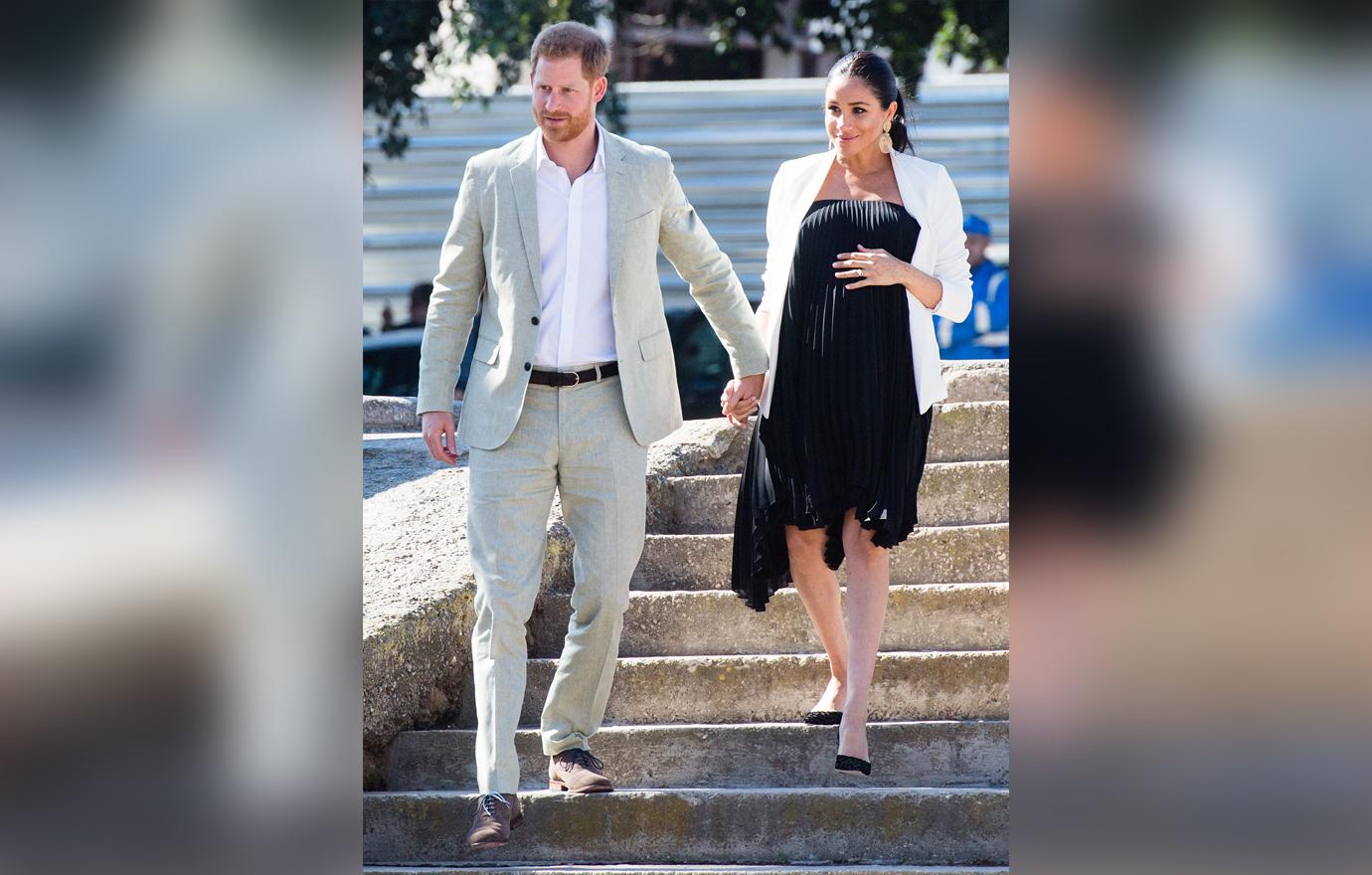 Meghan donned a black dress with a white coat for part of her Morocco trip, in which she and Harry participated in charity events.
Article continues below advertisement
Standing Out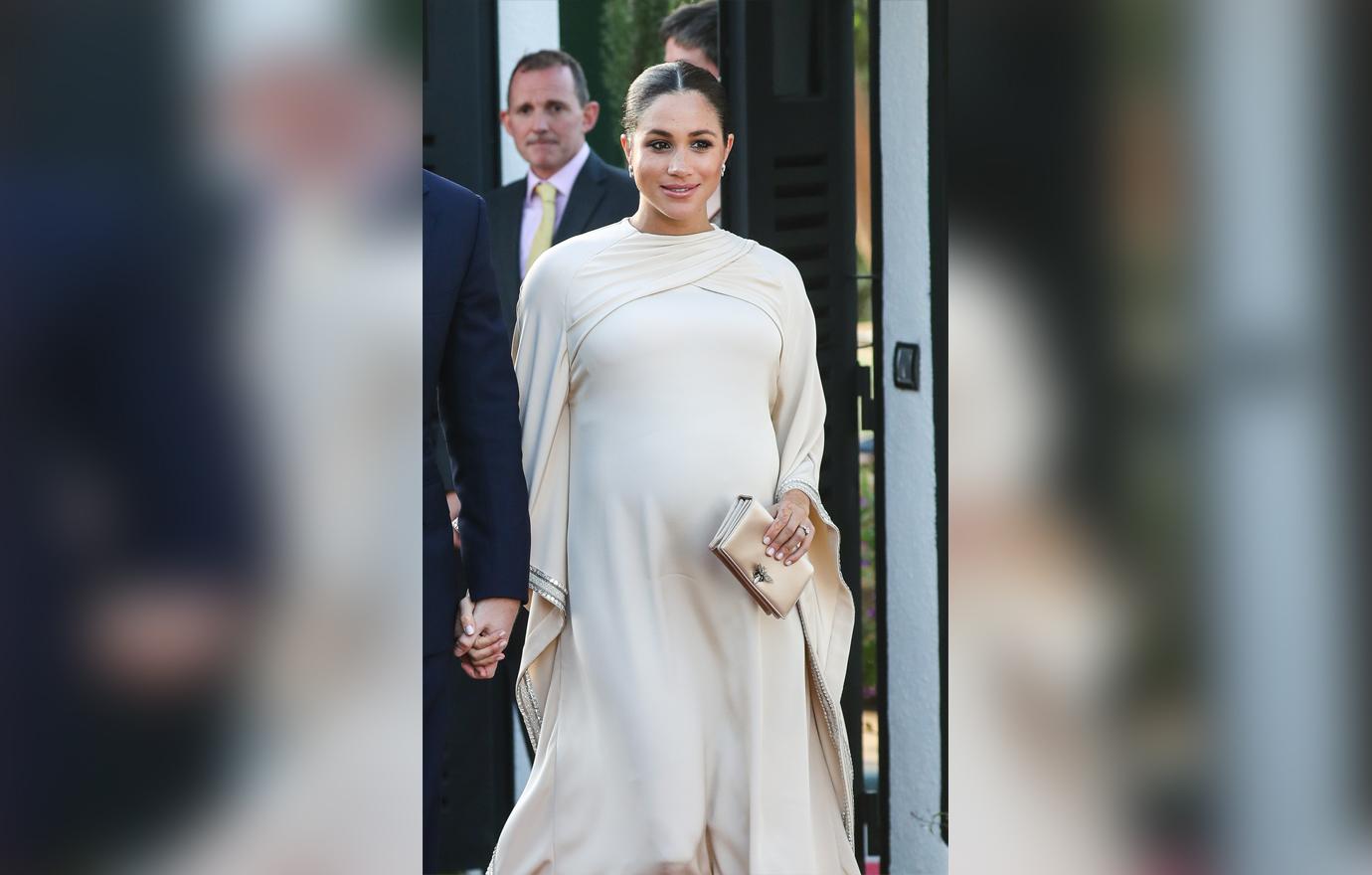 Modern maternity gown! Meghan showed off her pregnancy in a flowing dress as she and Harry arrived to a reception with the British Ambassador in Morocco at the end of February. The cream-colored, kaftan-inspired gown was by Dior.
Article continues below advertisement
Counting The Days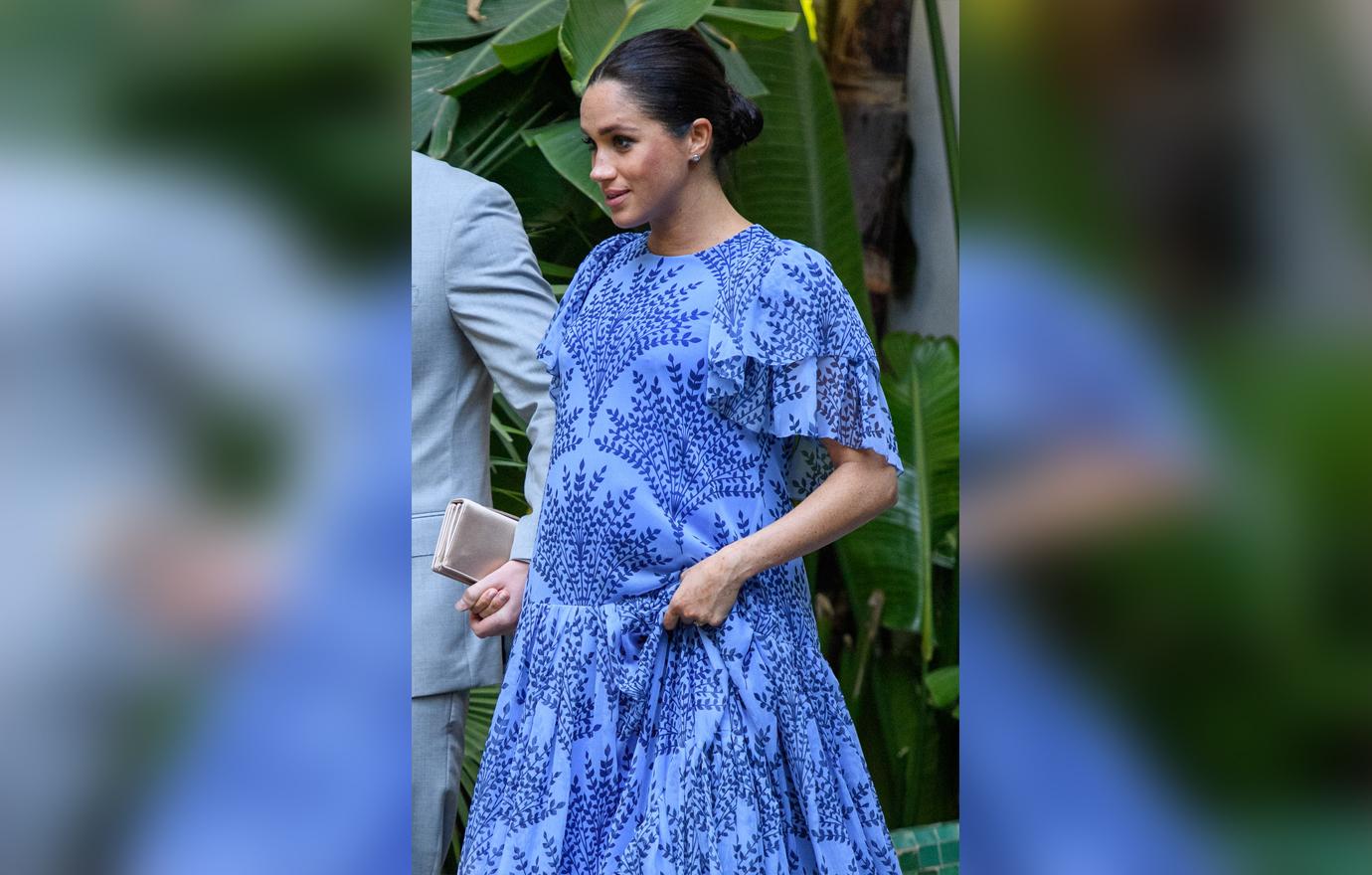 On February 25, 2019, Prince Harry and Meghan finished up their royal Moroccan tour by meeting with King Mohammed VI. Meghan dressed up her burgeoning tummy in a blue printed gown by designer Carolina Herrera which retails for almost $5,000! She's in the home stretch of her pregnancy.
We pay for juicy info! Do you have a story for RadarOnline.com? Email us at tips@radaronline.com, or call us at (866) ON-RADAR (667-2327) any time, day or night.
Article continues below advertisement
Casual Pregnant Look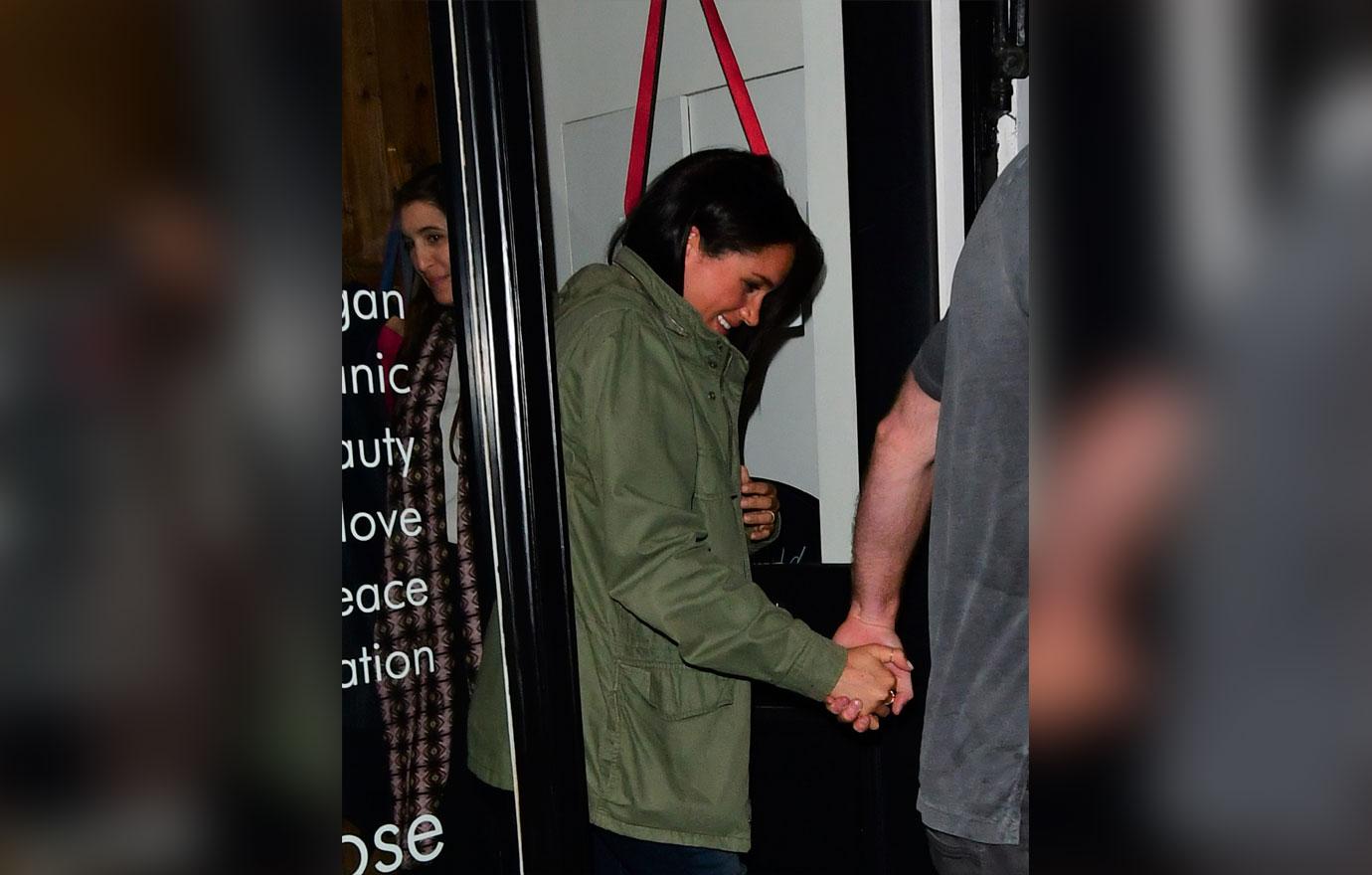 Meghan and Harry glowed with hapiness while leaving a wellness shop in London on March 31, 2019. She covered up her baby bump with a khaki jacket, white tee shirt and slim dark jeans.
Article continues below advertisement
Daddy Support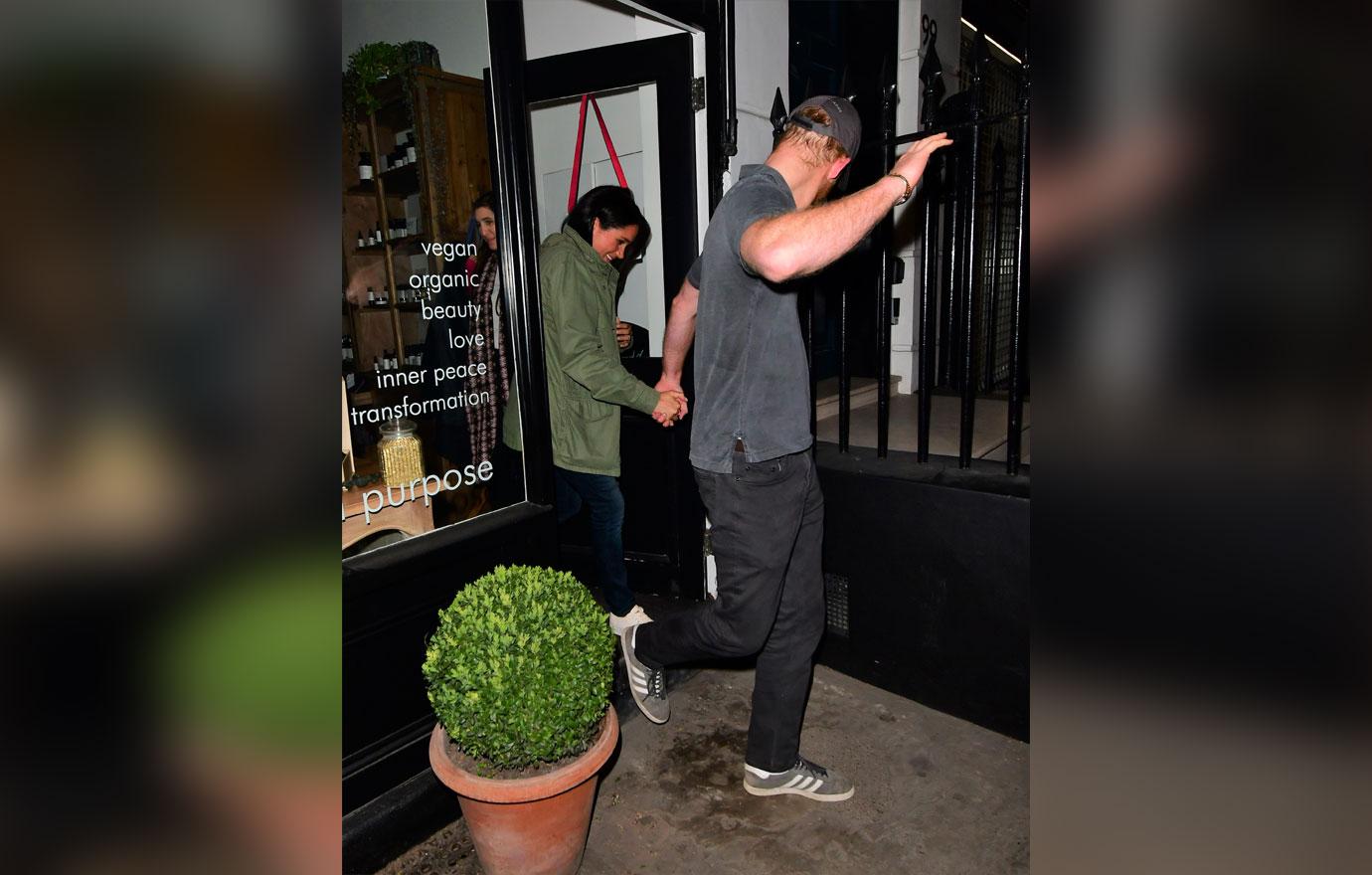 The Prince tenderly held his wife's hand as they exited the shop known for natural, organic skin care products, massages and energy healing. As RadarOnline.com recently reported, pregnant Meghan has inspired Harry to follow a New Age lifestyle before the birth of their first child.
Article continues below advertisement
Undercover Bump!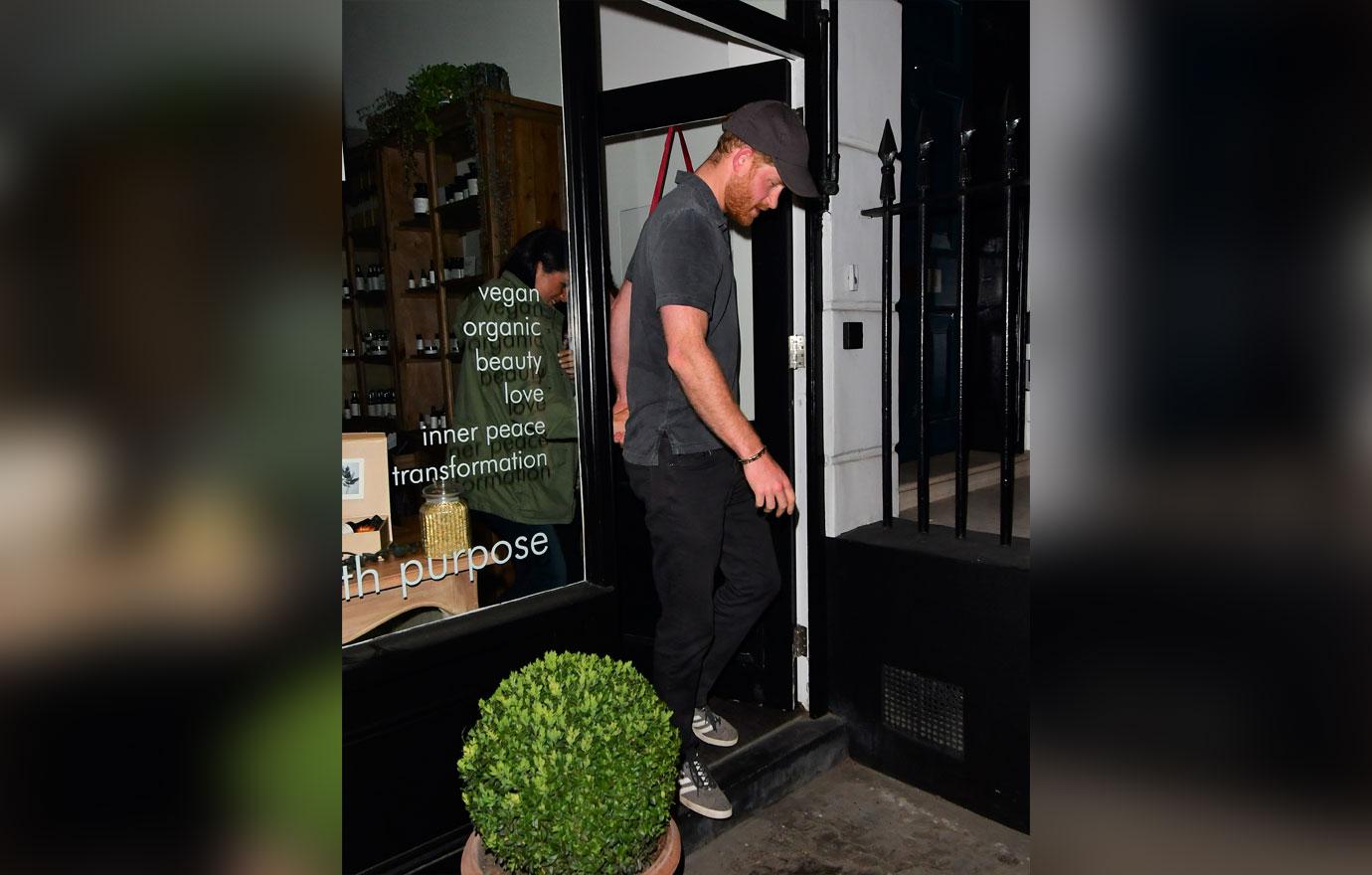 Meghan flashed a sweet smile as her jacket obscured her huge pregnancy. She and Harry spent two hours at the holistic shop in London
Article continues below advertisement
Almost Time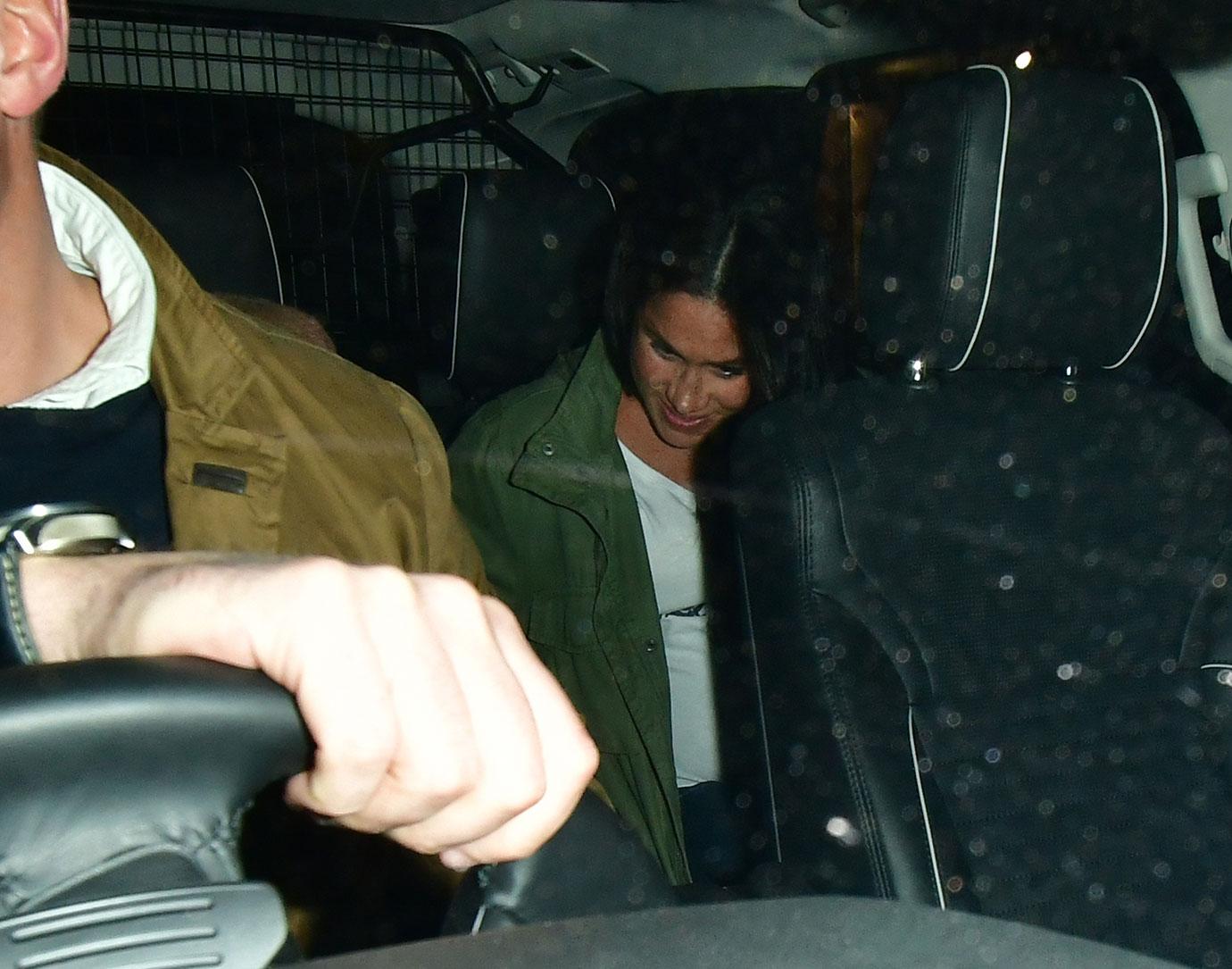 Onlookers saw that Meghan had worn a white tee shirt over the royal-baby-to-come. It was straining at the seams with her large bump.
Article continues below advertisement
Mom & Dad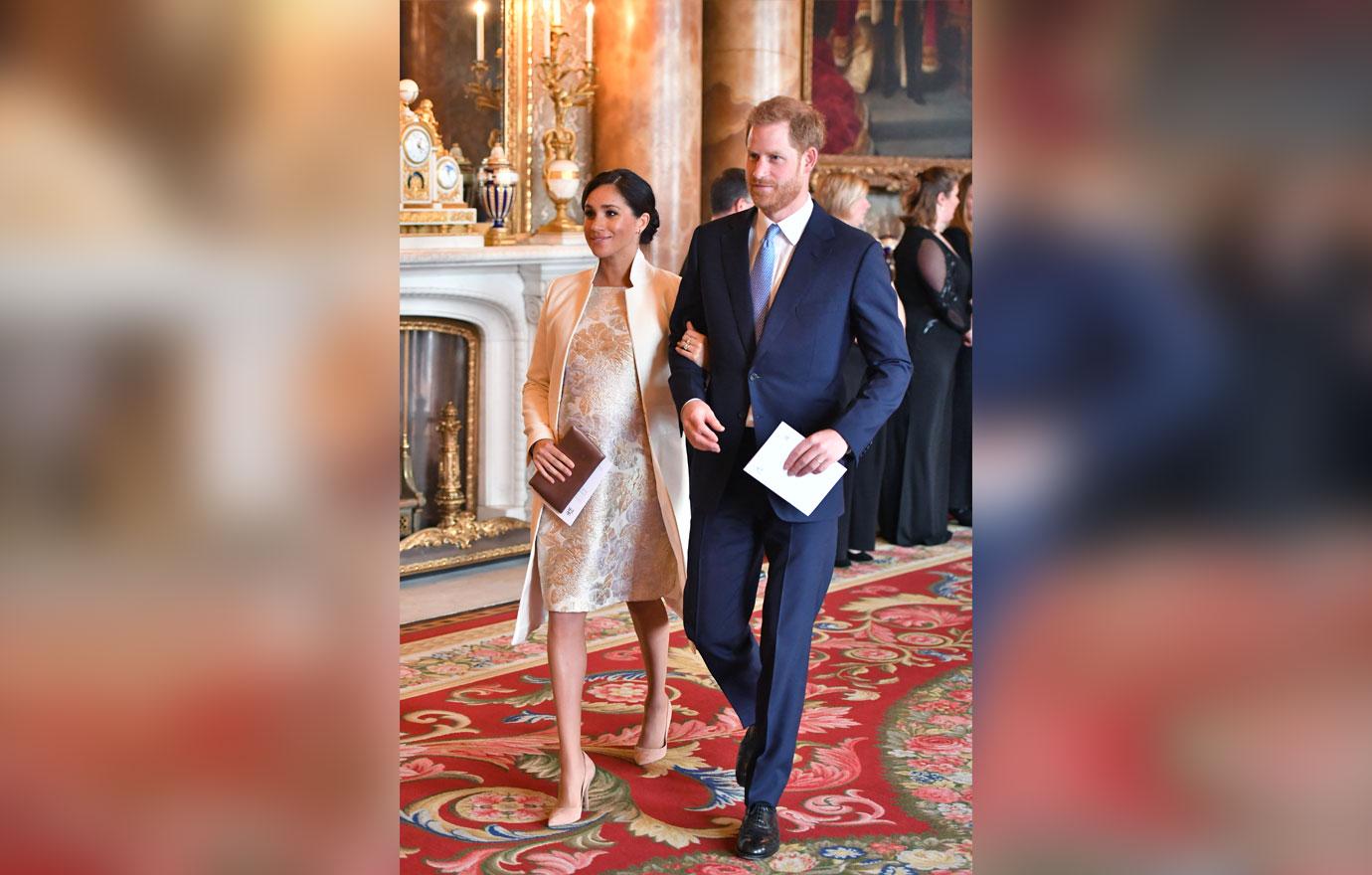 Meghan and Harry, Duke of Sussex attend the Commonwealth Service on Commonwealth Day at Westminster Abbey on March 11 in London. The beauty cradled her belly and looked stunning in a silk cream dress.
Article continues below advertisement
Stylish Mama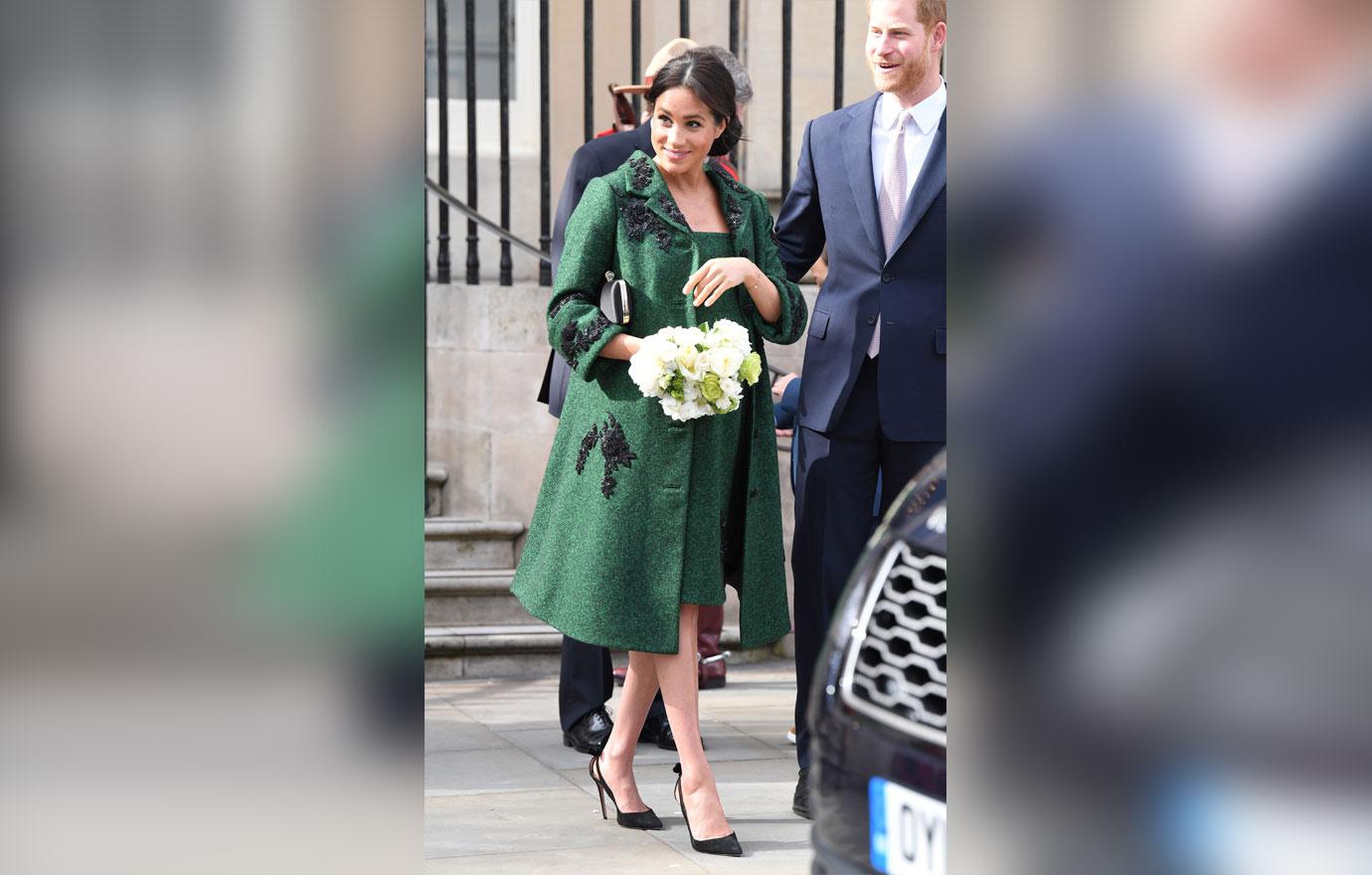 She turned heads in a beautiful green outfit while at a Commonwealth Day Youth Event at Canada House.
Article continues below advertisement
Royal Meghan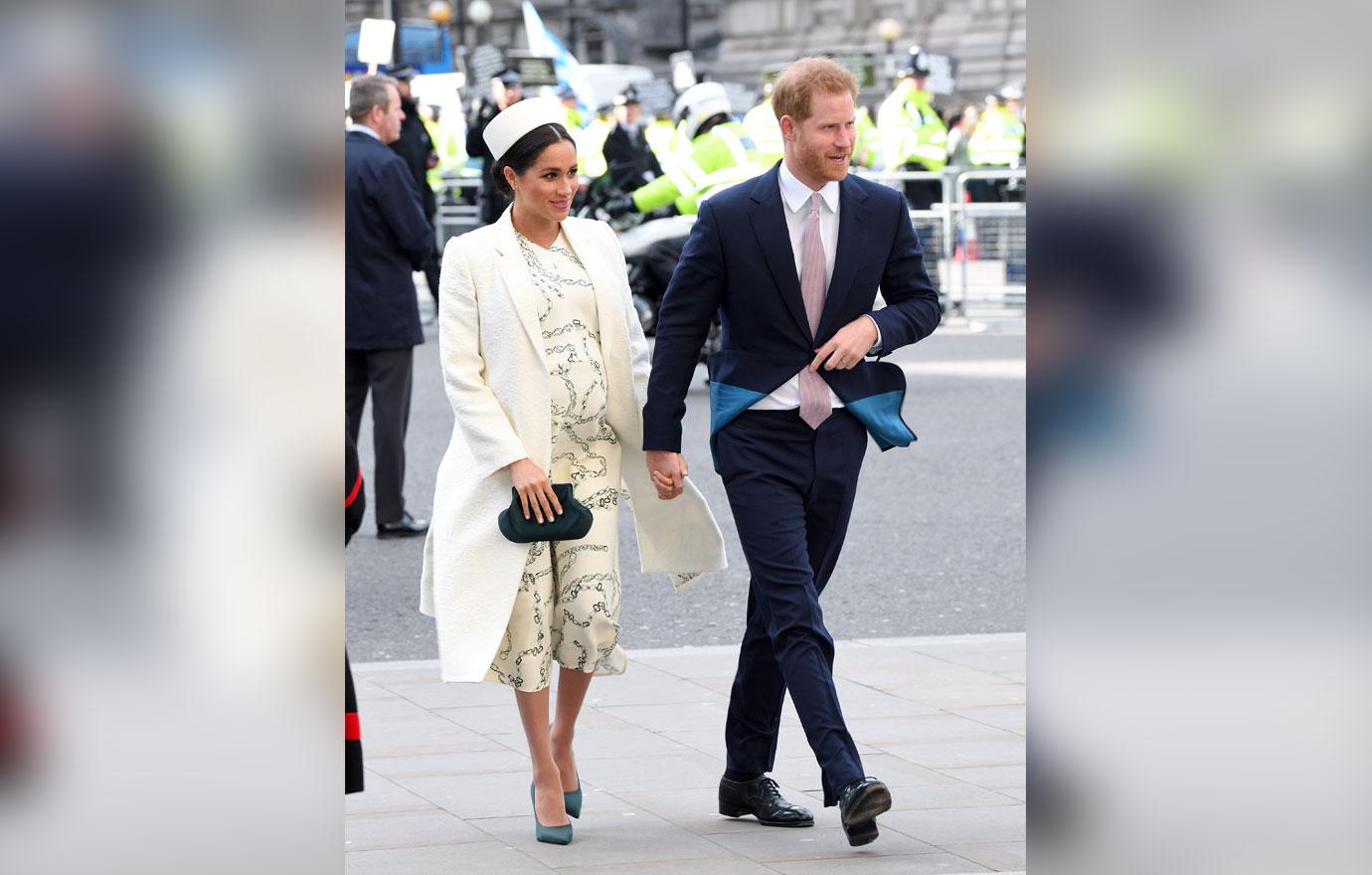 She wore a white hat, dress and coat to the Commonwealth Day service at Westminster Abbey with Harry.
Article continues below advertisement
Royal Duties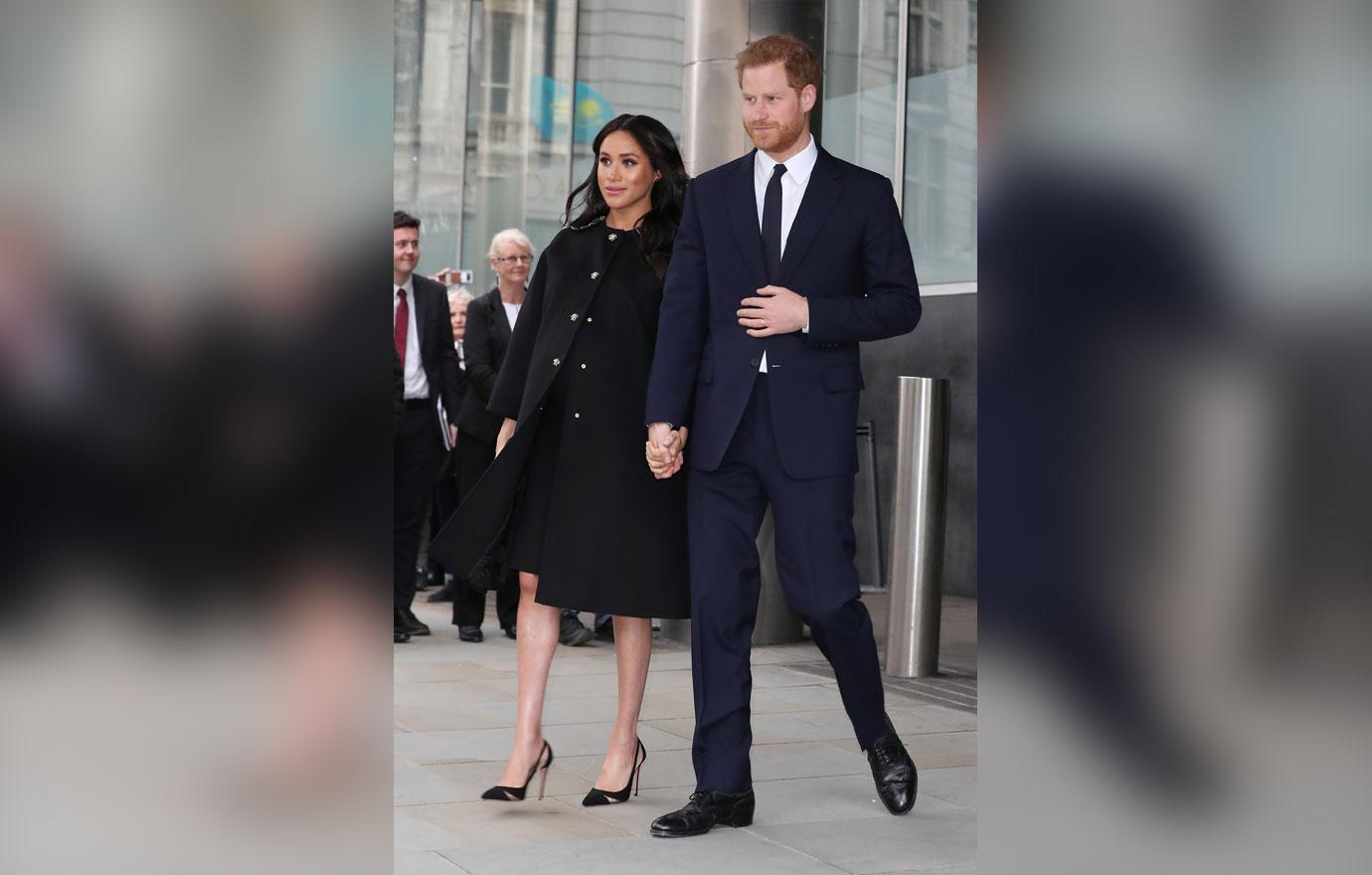 As they got ready to welcome their son, the pair went off to New Zealand House to sign the book of condolence after the recent terror attack in the area.