Exclusive
The Kim Show! Body Language Expert Claims Selfish Kardashian Was 'Looking For The Camera' During Caitlyn Jenner's ESPYs Speech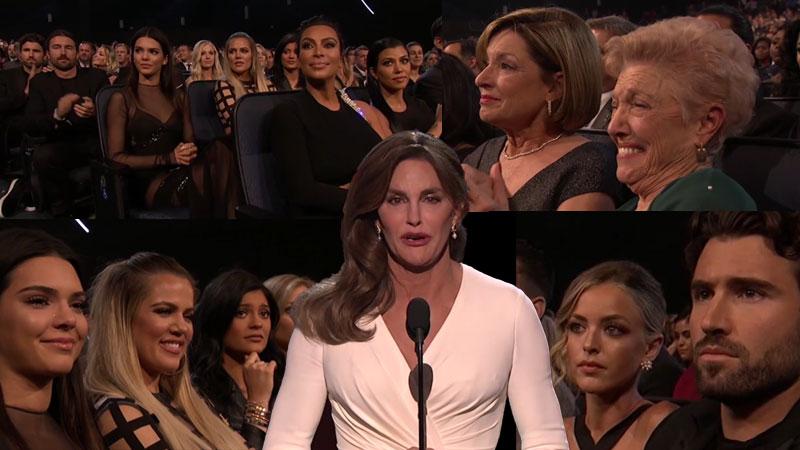 Caitlyn Jenner gave an emotionally raw speech on July 15 when she accepted the Arthur Ashe Courage Award at the ESPYs in Los Angeles. But while some of her family members were brought to tears, body language expert Patti Wood tells RadarOnline.com that it looked like Kim Kardashian was more concerned about being ready for her closeup!
Article continues below advertisement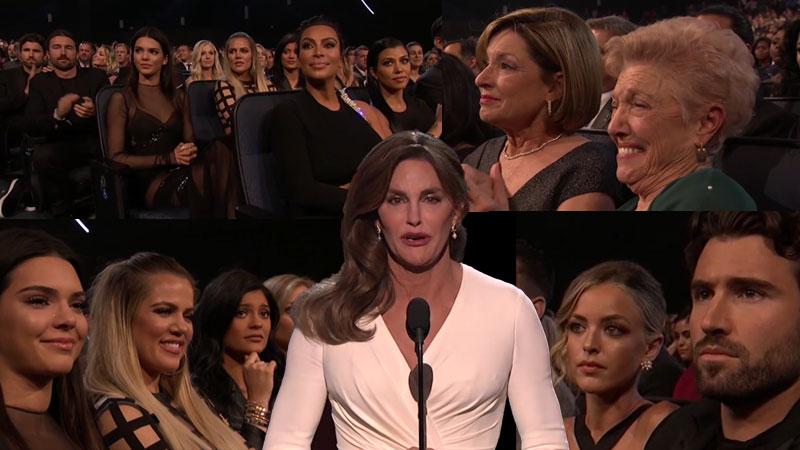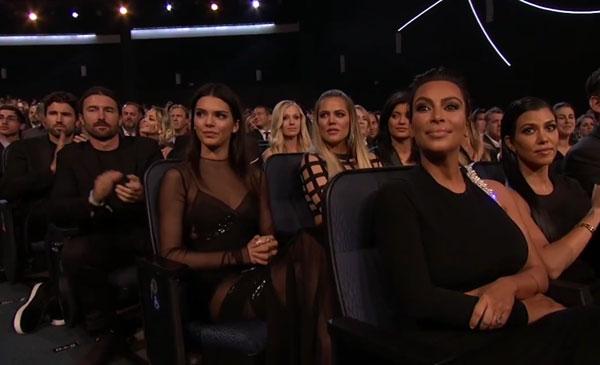 In the beginning of Caitlyn's acceptance speech "Kim Kardashian is smiling proudly," says body language expert to the stars Dr. Lillian Glass, who has worked with such huge names such as Dustin Hoffman and Sean Connery. "They respect, support and love Caitlyn and that was evident in every one of her children's body language throughout the ESPY's." However, another expert, Patti Wood, who is the author of Snap: Making the Most of First Impressions, Body Language, and Charisma disagrees. She said, "Kim had her arm across her belly to call attention to look at her and could not bring herself to clap."
Article continues below advertisement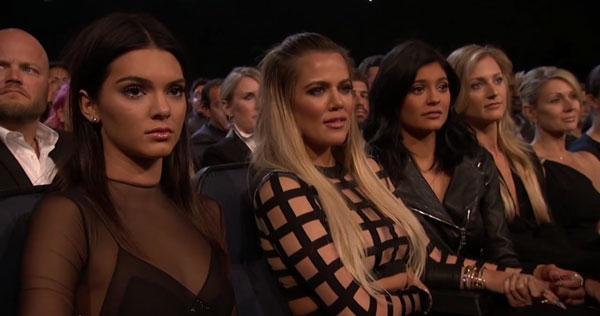 Although daughter Kylie Jenner is definitely showing intense signs of emotion while watching her transitioned mother accept the award, Glass says that "all of them are listening attentively" in this photo.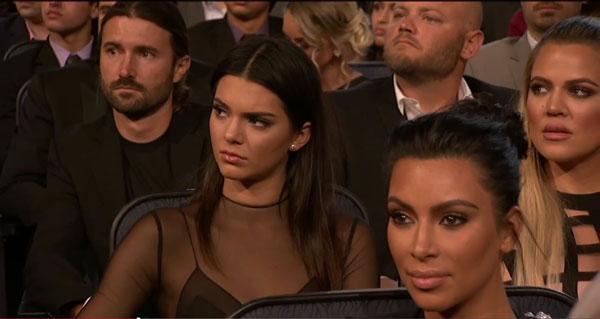 "You can see in this shot that all of Caitlyn's children are taking in and digesting all of what she is saying in her speech and in this particular shot, Caitlyn is talking about how the journey has been inspiring and frightening," says Glass.
Article continues below advertisement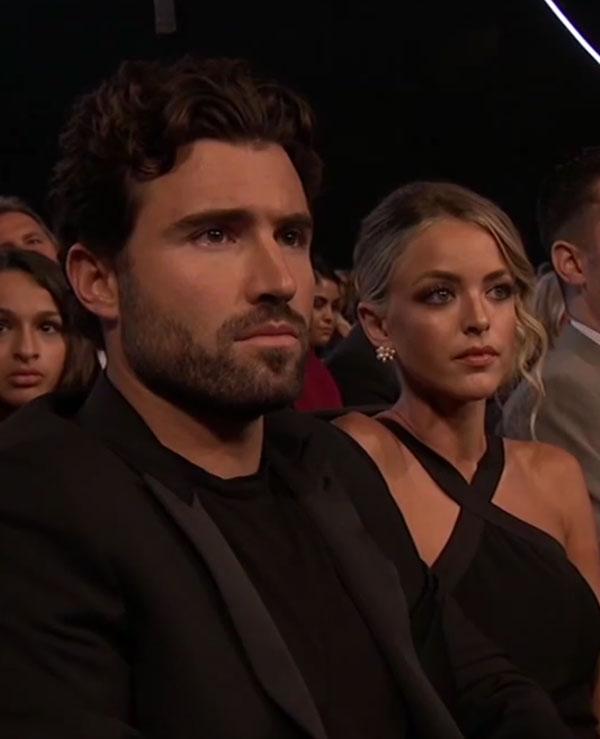 "Brody Jenner is listening attentively and you can see the seriousness in his face," Glass says of Caitlyn's son, who was there with his girlfriend Kaitlynn Carter.
According to Dr. Glass, "When Caitlyn is talking about the family, Kylie and Kendall are moved by this as they wipe away their tears. They are emotional because Caitlyn is getting emotional."
Article continues below advertisement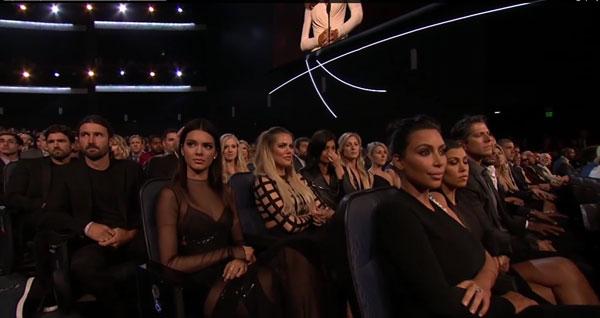 Everyone's focus was on the Caitlyn's speech for the entire time "except for Kim Kardashian," says Wood. "Kim is looking for the camera, not looking at Caitlyn," Wood, who has not ever worked with the family, tells Radar.
"The whole family is really moved when Caitlyn says that she is proud to have them all in her life," says Dr. Glass.
Article continues below advertisement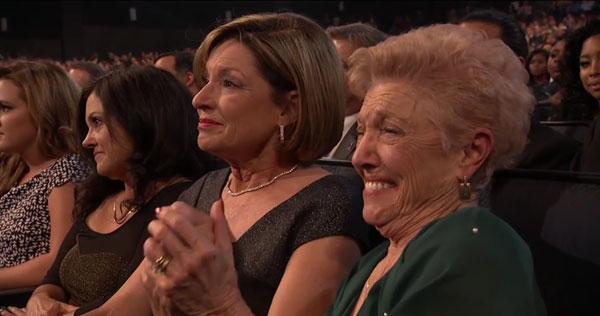 Perhaps the most moved of all was Caitlyn's mother, Esther, who almost missed the event due to having surgery just one week prior. "Her mother is beyond proud and is beaming the entire time," Dr. Glass tells Radar.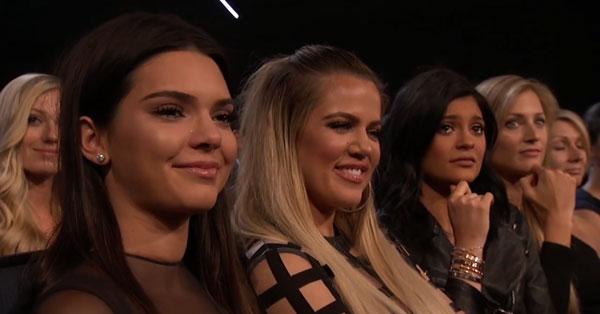 After Caitlyn thanks her mother and tells the audience that she is her source of courage, Kendall and Kylie's raw emotion "shows how they love their grandmother so much and are moved by what Caitlyn said about her."