Aaron Carter Rides ATV Amid Getting New Face Tattoo And Ranting About Beyonce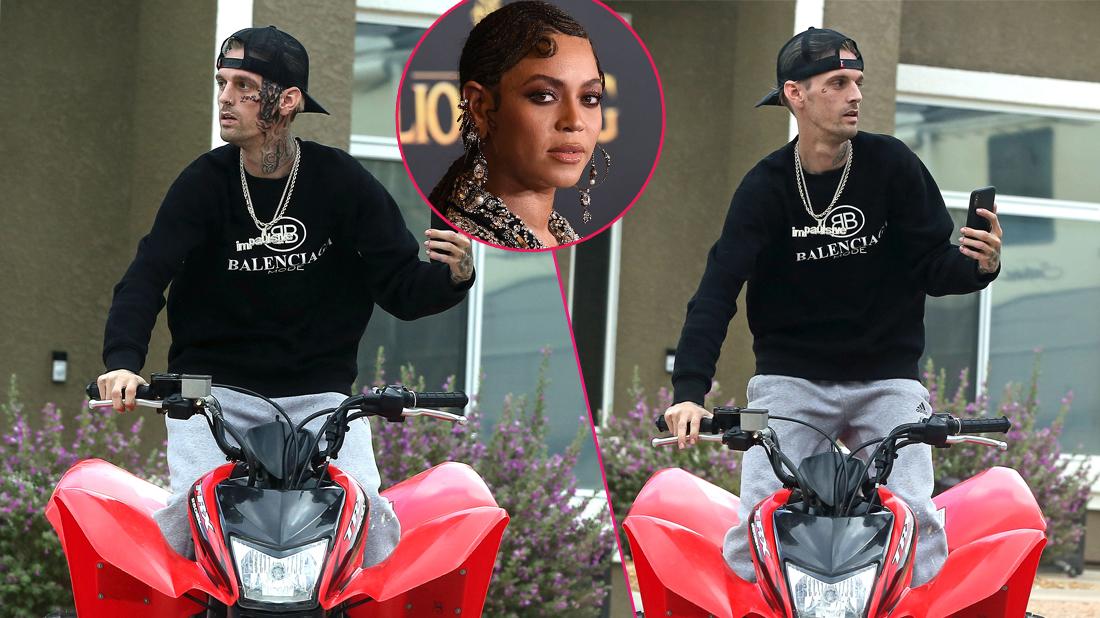 Aaron Carter took an ATV for a ride during his downward spiral—the same day he ranted about Beyonce!
The troubled singer, 31, who recently got into an explosive family feud with his brother Nick, 39, and twin sister Angel, was seen on the red vehicle on Saturday, September 28.
The recreational outing occurred as Aaron has been shocking fans with bizarre social media posts.
On Saturday night, Carter involved Queen Bey in his breakdown, writing, "omg @Beyonce I just want you to know that love you always and your music! also, I wanted to let you know I never forgot when you let me open up for you and @destinyschild in 99 & 2000! that's all I wanted to say #Beyhive thank you for everything you've done for me."
Article continues below advertisement
The singers danced together during an after-party following the 2001 American Music Awards, but beyond that, the connection is baffling.
Beyonce fans immediately took offense, with one writing to her online, "Run. Run. Run for your life."
Another suggested Beyonce, who is actually also known as "Mrs. Carter" as her husband Jay-Z's real name is Shawn Carter, should "Stay tf away" from the wacky one, Aaron.
On Saturday, he also posted a couple of selfies on Instagram which showed a huge new tattoo covering his jaw, cheek, cheekbone, temple and under his eye.
It's believed to be the Greek mythology monster Medusa, who has the power to turn people to stone just by looking at them.
As RadarOnline.com readers know, Aaron has been feuding with his siblings Nick and Angel.
First, Aaron shocked fans on the TV show The Doctors by sharing that he's been diagnosed with multiple personality disorder, schizophrenia, acute anxiety and manic depression. Aaron revealed he's taking prescription medications.
Article continues below advertisement
Then on Tuesday, September 17, Nick claimed he and Angel had to take action against Aaron, writing online, "After careful consideration, my sister Angel and I regret that we were required to seek a restraining order against our brother Aaron today.
"In light of Aaron's increasingly alarming behavior and his recent confession that he harbors thoughts and intentions of killing my pregnant wife and unborn child, we were left with no choice but to take every measure possible to protect ourselves and our family. We love our brother and truly hope he gets the proper treatment he needs before any harm comes to himself or anyone else."
Article continues below advertisement
Aaron responded, writing, "I am astounded at the accusations being made against me and I do not wish harm to anyone, especially my family."
Scroll though Radar's gallery for more on Aaron's latest public appearance amid his problems.
Article continues below advertisement
All-Terrain Terror?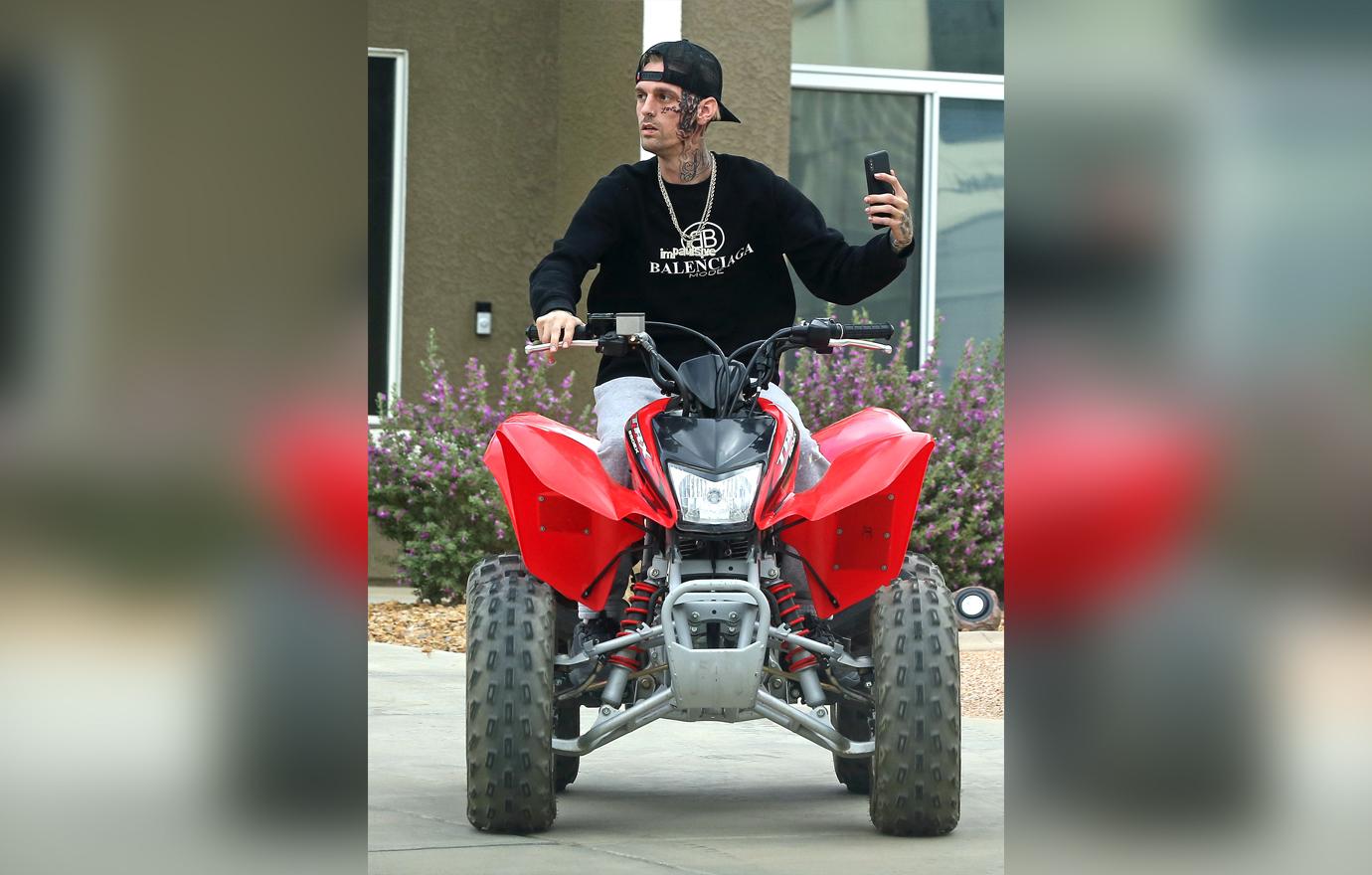 Look out! Aaron spent the day riding on an ATV with his scary facial tattoo.
Article continues below advertisement
Tattoo You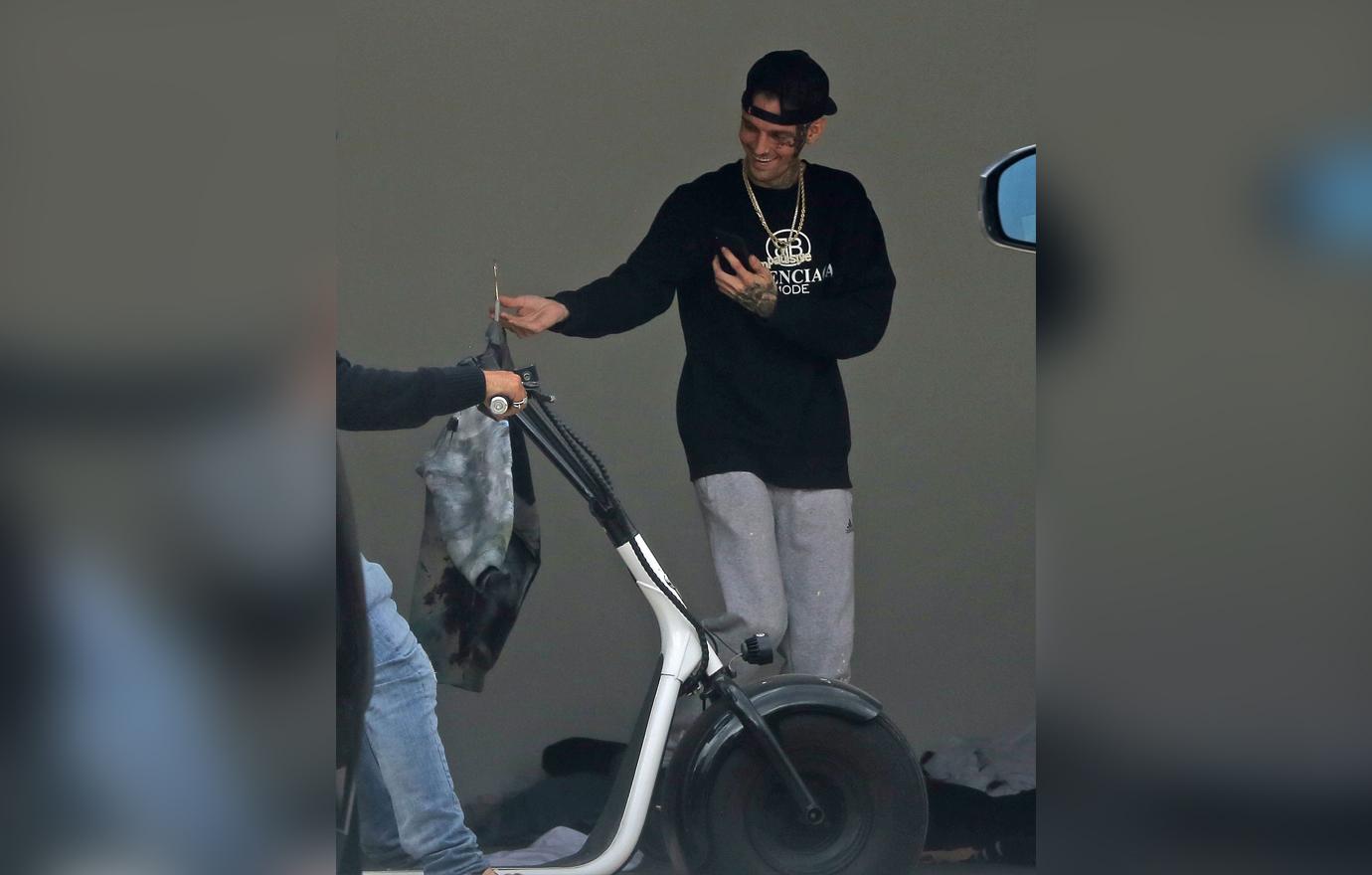 The "Aaron's Party" singer wore a backwards baseball cap to better show his new face art.
Article continues below advertisement
Calling Beyonce?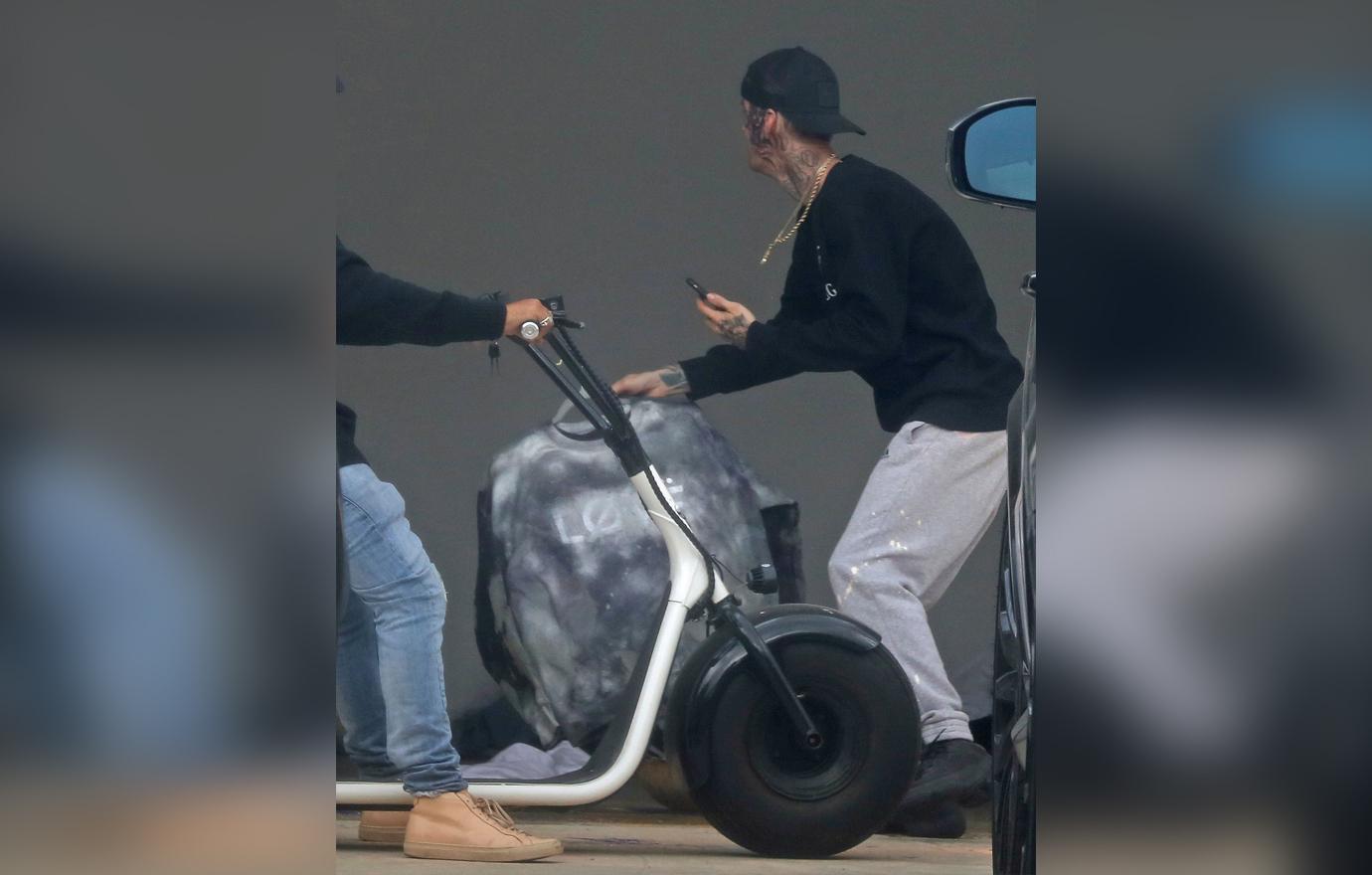 Aaron held on tight to his cell phone all day.
Article continues below advertisement
Brother Battle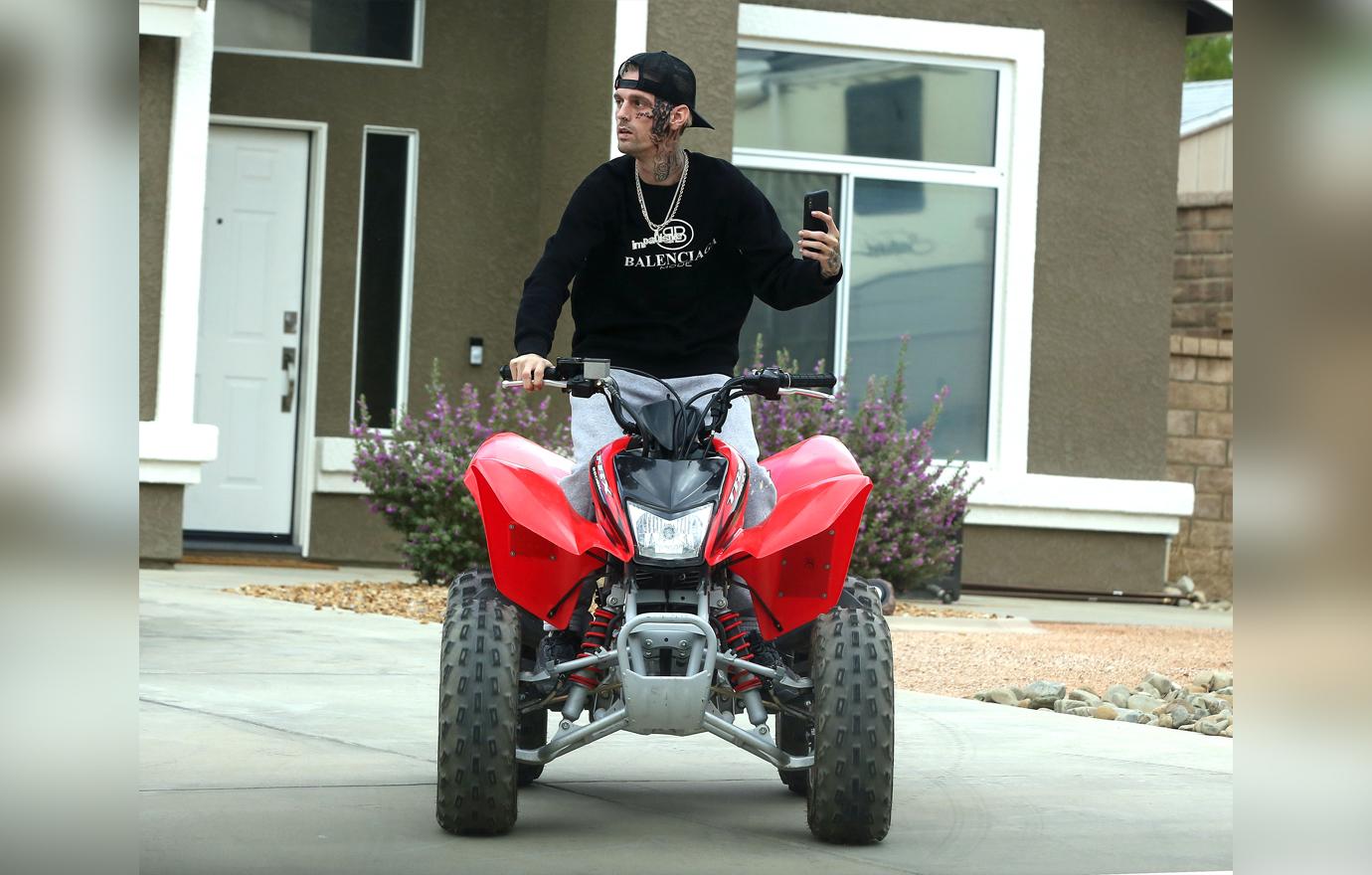 The star recently wrote to his equally famous Backstreet Boy brother on Twitter, "Take care. @nickcarter we're done for life. I haven't seen him in four years. And I don't intend."
Article continues below advertisement
Unsafe At Any Speed?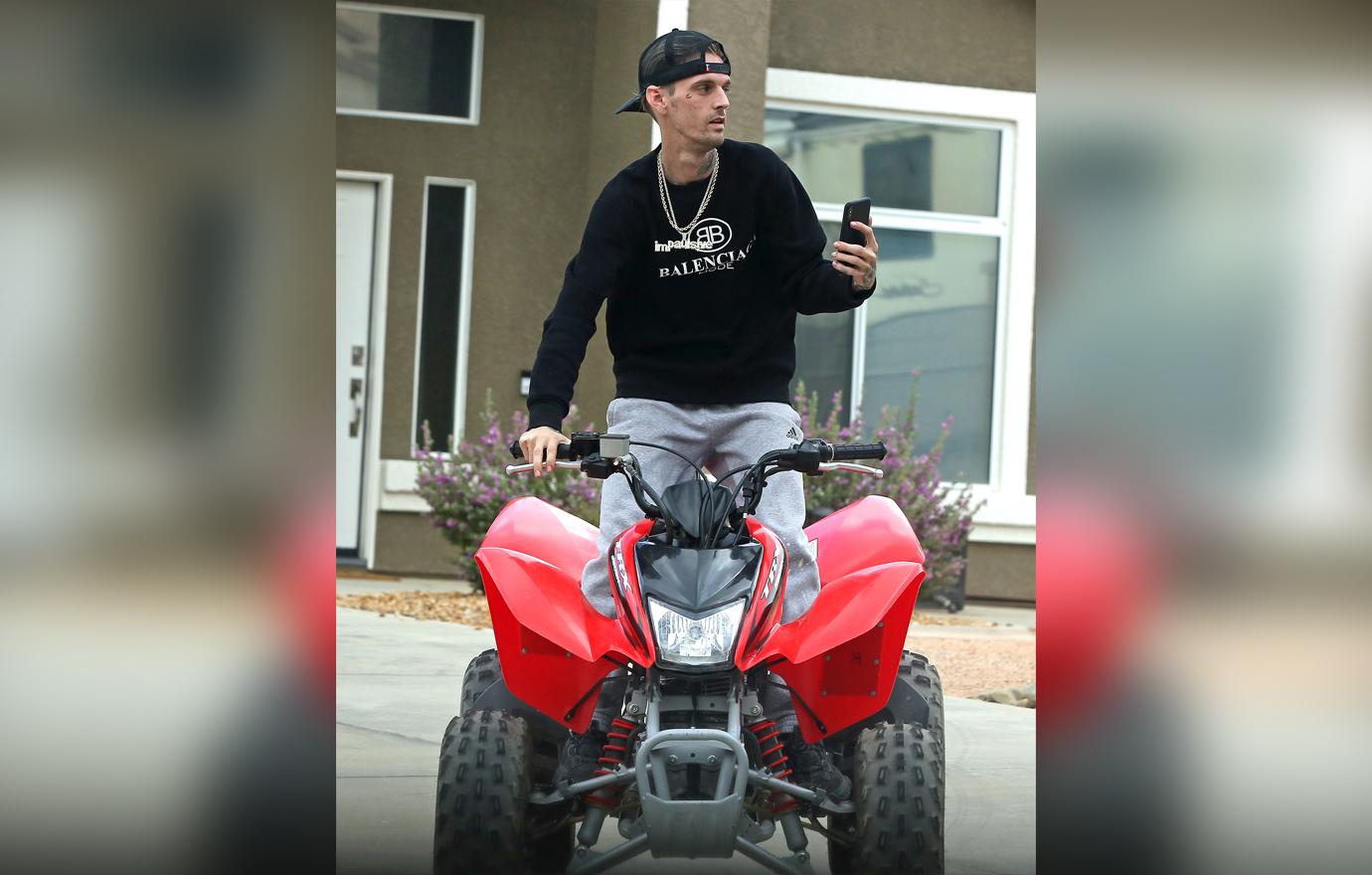 This weekend, video from Aaron's Instagram account showed someone lighting a bong with music playing while the star appeared to be writing "love" on a piece of paper. The single star also posted a shot of a chalkboard with a message about his personal life, captioning it, "Where's my queen at!!? I'm waiting on you……" Hopefully he's not counting on Queen Bey to throw him a friendship lifeline!