White House Press Department Calls Out Bumbling President Joe Biden For Latest Gaffe After He Referred To Wife Jill Biden As 'Vice President'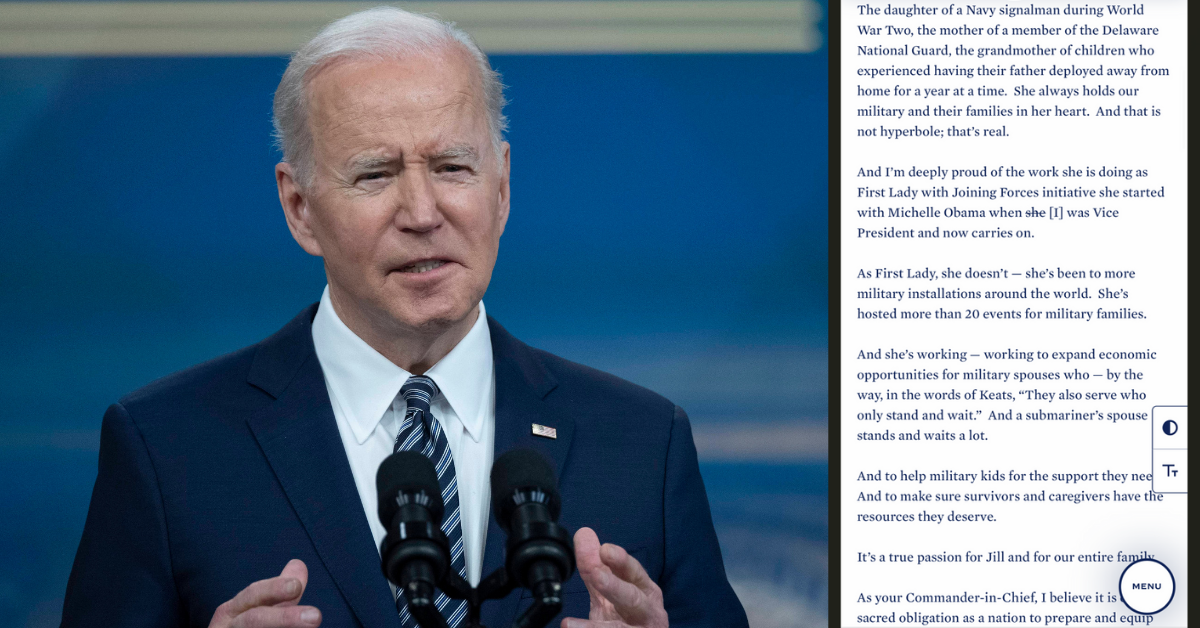 Joe Biden thinks his wife Jill is Vice President — at least that is what he said at an official Presidential event in Delaware on Saturday.
The bumbling 79-year-old commander in chief made a doozy of a gaffe when he referred to the First Lady as Vice President as he commissioned the USS Delaware, the Navy's newest nuclear-powered submarine.
Article continues below advertisement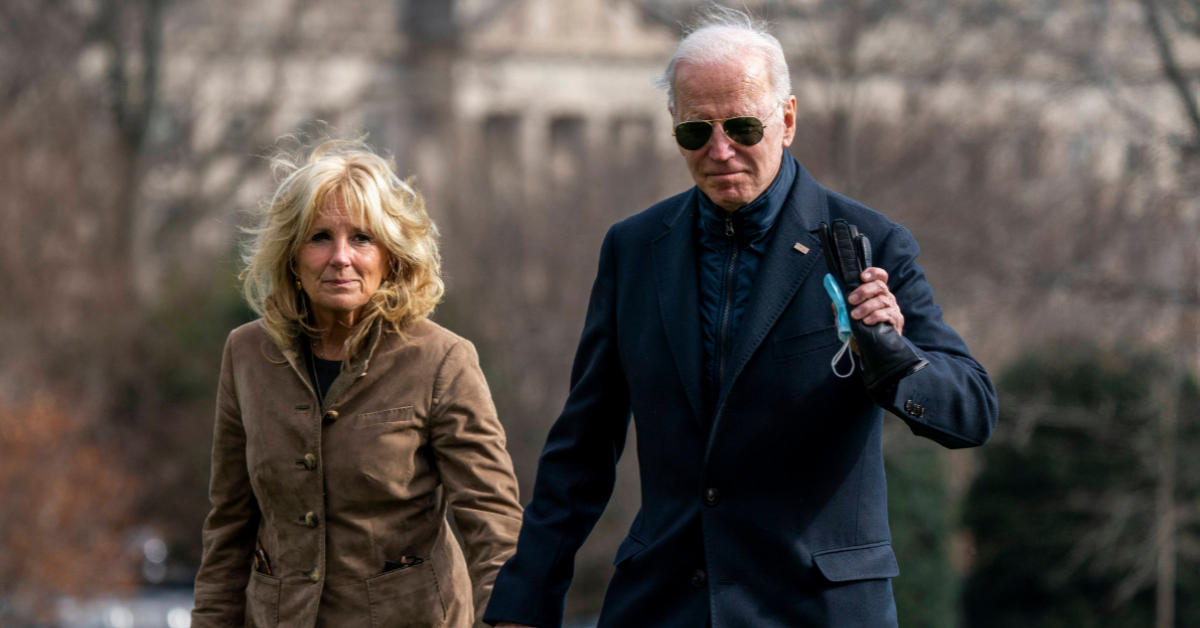 Biden has constantly faced claims that he is in cognitive decline, most recently after it emerged he used cue cards to defend another rambling mess.
The mistake was forced to be corrected by the White House late Saturday, which in a transcript posted on its official site, embarrassingly corrected the President and declared he should have said "I", in reference to him serving as Barack Obama's second in command.
Article continues below advertisement
"I'm deeply proud of the work she is doing as First Lady with 'Joining Forces' initiative she started with Michelle Obama when she [I] was Vice President and now carries on," the White House posted in a transcript, titled Remarks by President Biden and First Lady Jill Biden at the Commissioning Commemoration Ceremony of the USS Delaware.
In his rambling speech, the President added: "As First Lady, she doesn't — she's been to more military installations around the world. She's hosted more than 20 events for military families."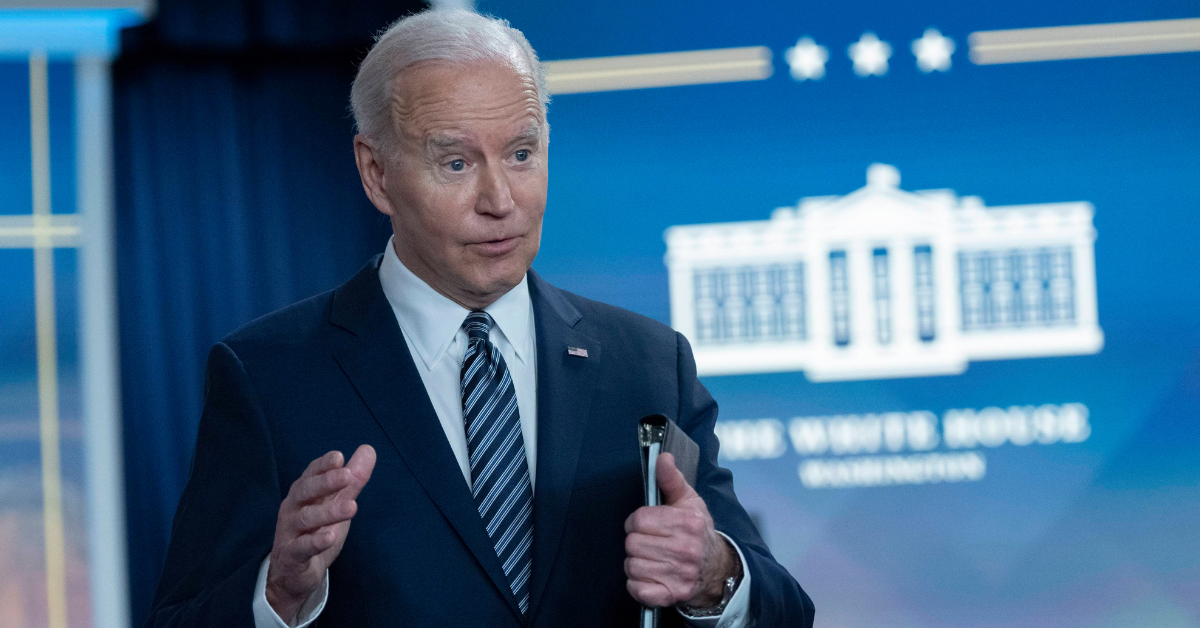 Article continues below advertisement
The latest scandal to hit the white house comes after the real Vice President, Kamala Harris, refused to support the President's comment that Russia needed regime change, as a result of the war it sparked with Ukraine.
Biden made worldwide headlines after his speech in Warsaw, Poland, when he told the world in what apparently was an off-script remark that Vladimir Putin "cannot remain in power."
The White House was forced into damage control, immediately releasing a statement saying, "The president's point was that Putin cannot be allowed to exercise power over his neighbors or the region. He was not discussing Putin's power in Russia, or regime change."
On Friday, during an interview with Joy Ried that aired on MSNBC, the Vice President was quizzed if she agreed that Putin "should no longer be the leader of Russia."
Article continues below advertisement
Harris initially dodged the question by giving a long-winded answer, according to Fox News, pivoting to the "serious consequence" the Biden administration vows to place on Putin for his aggression toward Ukraine, citing "severe sanctions" she said are "having a real impact and an immediate impact, not to mention the longer-term impact."
In February, dozens of Republican lawmakers called for President Biden to take a cognitive test.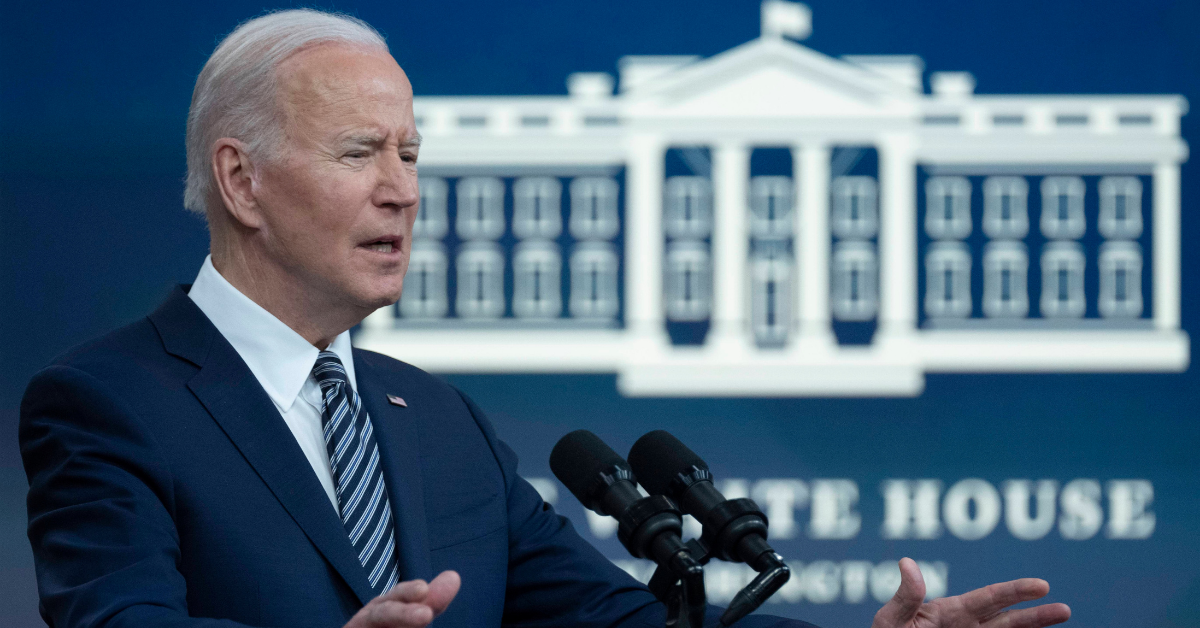 The 38 Republicans, led by Trump's former White House doctor, Rep. Ronny Jackson (R-Md.), sent a letter to the president on Tuesday "express[ing] concern with your current cognitive state" and asking the 79-year-old to take the test.
"We believe that, regardless of gender, age, or political party, all Presidents should follow the example set by former President [Donald] Trump to document and demonstrate sound mental abilities," they wrote.
"While you underwent your annual physical exam on November 19, 2021, you either did not have a cognitive test or those results were withheld from the public. White House Physician Kevin O'Connor, D.O., attested to you being 'fit to successfully execute the duties of the Presidency' in a purely physical manner; however, we are worried about your cognitive and mental abilities."