Exclusive
Read The Text! Tristan Thompson's 'Threatening' Message To Third Baby Mama Reveals He Offered Hush Money & Swore To Have 'Zero Involvement With The Child'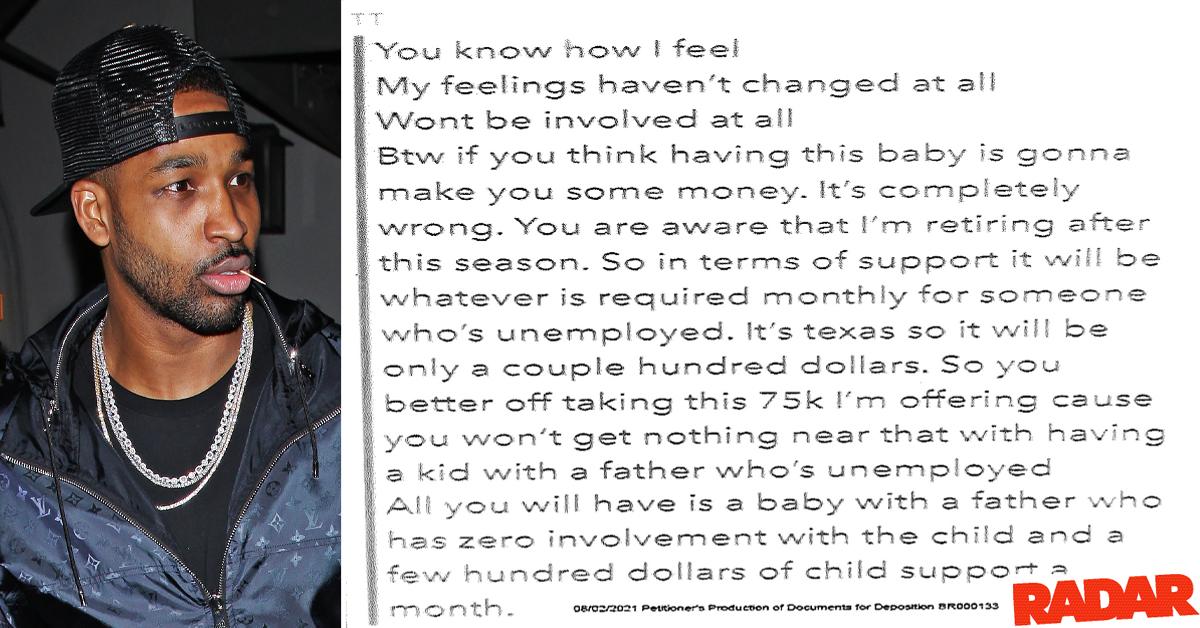 Tristan Thompson sent a "threatening" text message to his third baby mama, Maralee Nichols, during her pregnancy, RadarOnline.com has learned.
In one message obtained by RadarOnline.com, the 30-year-old Sacramento Kings star offered the 31-year-old personal trainer $75,000 and vowed to have "zero involvement" in the baby's life.
Article continues below advertisement
Thompson claimed he had already informed the Houston native that he would be retiring after the current season, essentially wishing her luck with trying to obtain child support from an "unemployed" father.
Additionally, Thompson seemed to indicate that the laws in Texas – where the baby was conceived – would see that Nichols would receive only "a few hundred dollars of child support a month."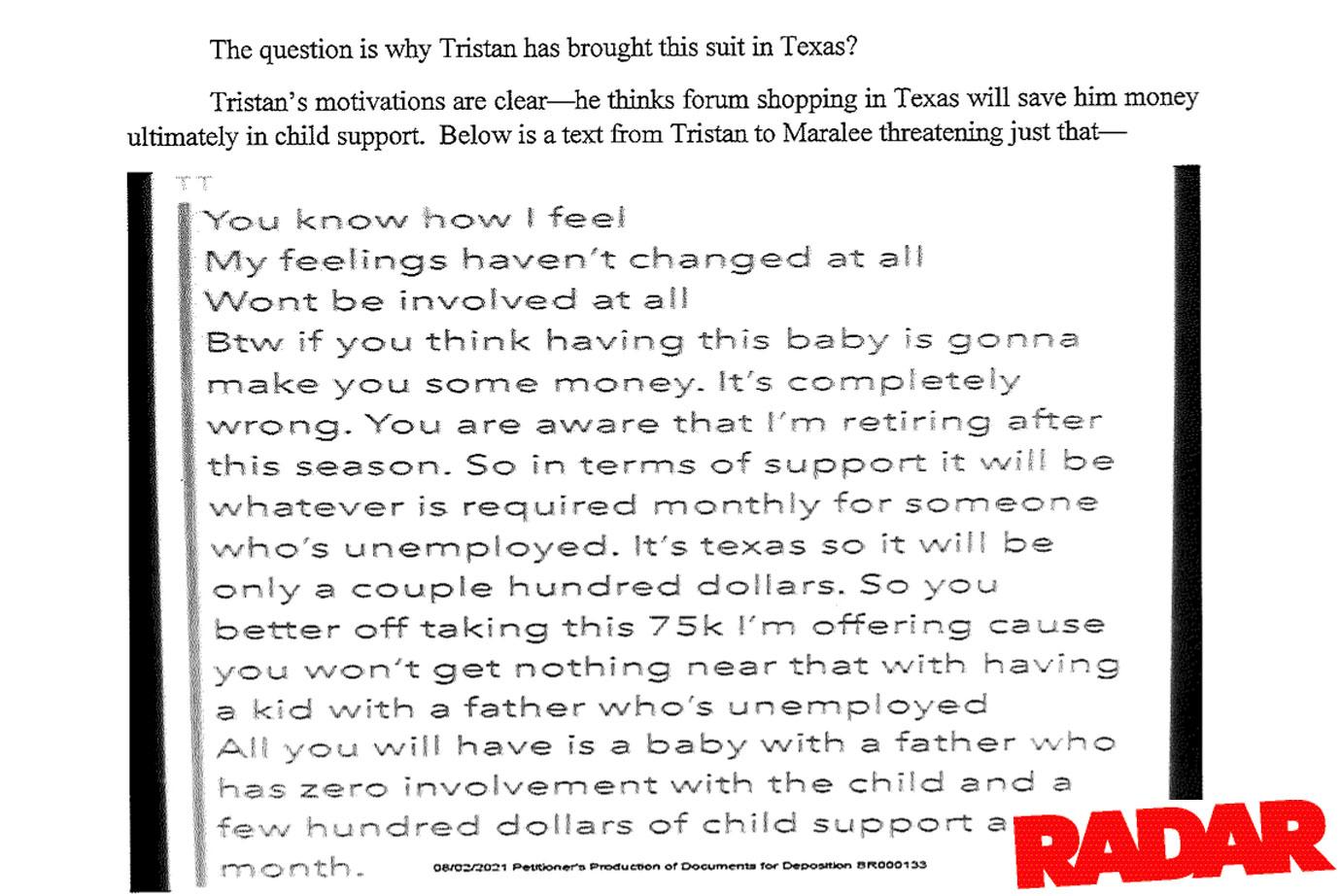 Article continues below advertisement
"You know how I feel. My feelings haven't changed at all. Won't be involved at all," Tristan wrote in the message sent to Maralee.
"Btw if you think having this baby is gonna make you some money. It's completely wrong," he went on. "You are aware that I'm retiring after this season. So in terms of support it will be whatever is required monthly for someone who's unemployed."
"It's texas so it will be only a couple hundred dollars," noted the athlete. "So you better off taking this 75k I'm offering cause you won't get nothing near that with having a kid with a father who's unemployed."
Thompson concluded his text by saying, "All you will have is a baby with a father who has zero involvement with the child and a few hundred dollars of child support a month."
Article continues below advertisement
Nichols – who is due any minute now – got pregnant in a Houston hotel room in March following Thompson's 30th birthday celebrations.
At the time, he was still dating 37-year-old Khloe Kardashian, the mother of his second child, 3-year-old True Thompson.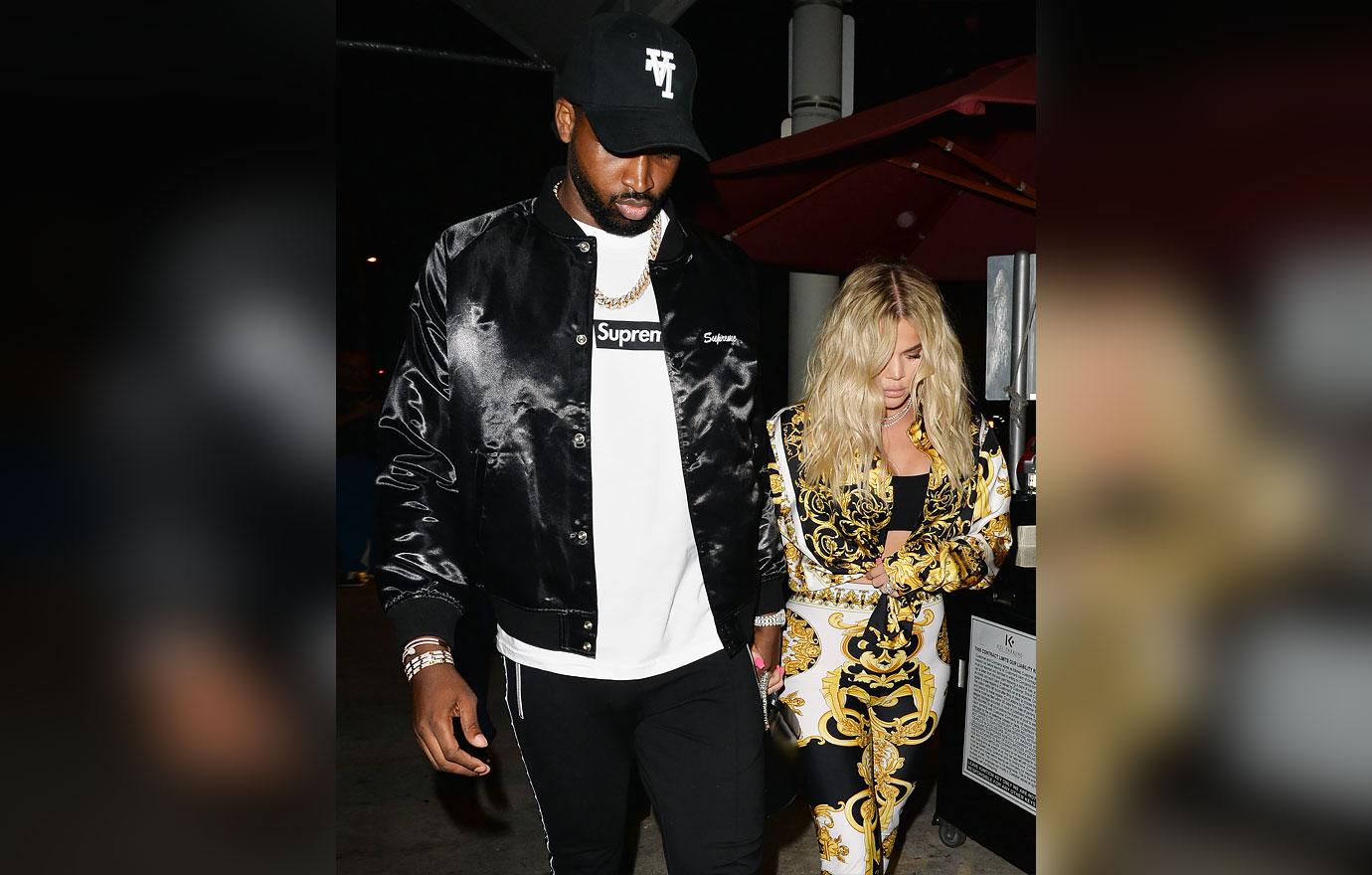 Article continues below advertisement
Nichols has since moved to Los Angeles, where she filed a paternity lawsuit against Thompson on June 30. In the filing, she requested child support as well as reimbursement of medical expenses and pregnancy-related costs, including Lamaze classes, a doula and prenatal vitamins.
Thompson responded in a declaration on Aug. 5, claiming he and Nichols had had sex only twice during their one encounter in March.
Maralee, however, claims their affair began at least "five months" before Tristan's birthday and involved her traveling to California on multiple occasions, even after she got pregnant.
In his statement to the court, Thompson requested that the case be moved from California to Texas.