Chilling Video! Panicked Travis Scott Concertgoers Seen Rushing To Exit, Limp Bodies Lifted Over Barricades While Rapper Continues Performing
RadarOnline.com has obtained a chilling new video showing the level of distress many Astroworld Festival attendees were in while Travis Scott was performing on an elevated stage several hundred feet away.
The 30-year-old Sicko Mode rapper continued on with Friday's chaotic show at Houston's NRG Park while panicked concertgoers rushed to the exits, begged venue personnel for help and aided in assisting those who were either unconscious or close to it.
Article continues below advertisement
In our exclusive, eyewitness footage, bulging eyeballs and pale faces overtook the sea of mostly young music lovers, as many who were on the opposite side of several barricades toward the back of the rowdy crowd were captured pulling limp bodies up over the metal dividers that seemed to separate the circa 50,000 attendees from temporary refuge.
"How y'all feeling right now?!" Scott was heard shouting obliviously as children, women and men from all walks of life were seen climbing over each other to escape the crowd surge that caused a massive stampede.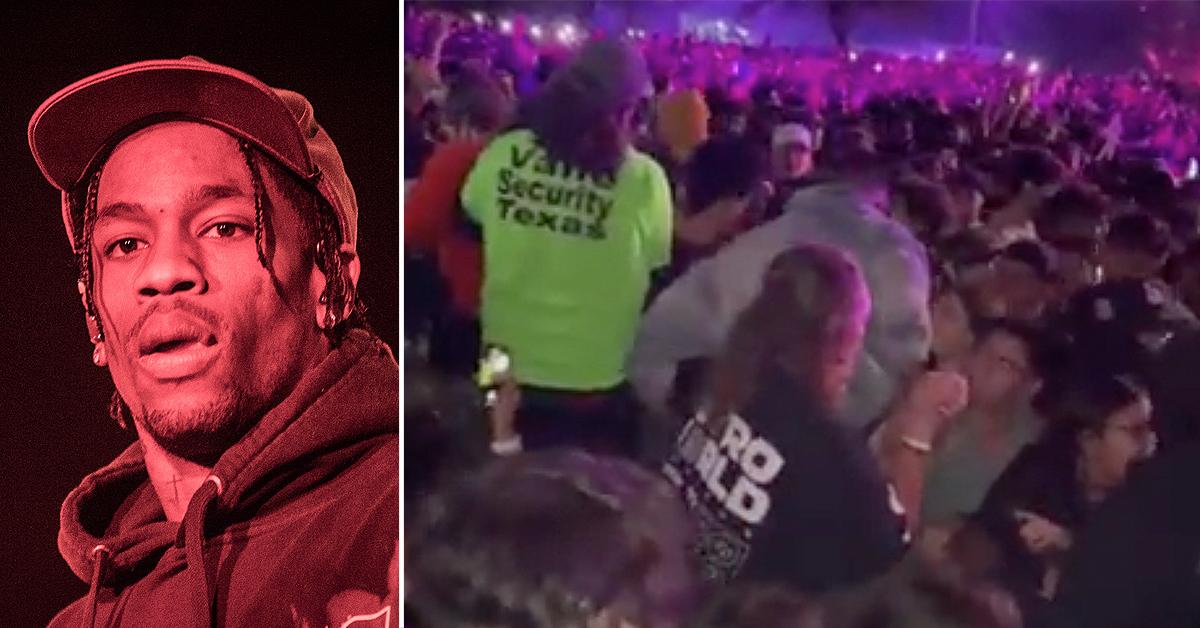 Article continues below advertisement
The terrifying ordeal left eight people dead and sent hundreds more to the hospital.
On Monday, Harris County released the names of the victims:
Mirza Baig, 27
Rodolfo Peña, 23
Madison Dubiski, 23
Franco Patiño, 21
Jacob Jurinke, 20
John Hilgert, 14
Axel Acosta Avila, 21
Brianna Rodriguez, 16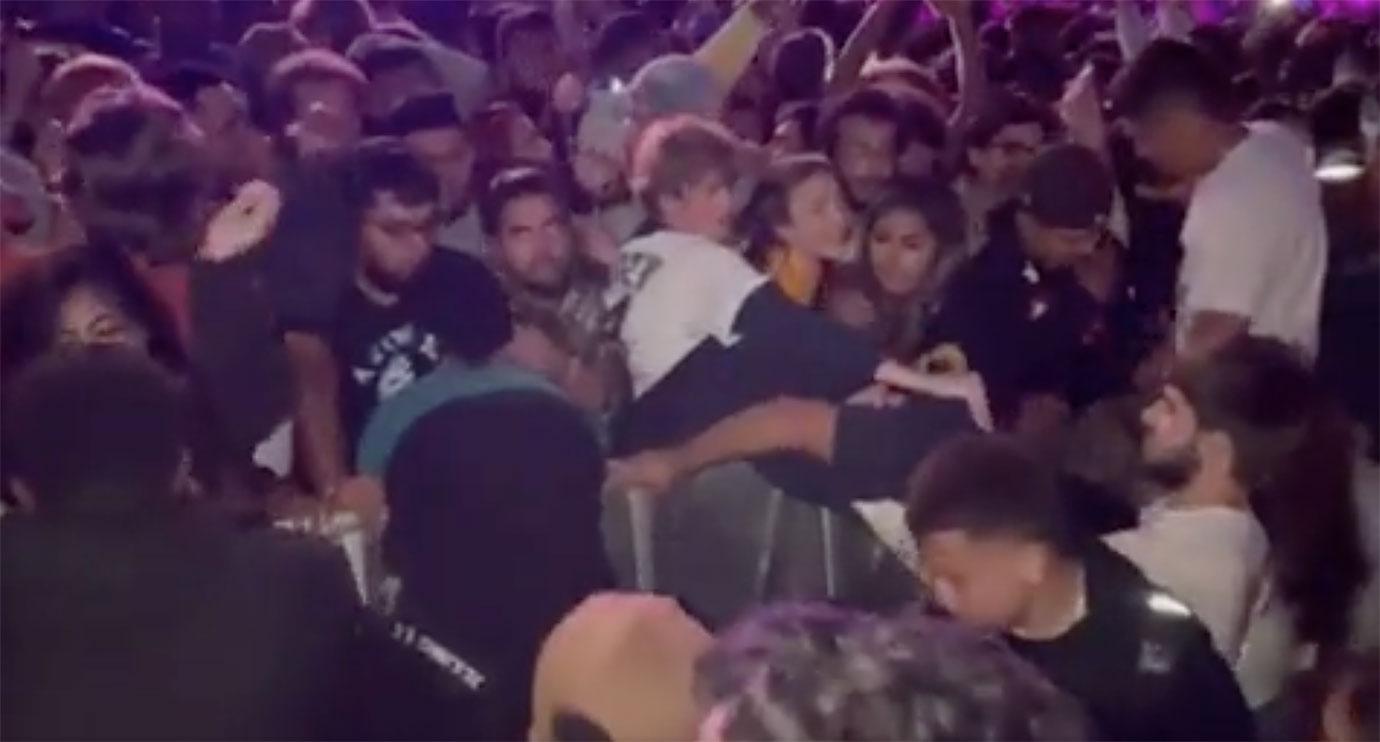 Article continues below advertisement
So far, eight lawsuits have been filed against the rapper, who even before this last show was known for delivering reckless performances that work his fans up into a frenzy. In person and on Twitter, he is often seen encouraging the mayhem.
Throughout his career, fans have captured videos of the Houston-born musician encouraging his crazed concertgoers to leap from balconies, turn on venue security guards, "rage," mosh, break through barricades, climb over fences, rush the stage and even take "drugs, water, orange juice or alcohol" to get "lit."
In fact, he's been arrested twice for particularly violent shows.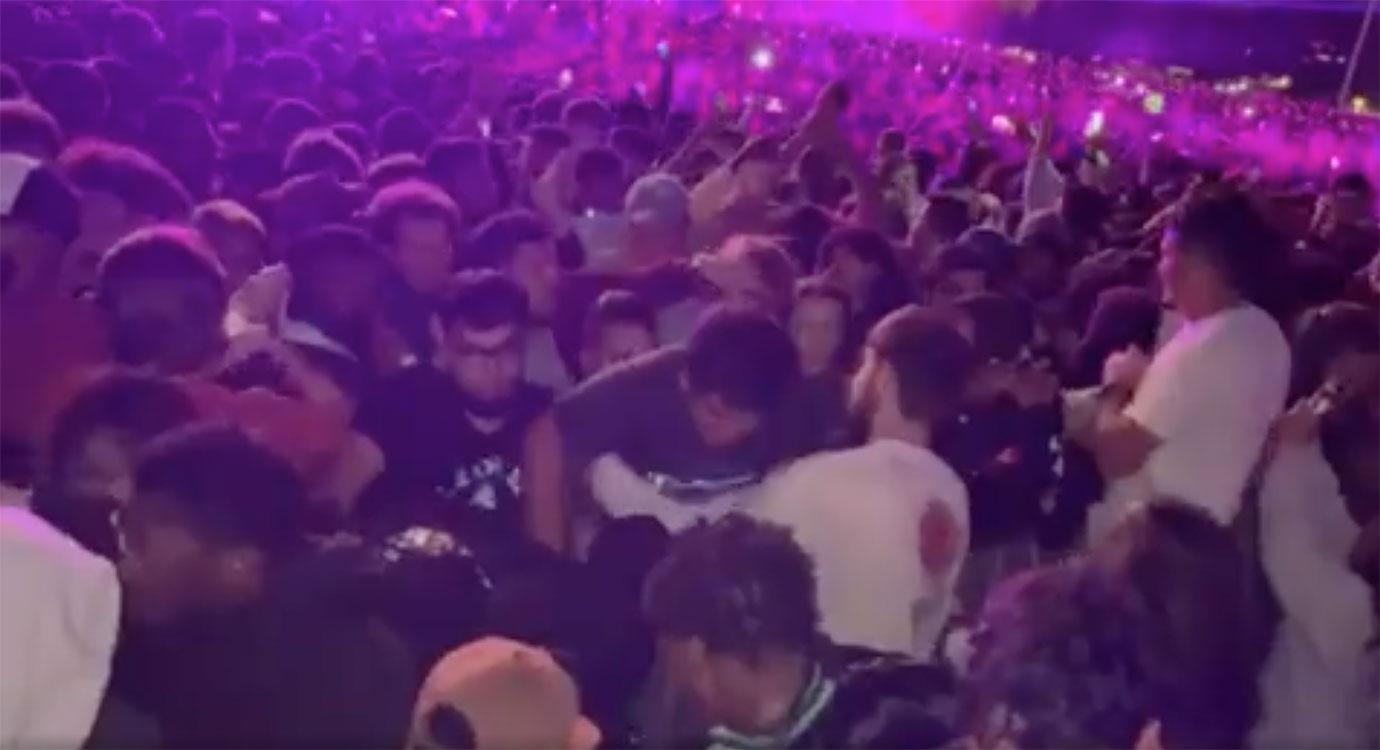 Article continues below advertisement
While he has offered to refund every Astroworld attendee as well as pay for the funerals of the eight people who died at day one of his since-canceled music festival, the situation is still being investigated by local law enforcement.
It's been reported that numerous attendees suffered from cardiac arrest, as investigators are looking into what role illicit drugs may have played in the mass hysteria.
During a press conference Saturday, police confirmed that a man at the show injected a needle filled with a substance into the neck of at least one security guard who "went unconscious" but was "revived" after being given Narcan.