Exclusive Details
Sean Hannity To 'Dishonest Hack' Brian Stelter Over Radar Hit Piece: 'You Still Call Yourself A Media Journalist? ... Update Your Resume!'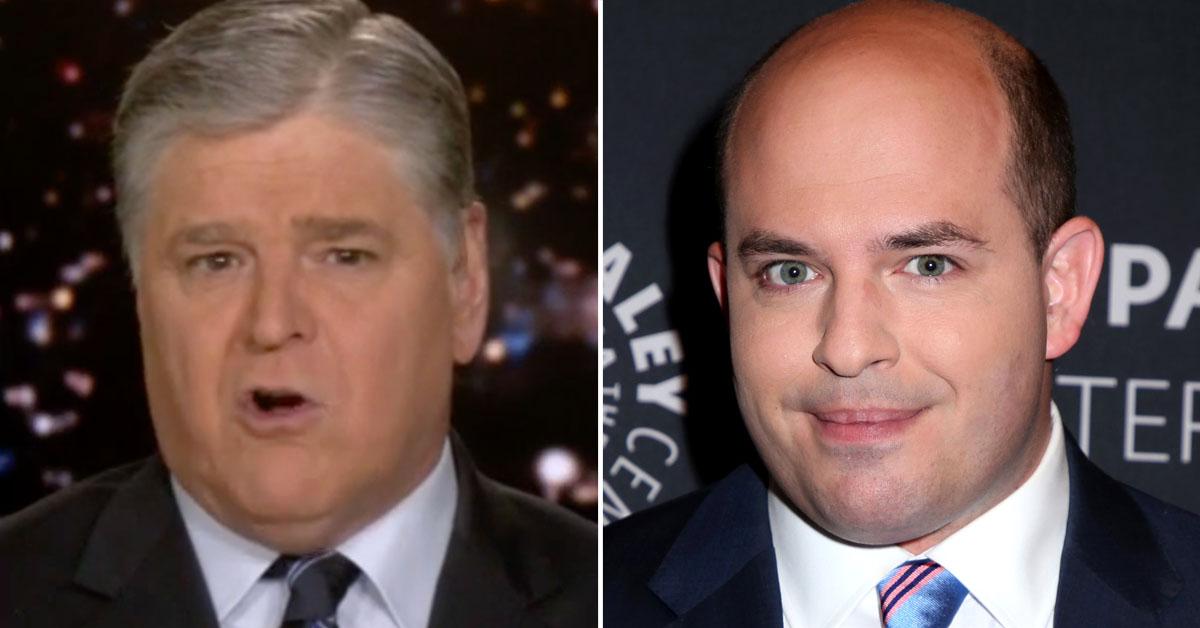 Jeff Zucker and Allison Gollust aren't the only CNN staffers in the hot seat.
Article continues below advertisement
Hours after RadarOnline.com reached out to the network for comment on the now-exposed clandestine and career-shattering affair between its top two executives, CNN Chief Media Correspondent Brian Stelter attempted to discredit our reporting.
"They post something nutty; they claim to have multiple sources, but they don't check with the subject at all; and they aren't swayed by reality," he wrote on Jan. 3.
Seemingly seething at the CNN coverage on our website at the time, he added, "Ordinary users end up reading, sharing and sometimes believing a lie without realizing the original story was garbage. RadarOnline.com wins page views and loses nothing because it had to credibility to start with. Sad."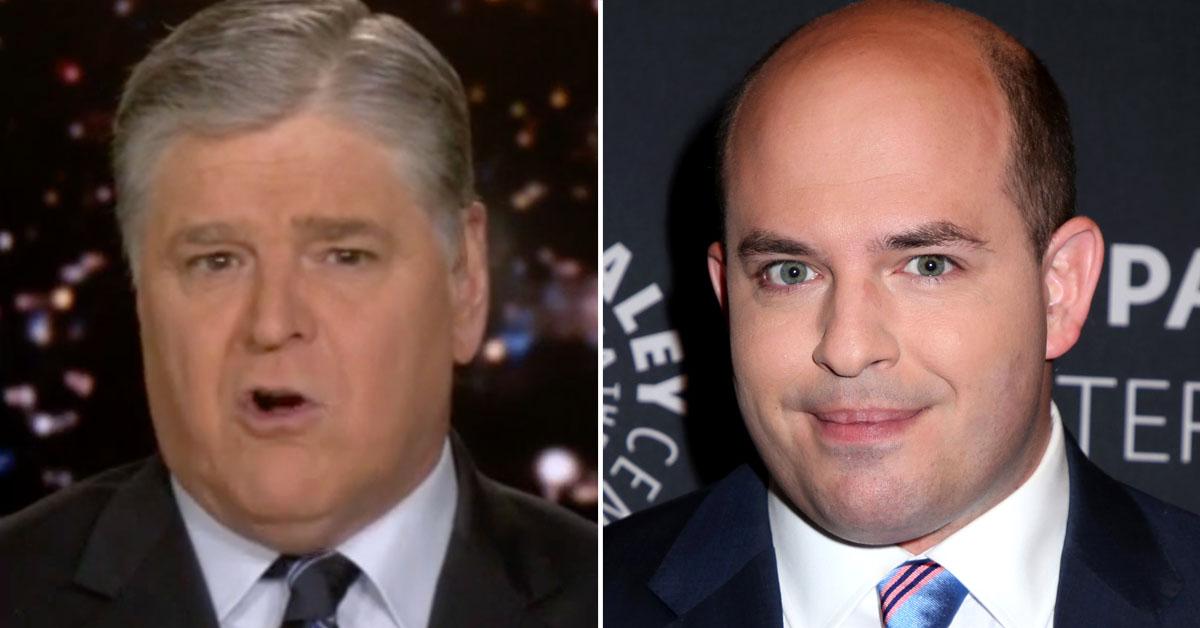 Article continues below advertisement
It seems to Sean Hannity that Stelter has always been more of a "stenographer" to Zucker than a reliable source – pun intended.
"With Zucker gone, staffers are turning their rage to Zucker's stenographer," quipped the Fox News host on his Thursday night show. "There he is, the one and only Humpty Dumpty!" he added gleefully as a photo of Brian flashed across the screen.
"Now, they correctly believe that Humpty is a completely dishonest hack. His only job has been for years to be Jeff Zucker's stenographer and a Fox News channel Hannity stalker," the anchor went on. "For example, weeks ago when RadarOnline was sent to publish a true story about Jeff Zucker and the office romance, Humpty Dumpty authored a hit piece – oh, the timing was perfect – trashing RadarOnline, calling their reports, 'nutty.'"
"Wow. Doesn't that also sound similar to one of the allegations against Chris Cuomo, the one they fired?" added Sean.
Article continues below advertisement
Turning his sights directly to Stelter, Hannity wondered, "Humpty, you still call yourself a media journalist? You're really a stenographer. Humpty might wanna update his resume if things keep going this way."
He ended his rant with a prediction – that Brian's office "may be vacant soon."
But it's not just his that CNN employees want to see empty; it's also Gollust's.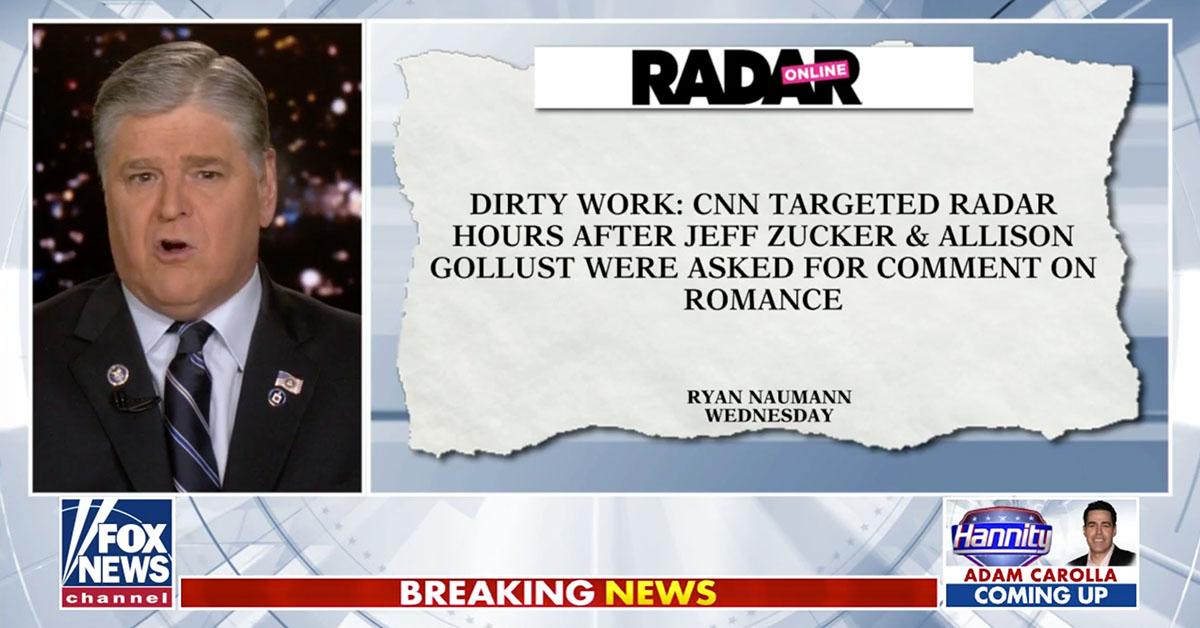 Article continues below advertisement
Hours after the now-ex-CNN president announced his resignation on Wednesday afternoon – simply citing an office "relationship" he had failed to disclose to the network at the appropriate time – Gollust felt compelled to issue a statement of her own.
In it, the still-standing CNN executive vice president/chief marketing officer insisted she and Zucker had "been close friends and professional partners for over 20 years. Recently, our relationship changed during COVID. I regret that we didn't disclose it at the right time."
As we've reported, that's just not true.
Early last month, we broke the story that the two have been romantically involved for numerous years.
In fact, their affair is said to have begun while they were each still married: Zucker to ex-wife Caryn and Gollust to ex-husband Billy.
It's believed the scandal cost each of them their marriages and Jeff his job. Will Allison be next?
Article continues below advertisement
The nefarious couple's "cozy arrangement" (Katie Couric's words) was dredged up after the pair initially put off taking appropriate action when former network anchor Chris Cuomo was found to have aided his brother – disgraced former New York Governor Andrew Cuomo – amid the latter's sexual misconduct scandal.
And as we've reported, Gollust once worked as Andrew's communications director.