Exclusive
Rob Kardashian Allegedly Threatened To Have Every 'Mexican' In LA Beat Up Blac Chyna's Friend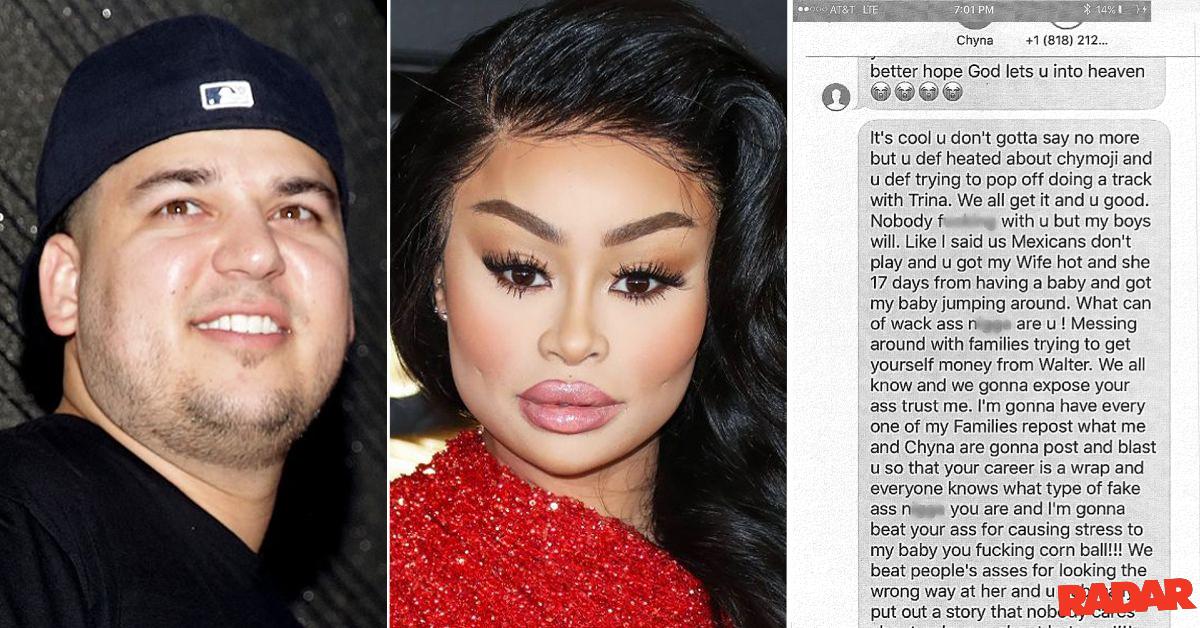 Rob Kardashian is accused of sending threatening text messages in which he told Blac Chyna's friend that 30 "Mexicans" were going to pull up and beat him to a pulp.
The text messages were allegedly sent by Rob to Chyna's ex-pal Pilot Jones aka Justin Jones. Rob and Chyna are being sued by Pilot for releasing his private information to the public.
Article continues below advertisement
He claims they retaliated after a photo of him kissing Chyna ended up on RadarOnline.com. The case is still pending but no trial date has been set.
However, the texts are now being fought over by Chyna and Rob in a separate lawsuit. Rob is suing the mother of his daughter over an alleged assault in December 2016 at Kylie Jenner's home.
He accuses her of trying to strangle him with an iPhone cord and striking him with a 6ft. metal pole. Chyna denies the allegations and claims Rob made up the story after she sued him for posting explicit photos of her online.
The case is headed to trial later this month.
Article continues below advertisement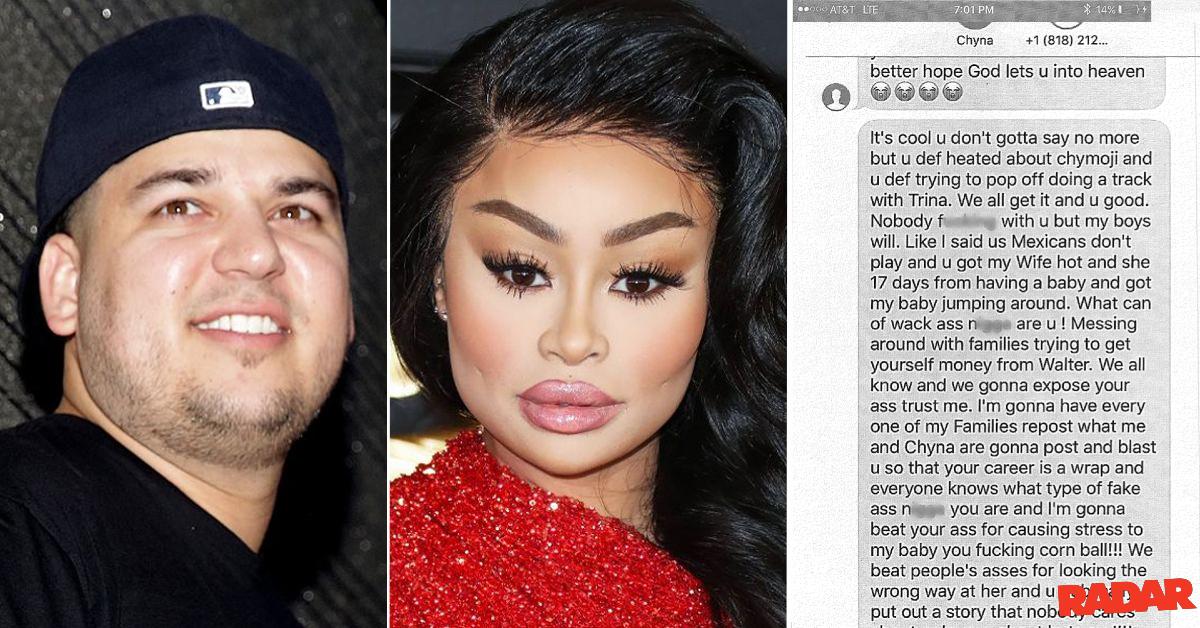 Rob is currently trying to block the jury from hearing about the texts he allegedly sent to Chyna's former friend. Chyna is arguing for the right to testify about the texts. She claims the reason she was going after Rob on the night in question is that he took her phone.
Article continues below advertisement
She wants to tell the jury she was nervous that he was going to post from her. Chyna said Rob had previously used her phone to send the threatening texts to Pilot — which caused an LAPD investigation to be launched. She claims the jury should know why she was trying so hard to get her phone back.
RadarOnline.com has obtained the messages in question where Rob hurls homophobic and racist slurs. He also threatens to hire a hitman to kill Pilot. The texts were sent in 2016.
Article continues below advertisement
One message read, "U [sic] about to get the shit beat out of you and we ain't playing, No man has ever disrespected my woman the way that u [sic] did."
"And u U [sic] stressed my wife and my baby literally my baby is jumping. That's why u U [sic] deserve a beating. And u shouldn't be scared of no fist. U [sic] used to it."
"Don't ever come for me and my wife ever u [sic] corny ass ni—a," he threatened.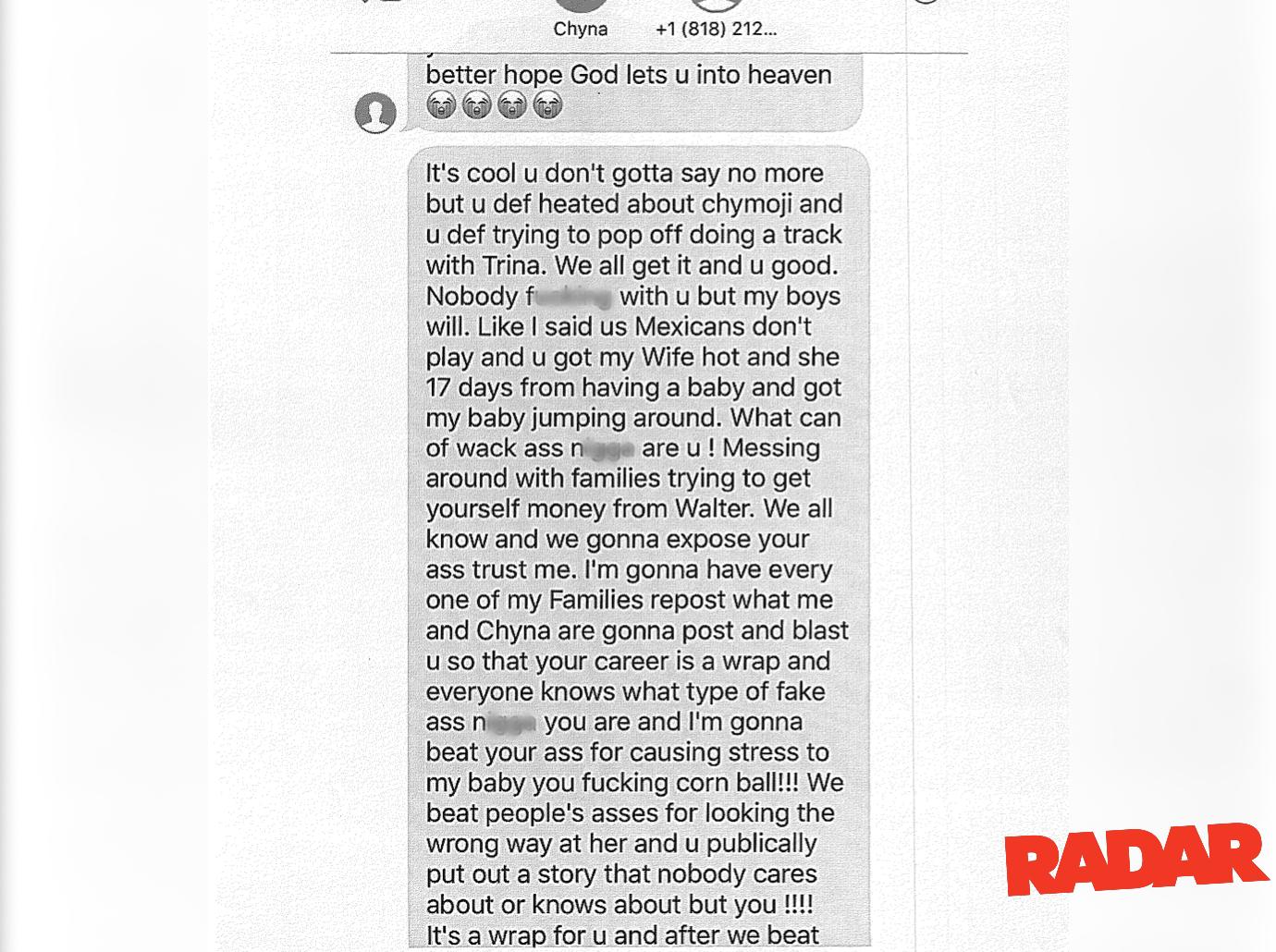 Article continues below advertisement
Another message read, "And u fa—ot a-s bi-ch. U [sic] did the most disrespectful shit ever by releasing pics and a story to a pregnant woman who is 17 days from having a baby."
"This is my wife and you about to get you're a-s beat by every Mexican in LA including me. I promise u [sic] that. U [sic] fuc—ed with the wrong woman and the wrong dude. This ain't a game to us."
"Ill find out where u [sic] are," he said. "You crossed the line and it's over. It's a wrap for u [sic]."
"I hope you religious cuz [sic] after I beat you're a-s with about 30 Mexicans u [sic] better hope God lets u [sic] into heaven."
"Like I said us Mexicans don't play and u [sic] got my wife hot," he added.
Article continues below advertisement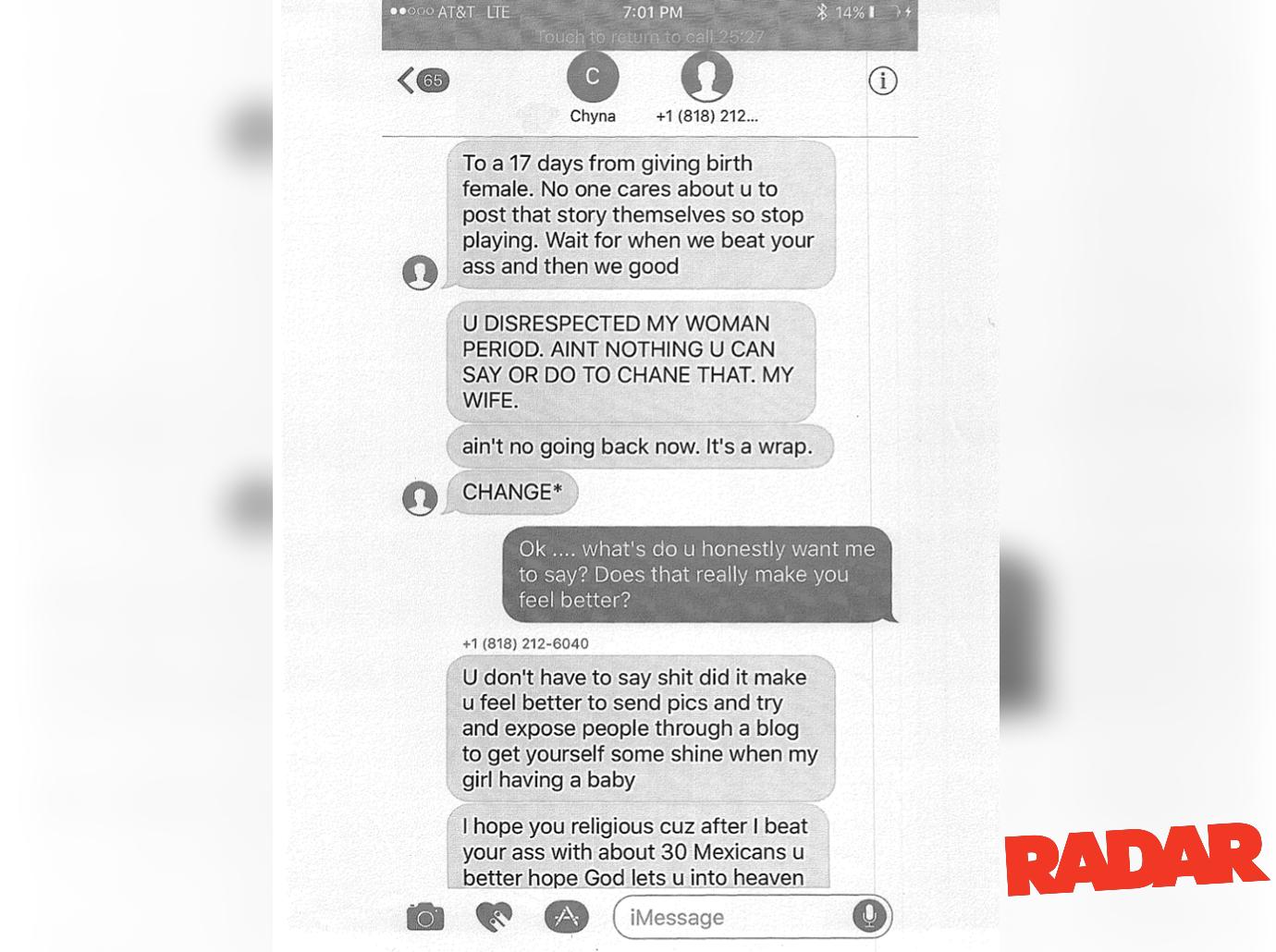 The judge presiding over Rob's lawsuit has yet to rule if the texts can be used by Chyna in court.