Megan Fox Rushes To Clarify Donald Trump 'Legend' Comments After Actress Receives Backlash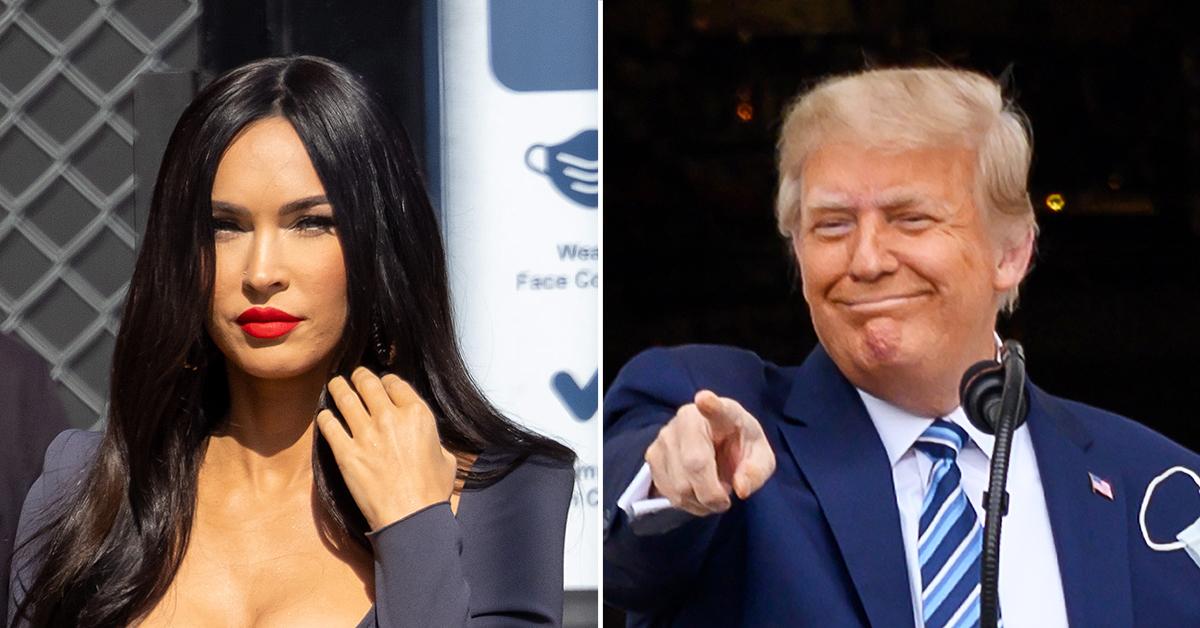 Article continues below advertisement
The 35-year-old Jennifer's Body star and girlfriend of rapper Machine Gun Kelly unintentionally caused an uproar among her fans when she stopped by Jimmy Kimmel Live earlier this week and told guest-host Arsenio Hall all about her recent attendance alongside other A-list stars at the UFC 264 match between Conor McGregor and Dustin Poirier.
The Transformers actress told Hall and that the controversial Republican was hailed by the crowd at the fight, saying. "He had like 30 Secret Service with him. He was a legend. That arena was, like, very supportive of Trump when he came in."
Article continues below advertisement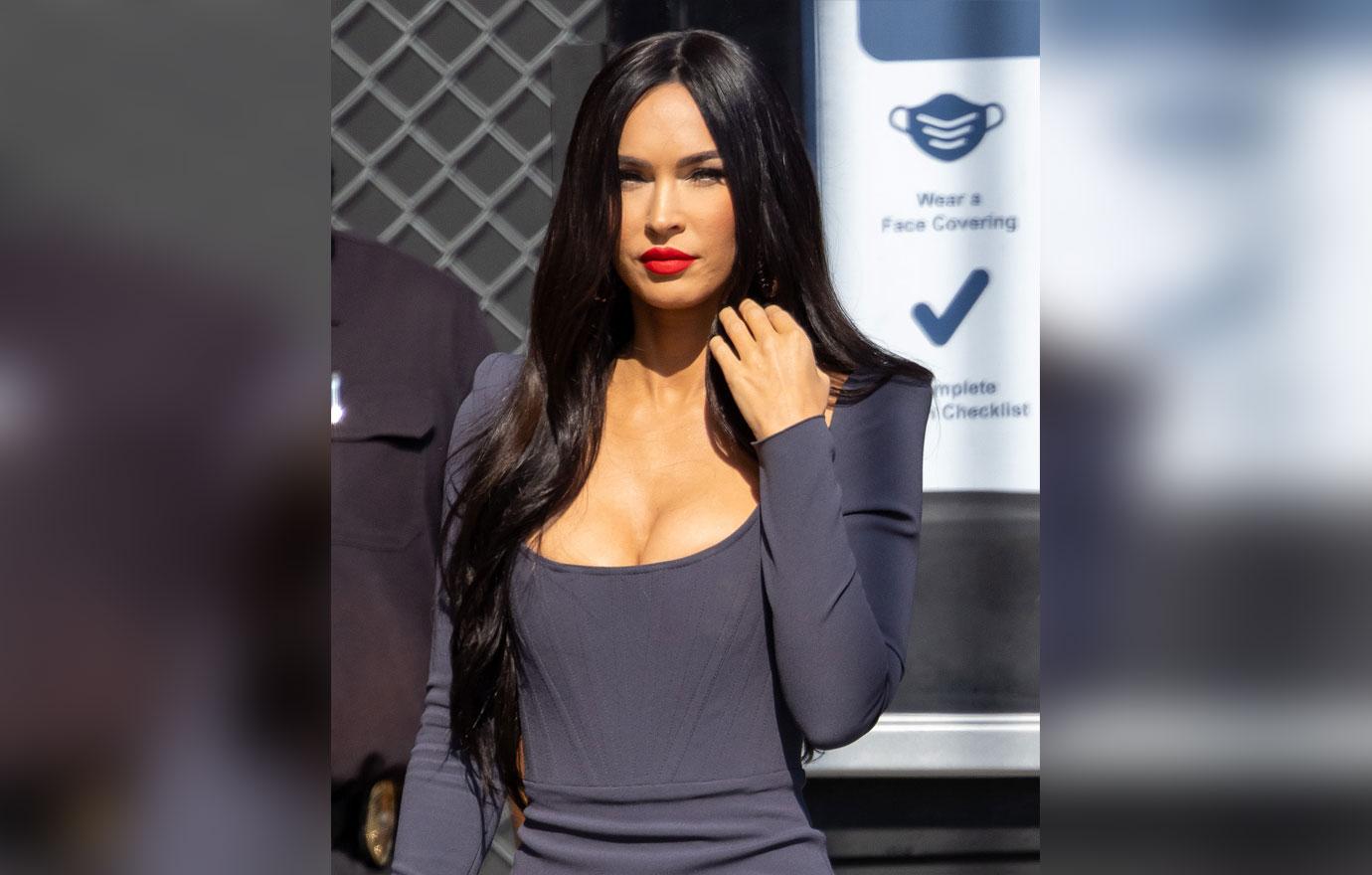 Article continues below advertisement
"Uhmmm... I do not align myself with any political party or individual politicians," the mother of three wrote on her Instagram Story Wednesday night.
"I never said Donald Trump is a legend," she maintained, highlighting the sentence. "I said he was a legend...in that arena (key part of the sentence)."
Article continues below advertisement
"The arena was filled with UFC fight fans, many of them clearly Republican based off the insane crowd reaction he received walking into the T-Mobile venue," she went on. "That was an observable fact. Not my opinion."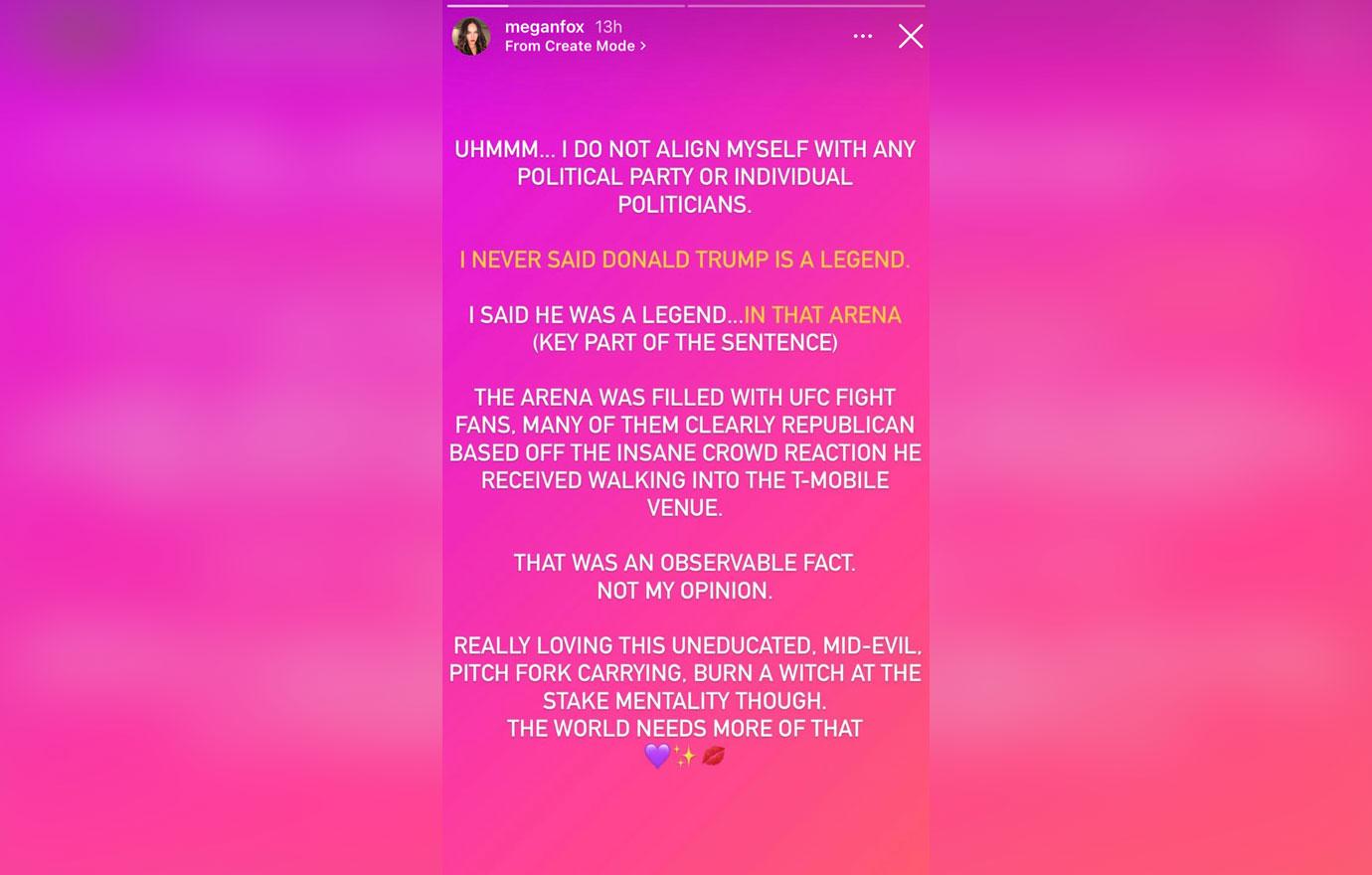 Article continues below advertisement
Taking a sarcastic jab right back at those who criticized what they thought was her opinion of the reality star-turned-politician, Fox added, "Really loving this uneducated, mid-evil [sic], pitch fork carrying, burn a witch at the stake mentality though. The world needs more of that."
She concluded her statement with a purple heart, a sparking star emoji and a pair of red lips.
Fox told Hall that the event – which she attended with her 31-year-old musician boo – was energetic and wild, adding that she was a bit uncomfortable being in such close public proximity to the former president.
Article continues below advertisement
"I was like, 'I don't know how I feel about this, because if someone is a target, then I'm like, I could get harmed because I am adjacent to where he is,"' she said. 'So I was worried about my own safety. That's all I was caring about.'"