Kourtney Kardashian's Ginormous Engagement Ring From Travis Barker Cost A Whopping $1 Million
Kourtney Kardashian said yes to spending "forever" with Travis Barker, who asked the reality star to be his wife by presenting her with a ginormous engagement ring that's estimated to be worth a whopping $1 million.
As RadarOnline.com previously reported, the 45-year-old Blink-182 drummer proposed to the 42-year-old Keeping Up with the Kardashians alum on Sunday in Montecito, California, presenting her with a huge, oval-shaped diamond.
Article continues below advertisement
"It appears Travis has bought into the Kardashian family philosophy of going big and going flashy with the enormous oval-cut diamond engagement ring he gave to Kourtney. It looks to be larger than 15 carats in a pavé or hidden halo setting," Mike Fried, CEO of The Diamond Pro, told Page Six.
He valued the sparkler at $1 million, as did Bill Kung, owner of Ultimate Diamond, who told RadarOnline.com, "I'd expect it to be nothing less than VVS clarity. It doesn't look to be VS2, as other jewelers have said. It's actually of higher quality."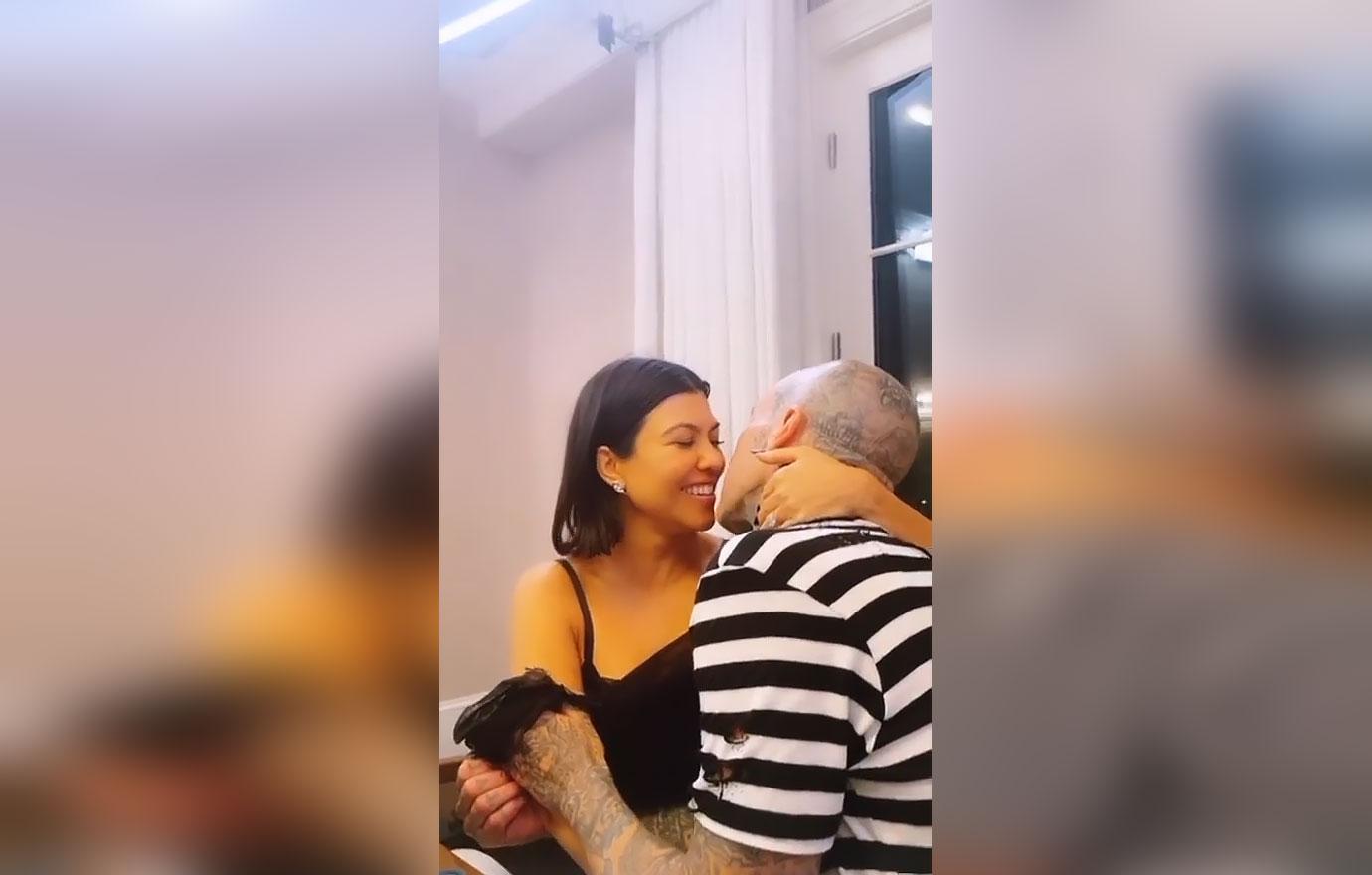 Article continues below advertisement
Since the only real closeup shots of Kourtney's new bling have been captured by the shaky iPhones of her elated loved ones, it's difficult to tell whether the main diamond is surrounded by smaller ones (halo), sitting atop a diamond-encrusted band (pavé) or both.
Such would affect the cost of the ring.
"This oval diamond is spectacular at around 8 to 10 carats on a thin pavé diamond band, most likely set in platinum, as it will hold the diamonds more securely," Jenny Luker, president of PGI USA Jewelry Inc., told us, therefore estimating the price to be "north of $500,000."
Luker noted that "since platinum lasts for generations, this ring will likely become an heirloom that Kourtney could pass along to her children."
Article continues below advertisement
Olivia Landau, GIA-certified gemologist and founder of The Clear Cut, concurred with Luker's 8-to-10 carat estimation and skinny platinum solitaire style with a pavé diamond band.
"Depending on actual size and quality," she told Page Six, "it could range between $350,000 and $650,000."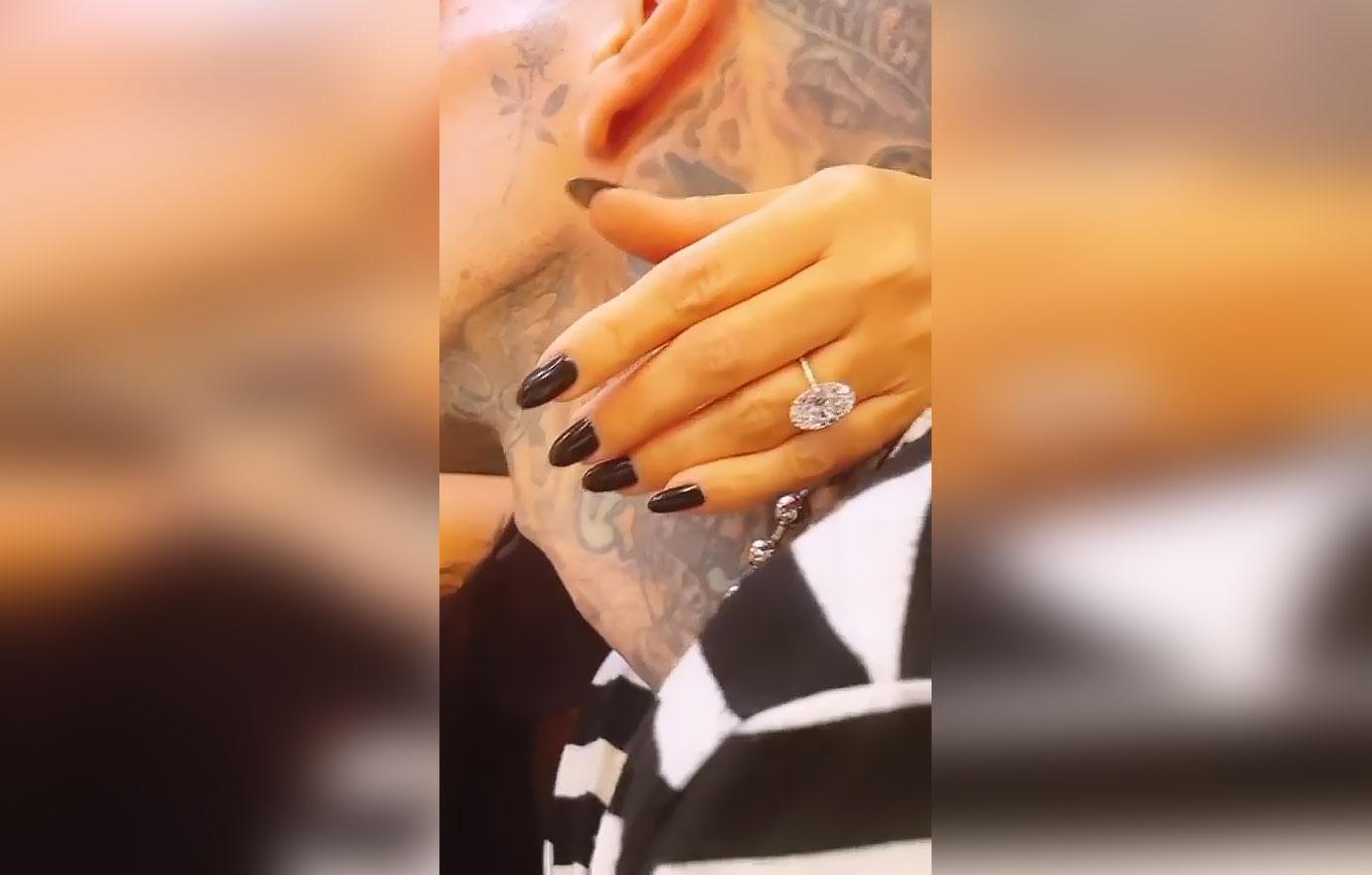 Article continues below advertisement
It's likely fans will get a better look at the ring, given that cameras for the Kardashians' forthcoming Hulu show rolled as Barker got down on one knee at The Rosewood Miramar Beach Hotel.
While he and his leading lady were surrounded by endless white candles and what looked like thousands of red roses, they were also accompanied by a full production crew.
We're told the love between the newly engaged couple is absolutely genuine but that there was "no way" momager Kris Jenner was "going to let a beautiful moment like this pass undocumented."
"They have been shooting the new reality show for a few months now," a close family source told RadarOnline.com. "Basically, it's the same show that was on E! for years. However, at least they will now have a new cast member – Travis Barker!"
Insiders added that the series of "carefully planned" events took weeks to organize.
"Let's just say this was not a last-minute, spur-of-the moment decision. Every single detail about the engagement was carefully planned," sources told us. "From the Rosewood Beach Hotel to the elaborate red roses and white candles, even his black-and-white-striped shirt and her flowing black ensemble was all coordinated for the cameras."
Insiders told us that Kim's quick Instagram Story closeup of the sparkler was no accident, either.
"Even the family's reaction was preplanned, with Kim, who has the biggest following by far, posting video of the ring."