Kourtney Kardashian & Travis Barker's Engagement Filmed For Hulu Show, 'No Way' Kris Jenner Would Allow Moment To Pass 'Undocumented'
Life without Keeping Up with the Kardashians almost seems bearable now that we know Kourtney Kardashian and Travis Barker's jaw-dropping engagement was captured by Hulu cameras.
If you didn't hear about it last night, you were surely made aware today – the 45-year-old Blink-182 drummer got down on one knee and proposed to the 42-year-old reality star-turned-POOSH founder during Sunday's stunning sunset in a California city that holds a special place in their hearts: Montecito.
Article continues below advertisement
Cameras rolled as Barker got down on one knee and popped the question at The Rosewood Miramar Beach Hotel. While the lovebirds were surrounded by endless white candles and what looked like thousands of red roses, they were also accompanied by a full camera crew.
We're told the love between Kourtney and Travis is absolutely genuine but that there was "no way" momager Kris Jenner was "going to let a beautiful moment like this pass undocumented."
"They have been shooting the new reality show for a few months now," a close family source tells RadarOnline.com. "Basically, it's the same show that was on E! for years. However, at least they will now have a new cast member – Travis Barker!"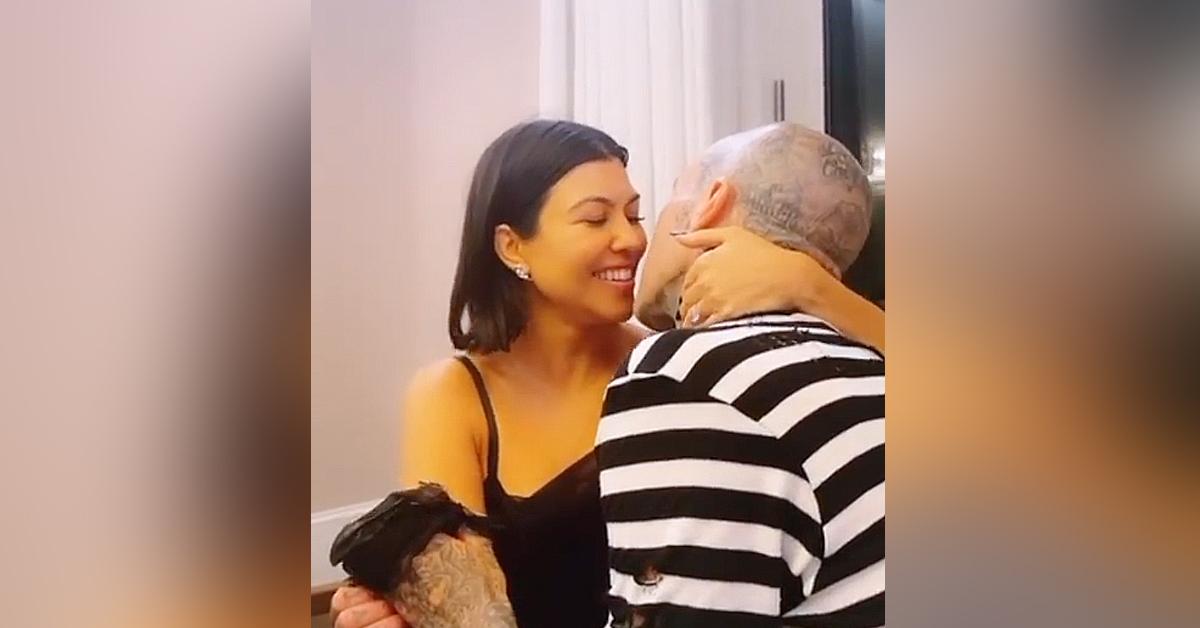 Article continues below advertisement
Insiders add that the series of "carefully planned" events took weeks to organize.
"Let's just say this was not a last-minute, spur-of-the moment decision. Every single detail about the engagement was carefully planned," sources tell us. "From the Rosewood Beach Hotel to the elaborate red roses and white candles, even his black-and-white-striped shirt and her flowing black ensemble was all coordinated for the cameras."
Fans got a closeup shot of Kourtney's massive diamond sparkler thanks to an Instagram Story video taken and posted by Kim Kardashian. Insiders tell us that was no accident, either.
"Even the family's reaction was preplanned, with Kim, who has the biggest following by far, posting video of the ring," our sources said.
Both the over-the-top proposal and lavish dinner that followed were filmed for the family's upcoming show.
We know for sure that the celebratory feast included Kourt's sisters Kim, Khloe Kardashian, Kendall Jenner and Kylie Jenner, Kris and her boyfriend Corey Gamble, and Trav's kids Landon Barker and Alabama Barker, with the teens sitting on either side of the happy couple.
In keeping with the theme of the oceanfront engagement, the table was adorned with dozens more red roses. The meal was prepared by Chef Massimo Falsini, and the fare included a three-course Italian spread featuring three different choices of salad, pasta and a wide array of surf-and-turf options.
Article continues below advertisement
While almost all of the twosome's loved ones who were present documented the special moment for the 'gram, it was Travis' son who let it slip that the evening was being filmed.
While panning across the table, Landon captured what looked like a mic pack on Kourtney's back, the reflection of a cameraman in the window and another cameraman standing opposite the freshly turned 18-year-old.
"Congratulations @kourtneykardash and @travisbarker," he captioned a video he shared to his Instagram Story. "I'm so happy for you guys love you guys so much!"
Landon showed even more of the sweet night on his TikTok account. "So happy for me and my new family!" he wrote atop a video showing his dad and soon-to-be stepmom embracing. He panned the table quickly – which caught a glimpse of his 15-year-old sister sitting to the right of Kim – before turning the camera on himself and flashing a thumbs up.
Article continues below advertisement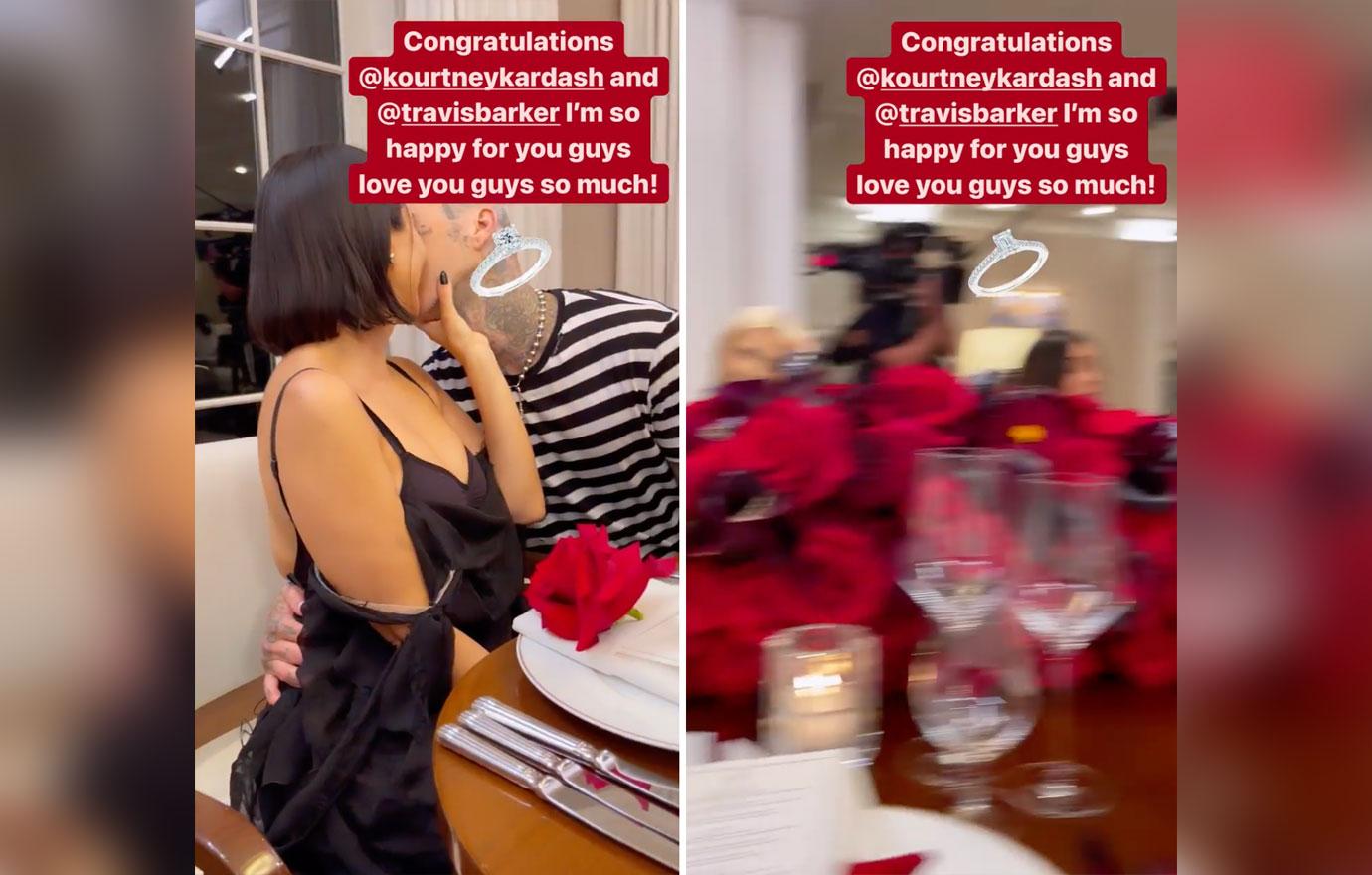 It seems as though everyone from both sides is elated for the fiancés; though, unsurprisingly, no word from Kourt's baby daddy Scott Disick or Travis' ex-wife Shanna Moakler – both of whom have been embarrassingly critical about their exes' dedication to showing lots of PDA.
Article continues below advertisement
As we previously reported, Barker asked Kardashian to be his wife after almost a year of dating. The two had been friends for a decade but decided to give romance a try at the start of 2021.
The rest is – as they say – history.
And lucky for us, we'll get to watch said history unfold on the family's forthcoming Hulu show.