Kanye West Has Dinner With Julia Fox & Antonio Brown, Whose Toilet-Seat-Licking OnlyFans Fling Ava Louise Is Actually Linked To Rapper's New Girlfriend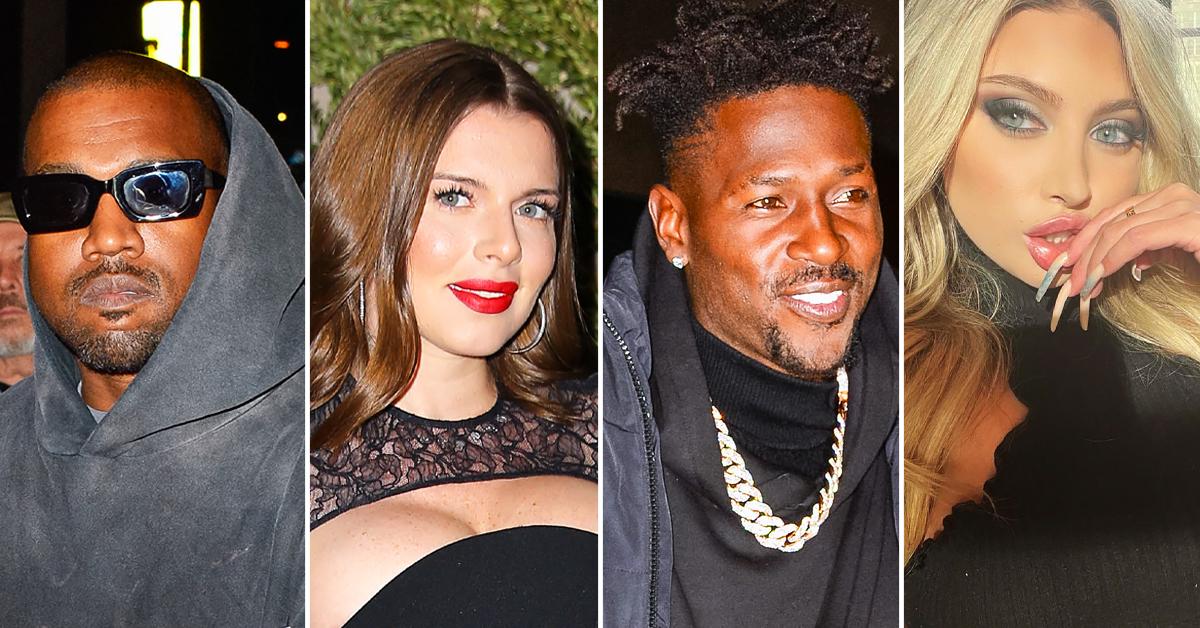 This might just be the weirdest love triangle to date.
After two very public outings on the East Coast (first in Miami, then in New York City), Kanye West and Julia Fox made their West Coast debut.
Article continues below advertisement
The new couple hit up Los Angeles hotspot Craig's on Monday night, arriving separately but in matching black ensembles. While the 44-year-old rapper sported a hoodie, jeans, sunglasses and boots, the 31-year-old Uncut Gems star was in a tight jacket, jeans, heels and carrying what looked like a Balenciaga handbag.
Though definitely a date, it wasn't all that intimate given that the Yeezy designer and actress were joined by recently released Tampa Bay Buccaneers star Antonio Brown, who actually has a curious connection to Ye's new boo.
While it's unclear why the football player was in attendance for the dinner, some reports claim he and West might be making music together in the near future.
It's quite possible the athlete knew Fox first, though, given that she has some sort of friendship with OnlyFans star Ava Louise – the toilet-seat-licking model who claims Brown snuck her into his hotel room for sex the night before his on-field meltdown.
Article continues below advertisement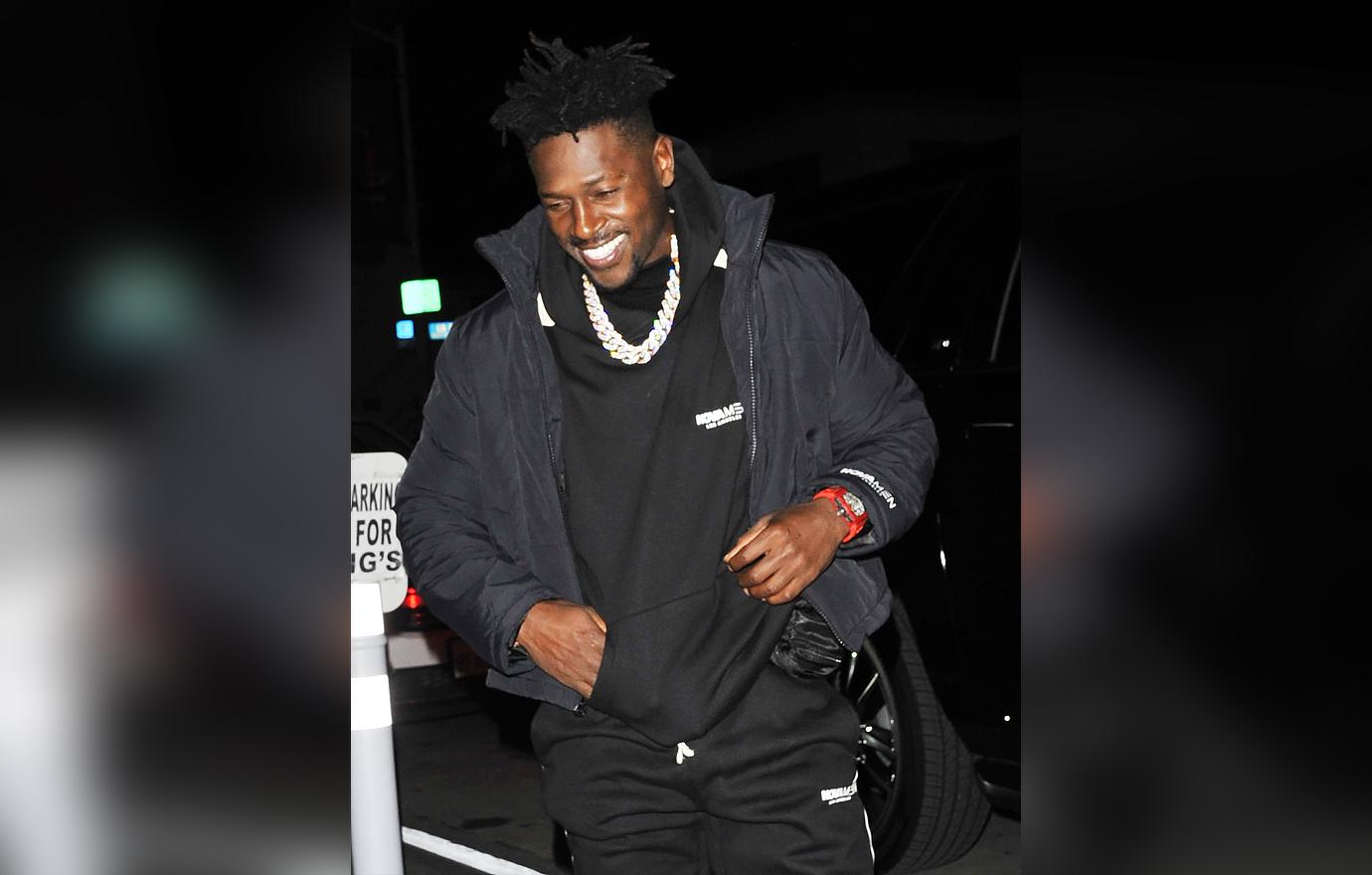 Ava took to her Instagram Story seemingly while her pal was at Craig's to answer questions from her almost half a million followers.
In response to one social media user who asked whether she and Julia were friends, Ava replied by sharing a selfie of the pair with two other unidentified women and explaining, "She's so beautiful badass and just the definition of a cool girl queen of nyc." The model added, "Will always look up to you @juliafox," alongside two red heart emojis.
Article continues below advertisement
As RadarOnline.com reported, Louise came forward about her alleged romp with Brown only after he ripped off his jersey and ran off the field in the middle of his then-team's last game against the New York Jets.
Like many, she said the incident troubled her, so she came forward out of "concern." Ava said that Antonio appeared unwell to her during their alleged meetup, claiming he requested to film their encounter and had no regard for the damage a potential sex tape leak could do to his career.
Additionally, she recalled him "mumbling" and being out of sorts.
If the name doesn't ring a bell, Ava first made headlines back in 2020 after she became known as the blonde bombshell who recorded herself licking an airplane toilet seat and dubbing the act, "Coronavirus Challenge."
It would kind of make sense if she and Julia did run in the same circles given the latter's own bizarre backstory.
Article continues below advertisement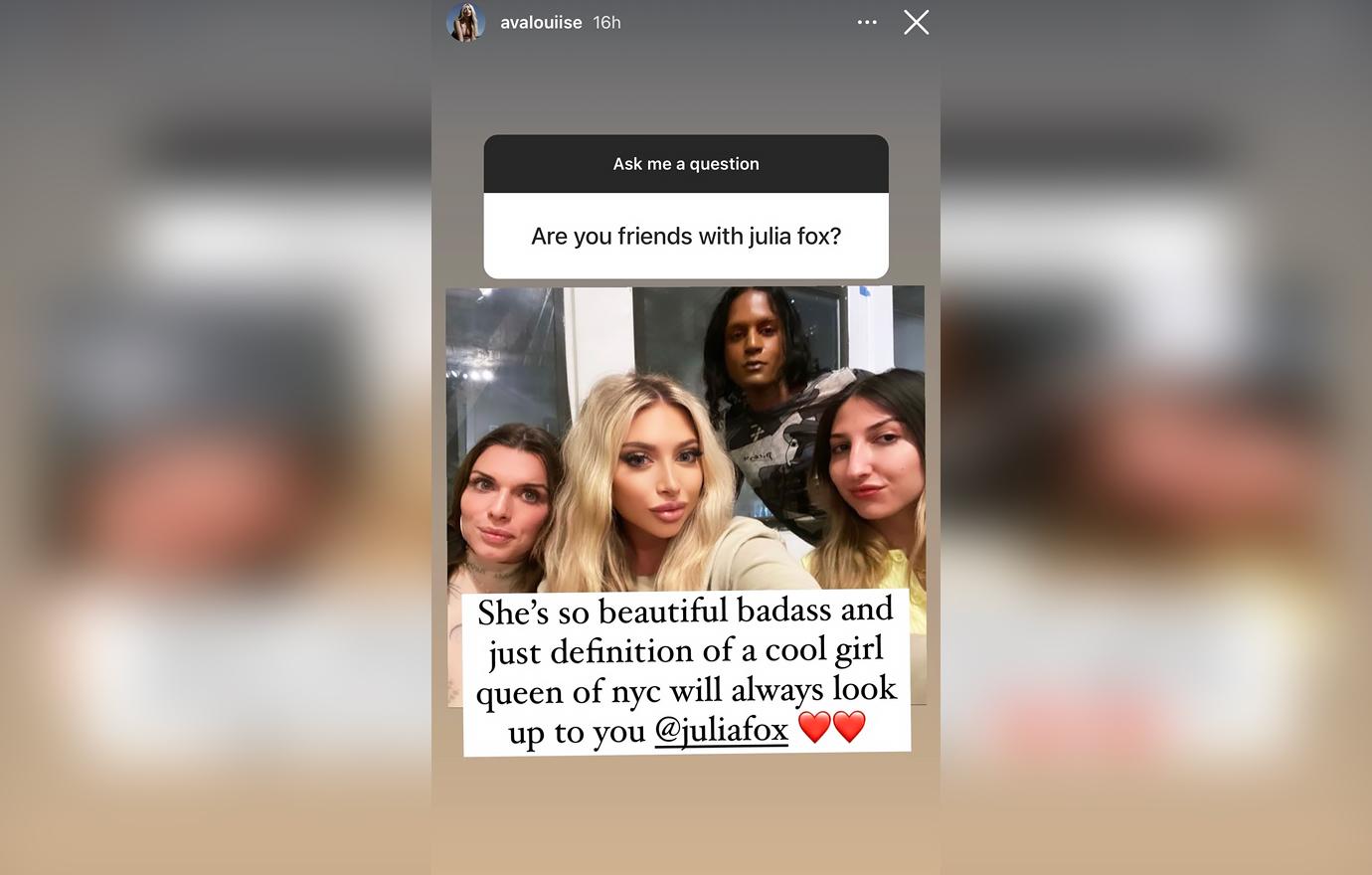 Internet sleuths have been determined to find out more about Kanye's new fling, which prompted one user take it upon herself to do a "deep dive" into Julia's past.
"While she was still in high school, she was a dominatrix," alleged TikToker @lexie_jayy. "She made a film titled Fantasy Girls that was based on the true story of her and her friend discovering a prostitution ring and uncovering it on a road trip to Reno."
Additionally, Fox has released two photography books – one in 2015 titled Symptomatic of a Relationship Gone Sour: Heartburn/Nausea and one in 2016 titled PTSD – which apparently include "very explicit photos of her, not only sexually, but also photos of her getting abused physically, the aftermath of that, and also screenshots of emails and texts of men emotionally abusing her."
Article continues below advertisement
This particular social media sleuth also claimed that Julia's one-time Tumblr account name included some variation of "ReverseCowgirl69."
On top of that, the actress allegedly put on a very dark art show in 2019 titled R.I.P. Julia Fox.
"It's confusing whether or not she staged her own death, or just like really leaned into it for the art show," said @lexi_jayy, going on to claim that every piece of art at the show was painted by Fox using her own blood, which she allegedly "extracted with a syringe and then painted onto silk."
By the way, after dinner, Julia and Kanye were seen going into a hotel in Hollywood together.