Exclusive
Read The 2014 Prenup Kanye West Wants Thrown Out In Kim Kardashian Divorce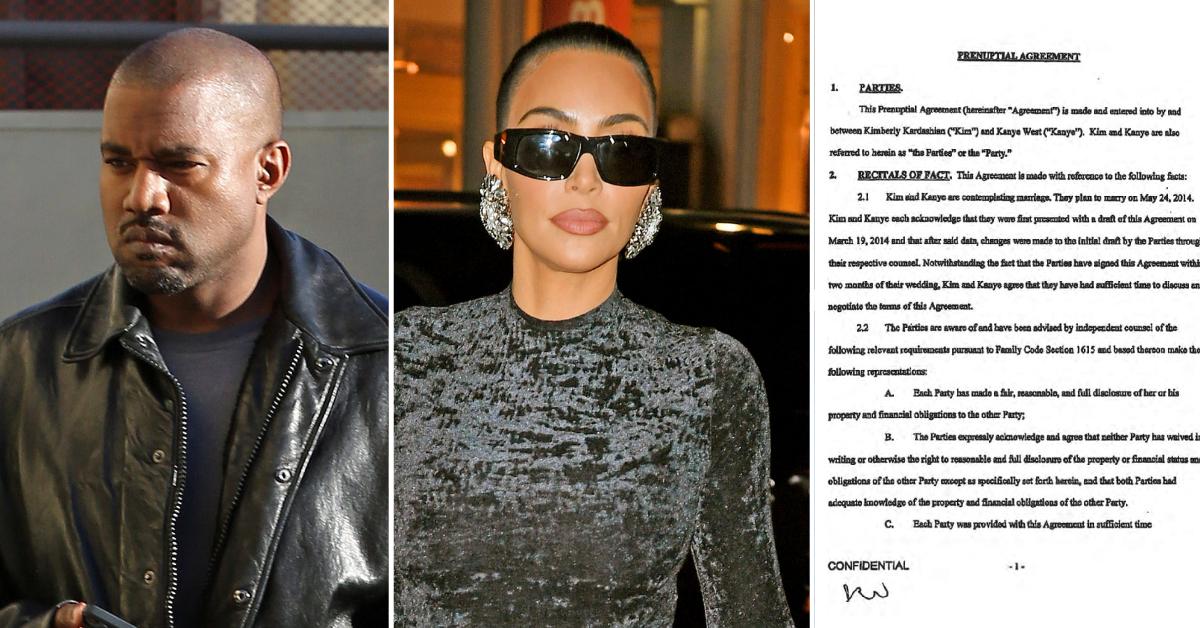 RadarOnline.com has obtained a copy of the prenuptial agreement signed by Kim Kardashian & Kanye West — the same agreement Ye is asking the court not to enforce as part of their bitter divorce.
As we first reported, Ye's latest tactic to delay his divorce is to contest the prenup. His lawyer wrote, "California premarital agreements entered on or after January 1, 2002, are presumptively invalid.
Article continues below advertisement
Ye's lawyer said the "presumption of invalidity exists until rebutted at trial or the parties ratify the agreement."
Kim brought up the prenup as part of her plea for the judge to sign off on her becoming legally single. She accuses Ye of dragging out the divorce and refusing to negotiate a settlement with her.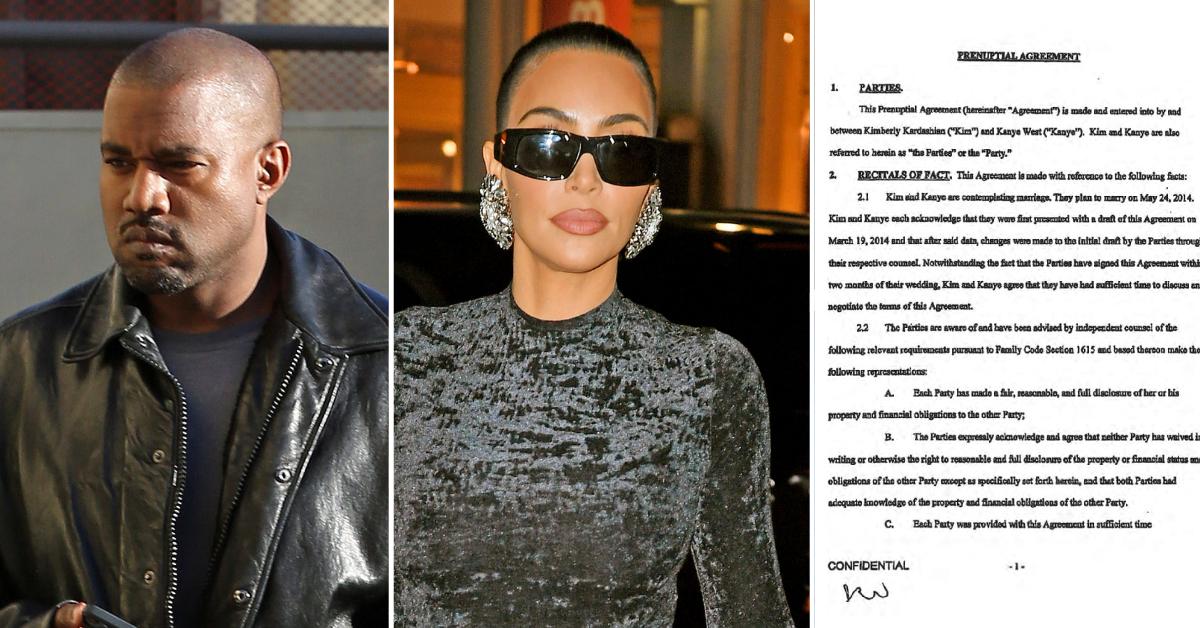 Article continues below advertisement
The reality star is asking the court to stop Ye from dragging it out – claiming the prenup clearly states both parties keep their separate earnings made during the marriage. Her point being there isn't much to argue about.
The agreement, obtained by RadarOnline.com, was signed by the former Keeping Up with the Kardashians star on March 16, 2014.
Article continues below advertisement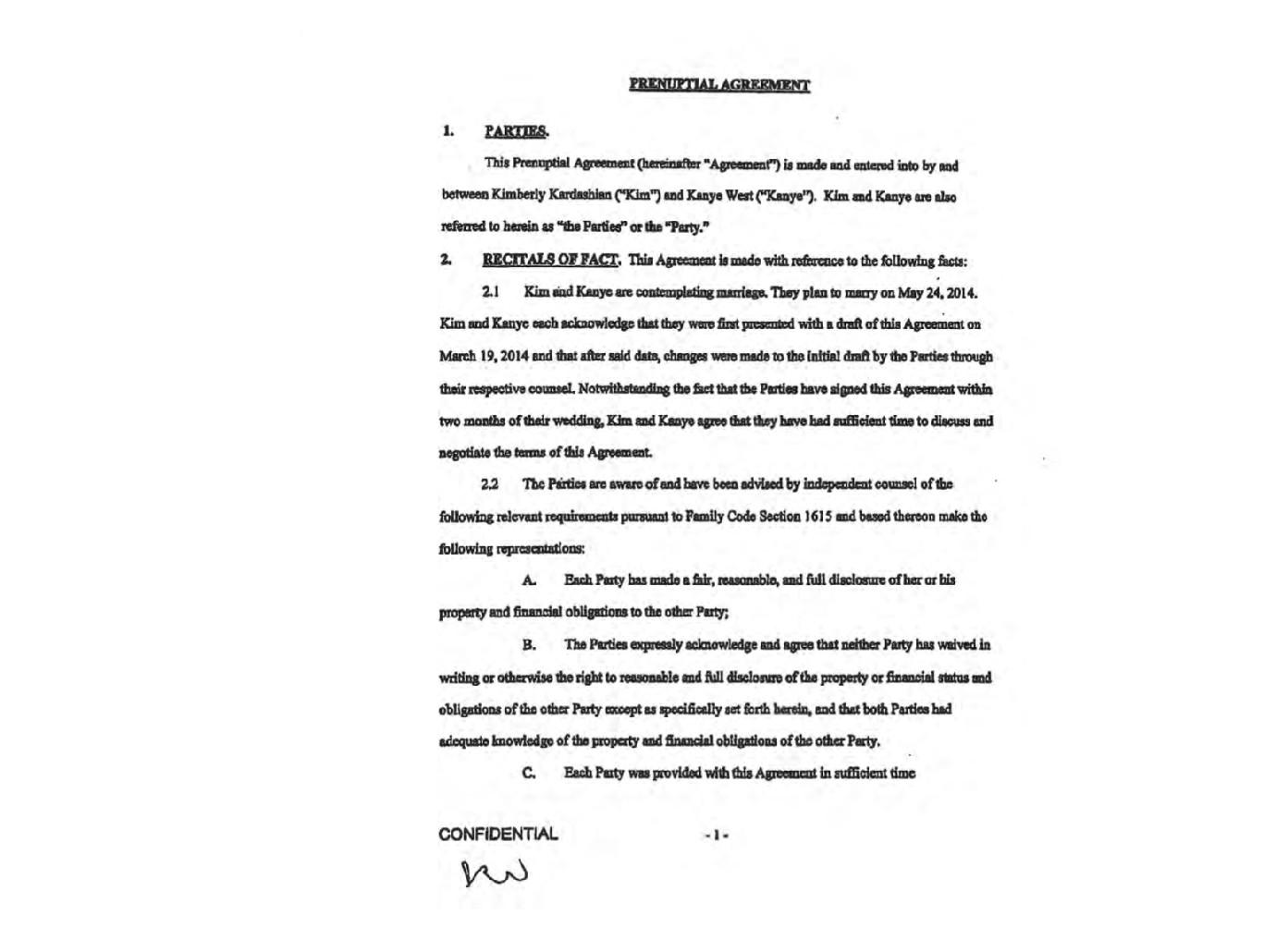 Both parties were represented by their own lawyers during the negotiations.
Article continues below advertisement
The documents noted Kim had been previously married to Damon Thomas and that "their marriage ended in divorce in 2004. Kim was subsequently married to Kris Humphries and that marriage was dissolved on or about April 19. 2013."
The deal noted Kanye had never been married and he started dating Kim in 2012. At the time they only had only child together — daughter North West.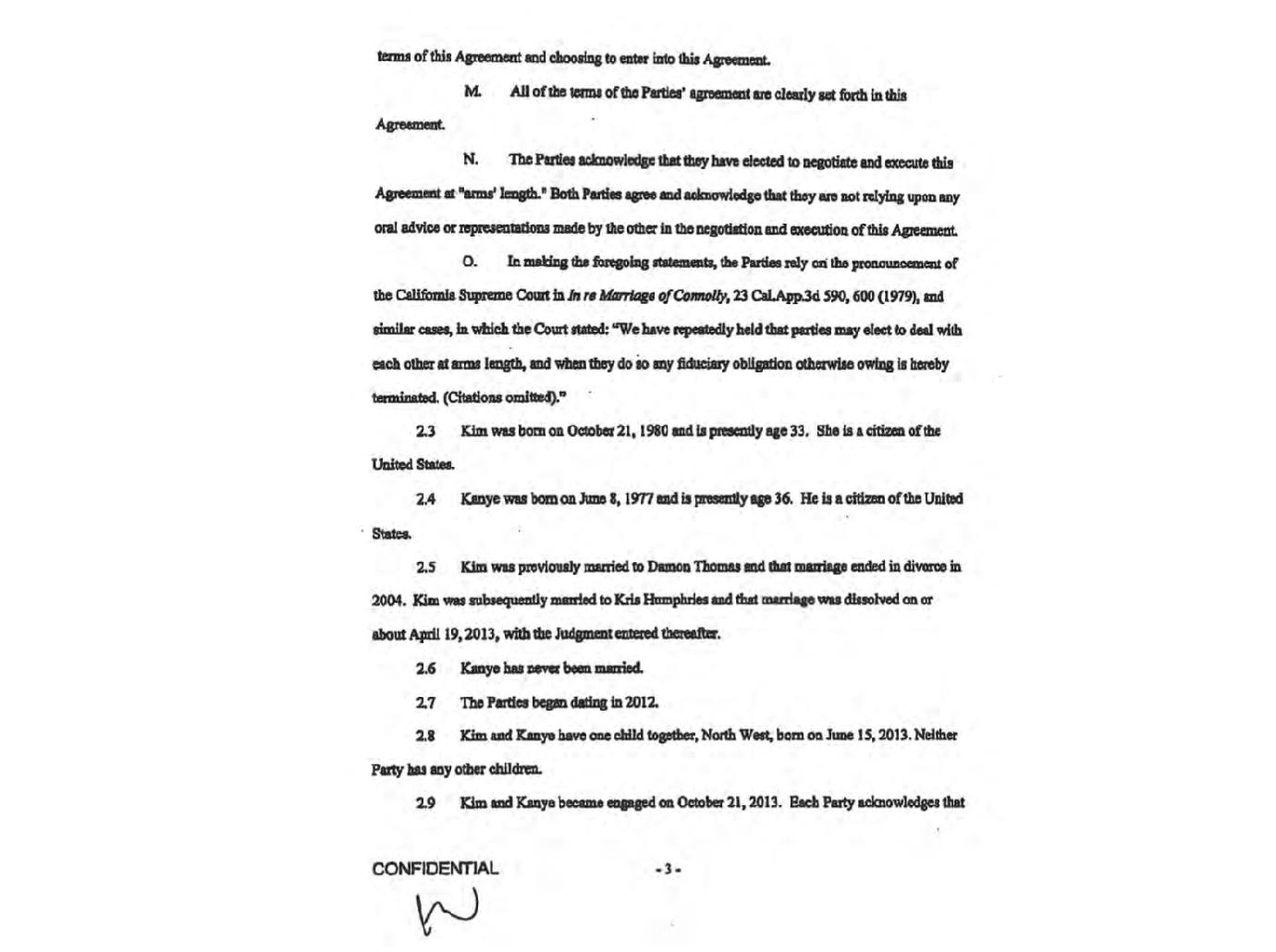 Article continues below advertisement
Kim and Kanye agreed to move in together in early 2013 and then talked about a prenup in December 2013.
The deal states, "Kim was fully supporting herself at the time she began dating Kanye and is fully self-supporting as of the date of this Agreement."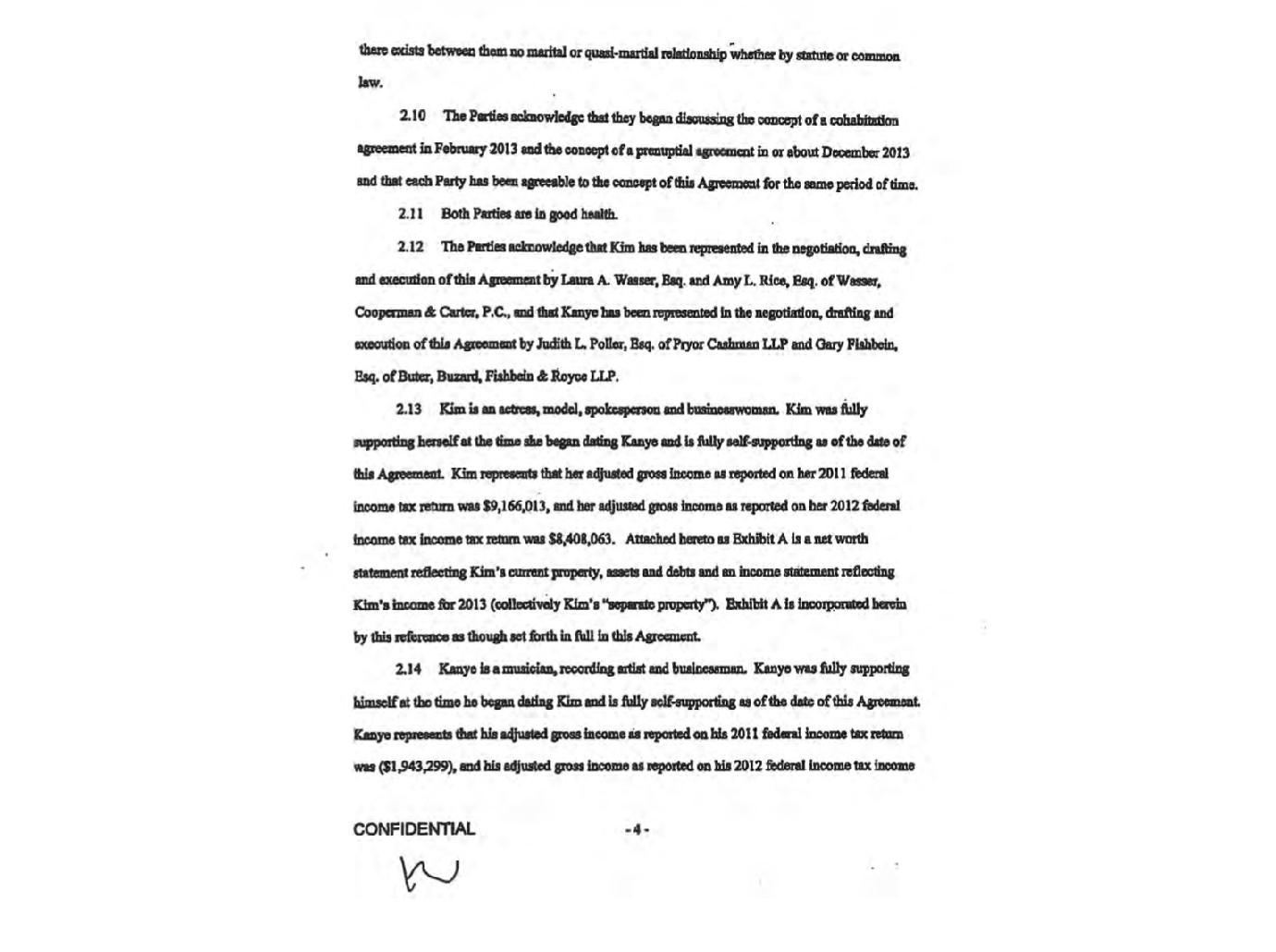 Article continues below advertisement
Kim revealed her 2011 federal income tax return was $9.1 million and her adjusted gross income as reported on her 2012 federal income was $8.4 million.
Kanye's 2011 income was listed as $1.9 million and his 2012 as $4.6 million. It's believed a large portion of their money ran through their entertainment companies and not them personally.
Article continues below advertisement
Further, Kim noted she was willing to enter into this agreement regardless of whether Ye was worth nothing or a billion dollars. Kanye agreed to do the same.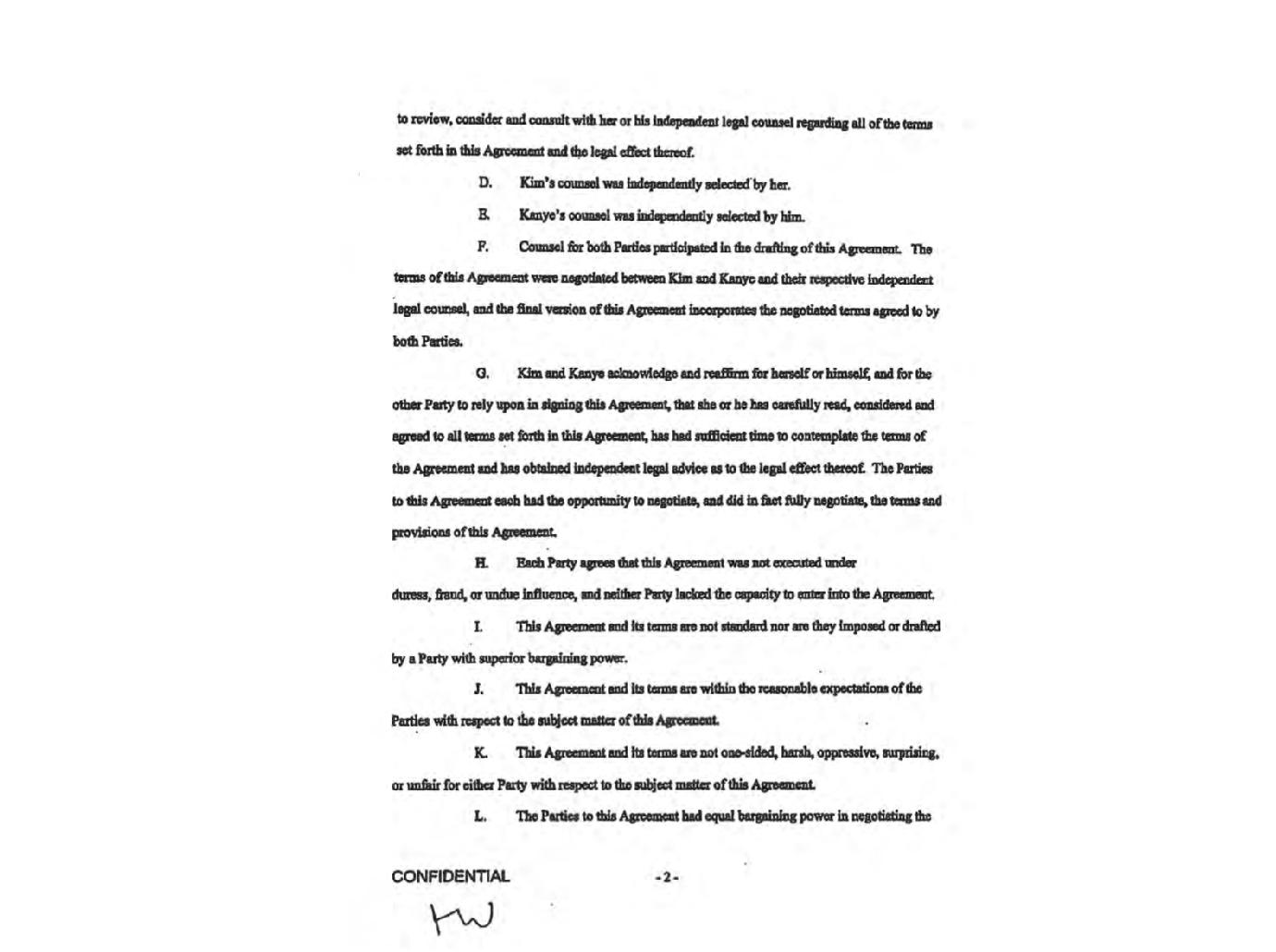 Article continues below advertisement
The deal further states any property acquired by a party during their marriage will be considered their own separate property. If they purchased property jointly the home would be considered a community asset.
Kim claims there was no property purchased jointly during their marriage.
At the time, Kim owned a $9 million Los Angeles home while Kanye owned a New York condo and his own home in Cali. Their plan was for Kim's home to be renovated and for them to live there when they were in LA. They planned to keep Ye's condo and stay there when in the Big Apple.
Article continues below advertisement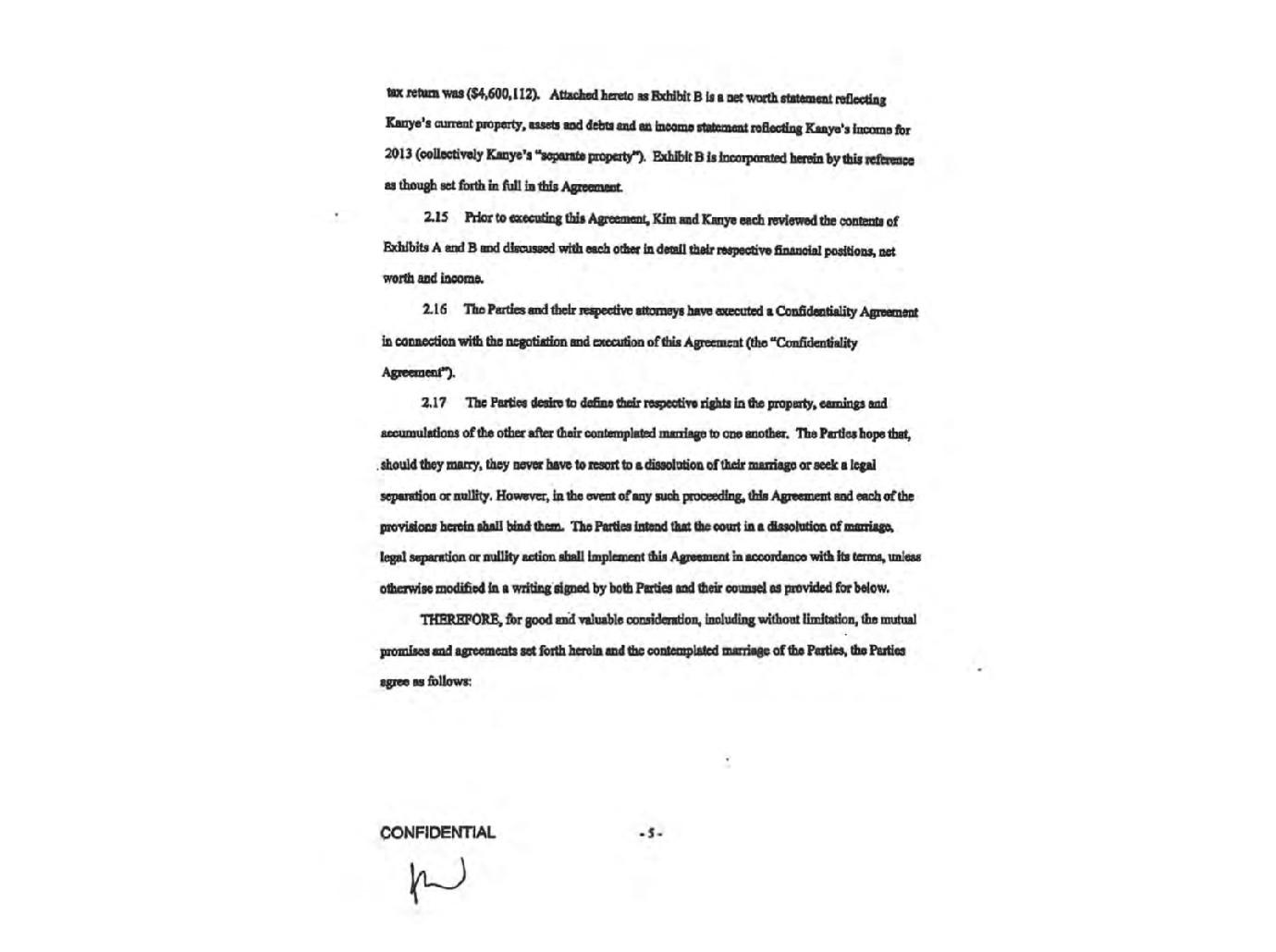 Kanye had agreed to put $1.6 million into the renovations but Kim promised to pay him back.
Both parties agreed the properties would be their sole property and each would handle their own mortgages.
Article continues below advertisement
The deal also states "nothing contained in this Agreement shall be constructed as absolving either Party of the statutory obligation to support any child or children of the Parties. In the event of a separation or marriage dissolution, such's Party's obligations to support any child of the Parties shall be determined and governed under the law of the State of California."
They also agreed spousal support would be on the table if they divorced.
Despite signing the deal, Ye is now asking the court not to enforce it.