Exclusive Details
Read The Document Given To Amber Heard/Johnny Depp Jurors As Deliberations Resume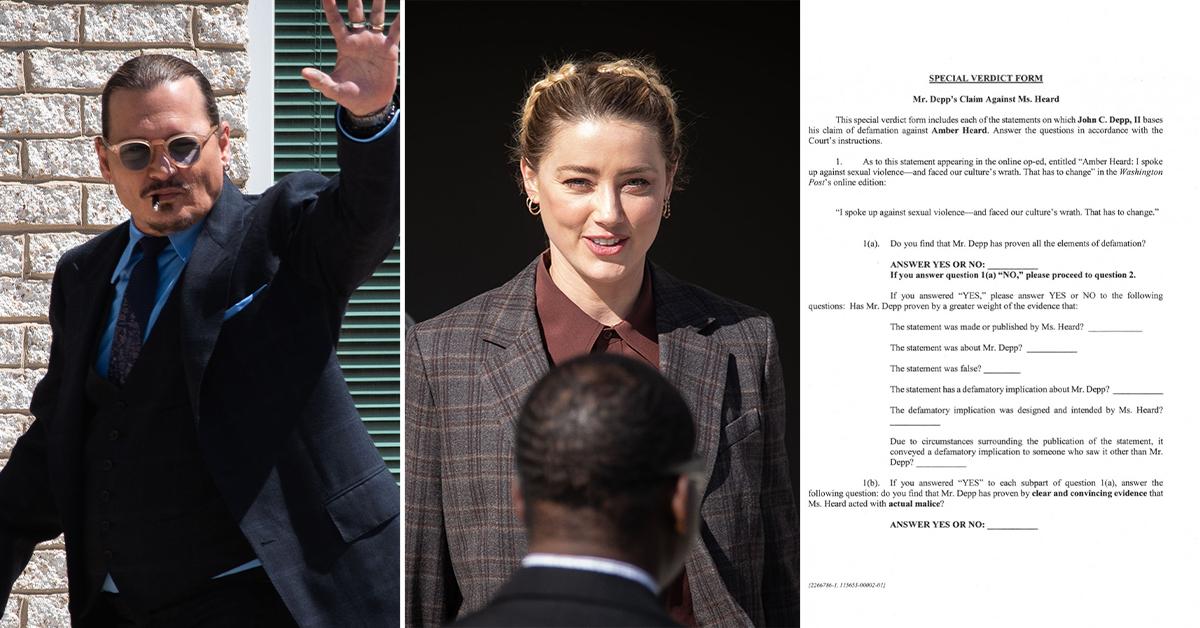 The jurors in the Johnny Depp/Amber Heard court battle have continued deliberations for the second day — and Radar has obtained the special verdict form given to them by the court.
The seven-person jury started deliberating last week but failed to reach a decision. A verdict could be reached as earlier as today.
Article continues below advertisement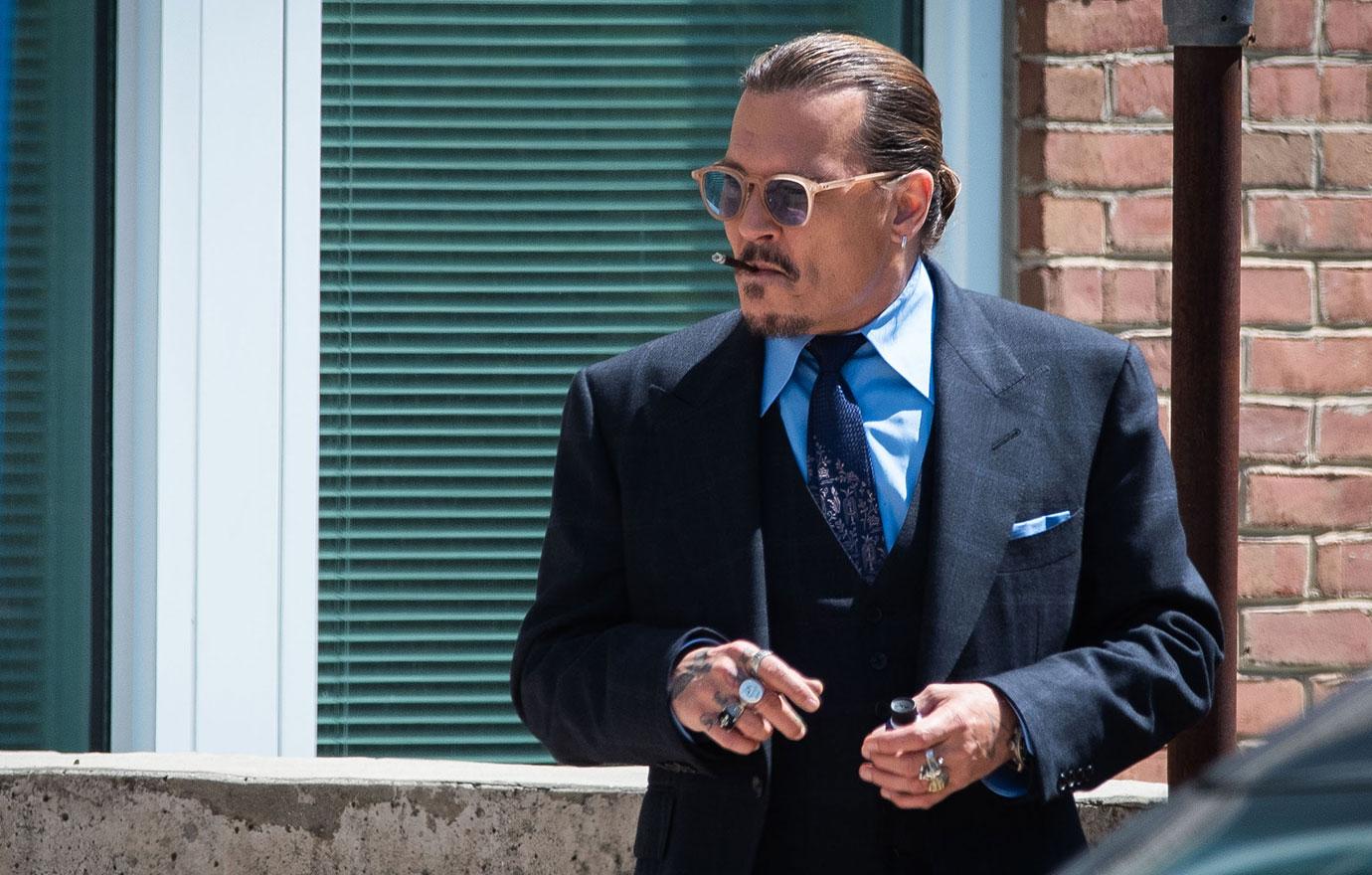 Depp's lawsuit demands $50 million in damages from his ex-wife. He took issue with a 2019 op-ed she wrote in the Washington Post.
In the article, Heard talked about being the victim of domestic violence but never named her ex. Depp said it was clear she was making accusations against him — despite his claim he never touched Heard during their relationship. The Pirates of the Caribbean star said he was blackballed as a result.
Article continues below advertisement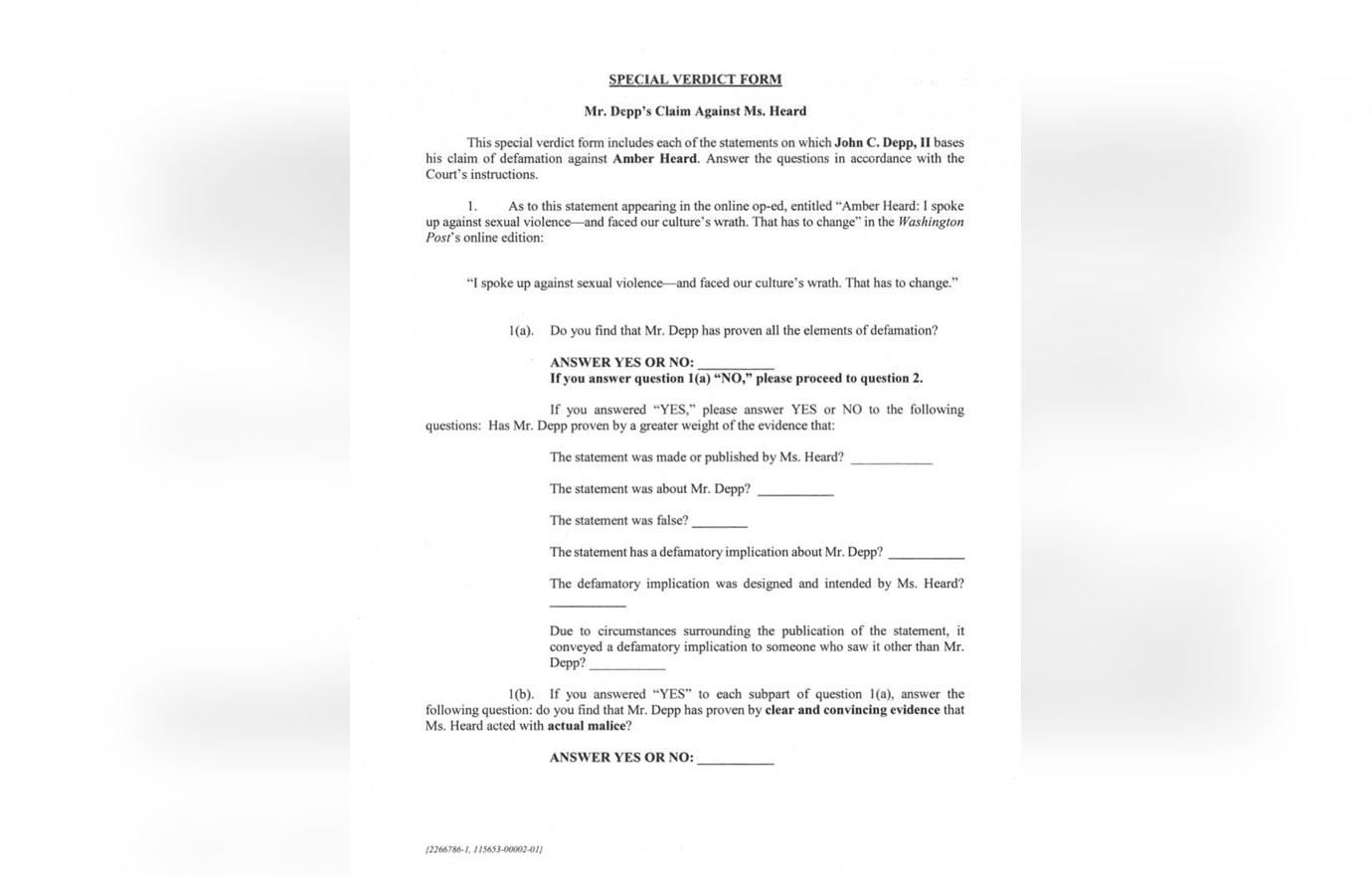 Heard has stood by her story of abuse and testified about several alleged incidents of violence by Depp — including a sexual assault in 2015.
She countersued Depp for defamation seeking $100 million in damages. She said the actor's former lawyer Adam Waldman called her claims a "hoax."
Article continues below advertisement
The jury was provided a special verdict form to help guide them during deliberations. The first page asks the jury to focus on Heard's statement, "I spoke up against sexual violence — and faced our culture's wrath. That has to change."
The jury will first have to decide if that statement was made by Heard. They will then figure out if the statement was about Depp and then if they believed it to be false.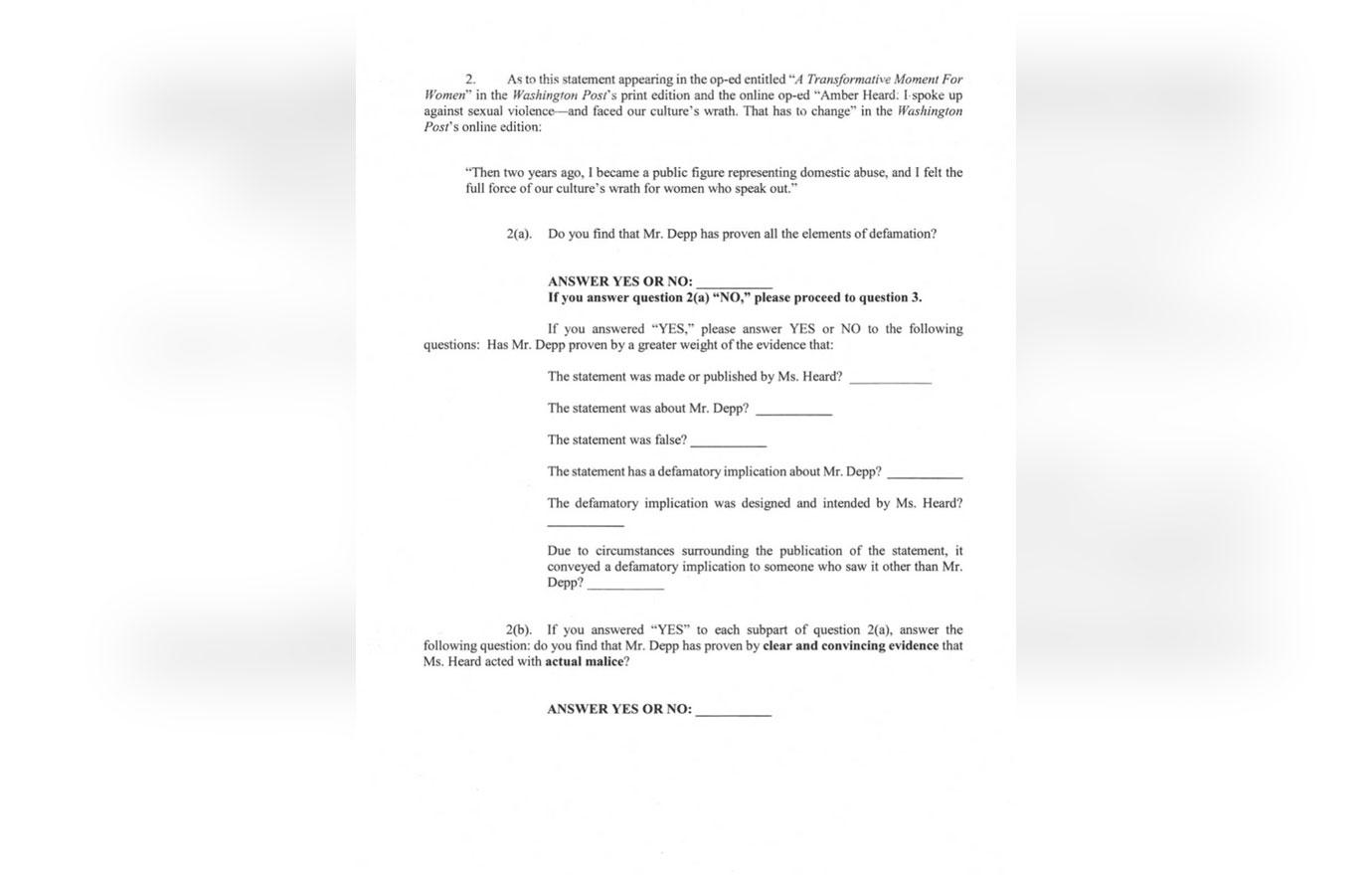 Article continues below advertisement
The next step is determining if the statement has a "defamatory implication about Mr. Depp" and if a ordinary reader of the op-ed would be aware Heard was writing about Depp.
The seven-person juror will then have to decide if Depp proved "by clear and convincing evidence that Ms. Heard acted with actual malice."
Article continues below advertisement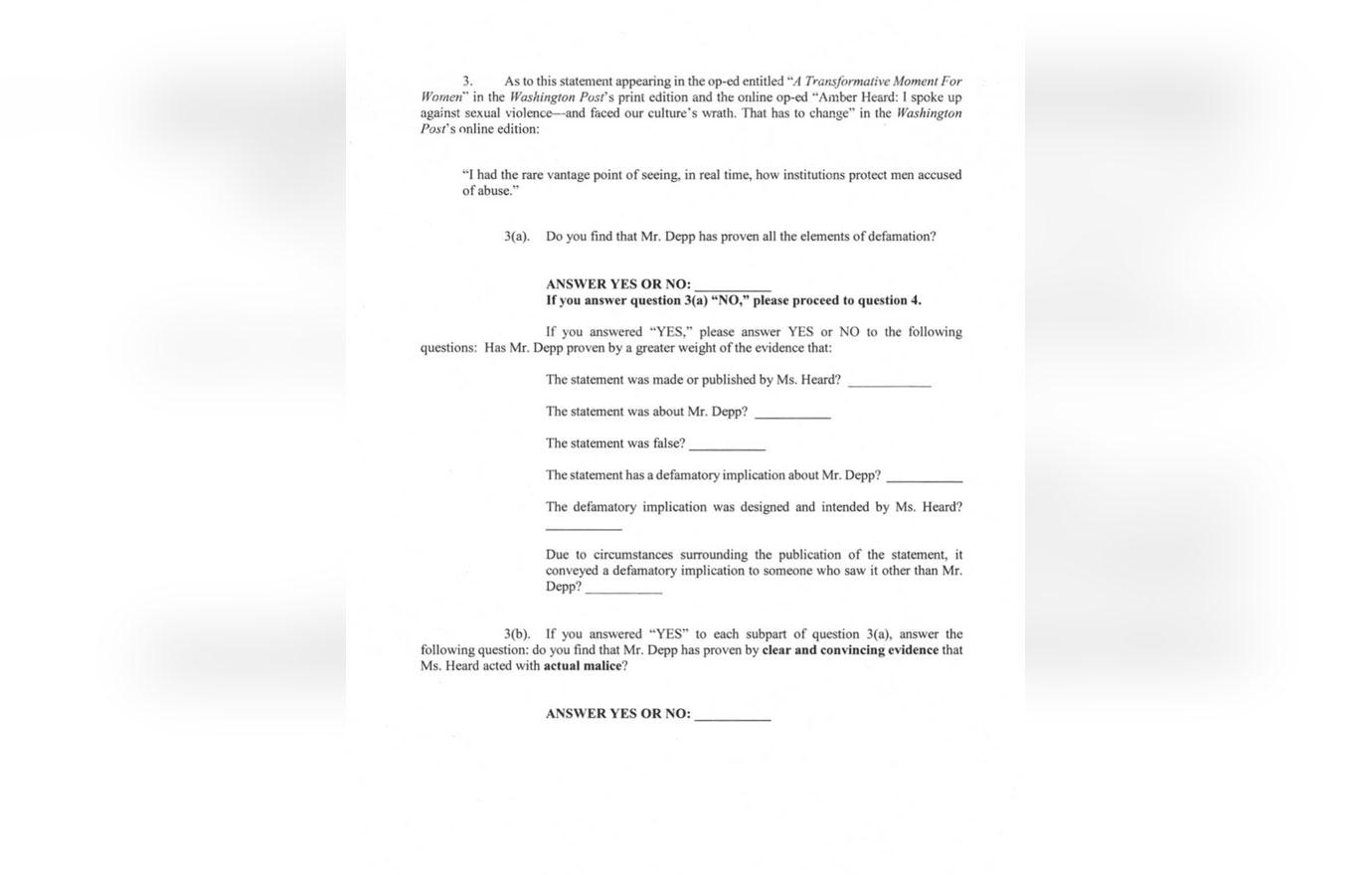 The juror will then focus on the Heard's statements, "Then two years ago, I became a public figure representing domestic abuse, and I felt the full force of our culture's wrath for women who speak out" and "I had the rare vantage point of seeing, in real-time, how institutions protect men accused of abuse." They will have to apply the same questions from the first statement to the second and third.
Article continues below advertisement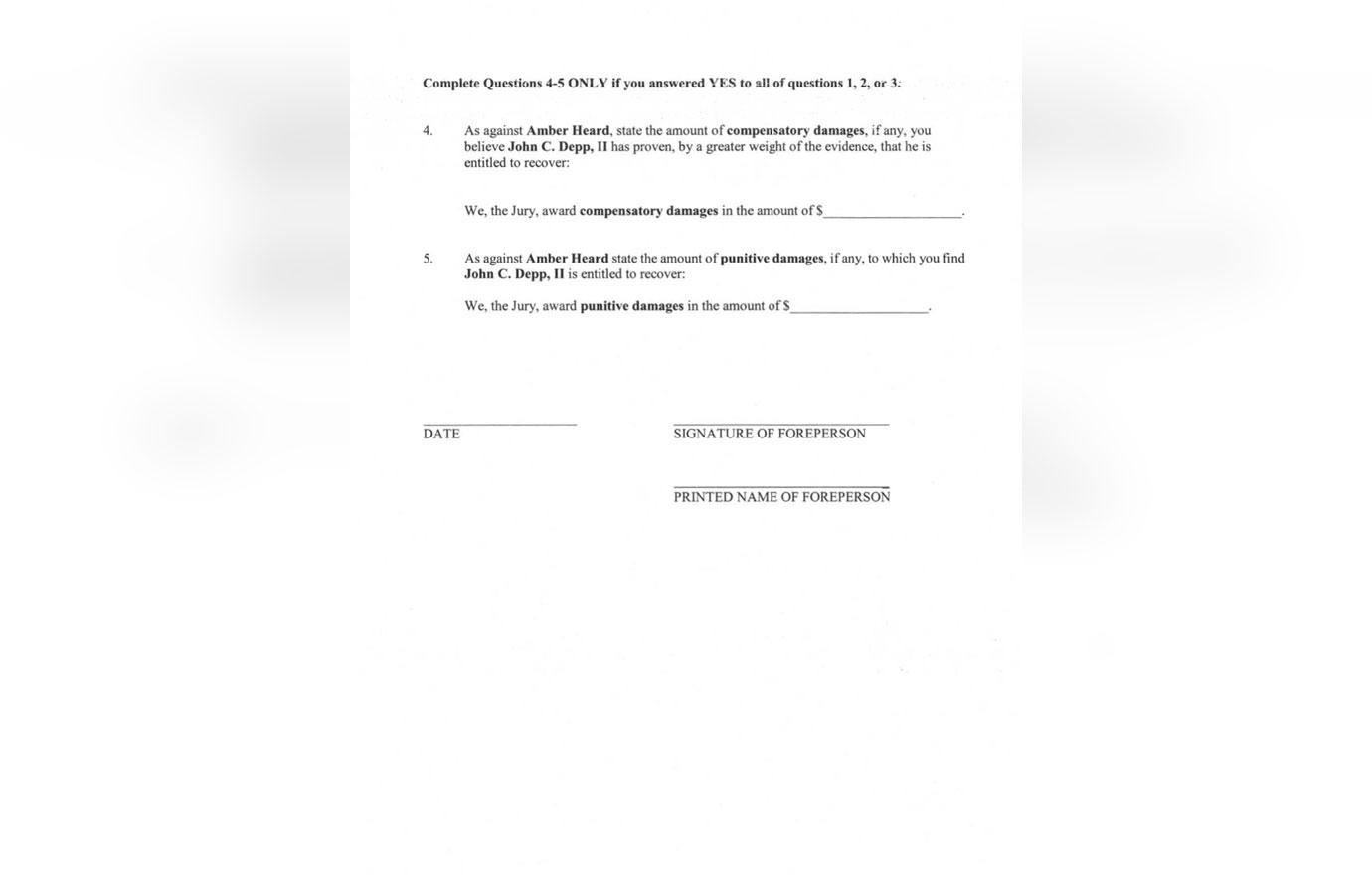 Then, if the jury agrees with Depp on all points, they will have to decide the amount of compensatory and punitive damages the actor should be awarded.